By Pat Harty
IOWA CITY, Iowa – Joey Woody has made it abundantly clear since he took charge of the Iowa men's and women's track and field programs in 2014 that he is on a mission to be the best.
He has the same incredibly high standards as a head coach that he set for himself as a star hurdler for Northern Iowa in the 1990s.
The target that Woody often had on his back as a competitor, he now has as a  head coach, and that's just fine with him.
"I think it's always better to have the target on your back. That means you're good," Woody said Tuesday morning in a telephone interview.
The Iowa men's track and field team is good, actually real good, according to United States Track and Field and Cross Country Association preseason poll, which has Iowa ranked ninth nationally for the indoor season, and first in the Midwest Region.
That is the highest preseason ranking in program history.
"This is what we've been working for for a long time and our staff has definitely been focused on getting us to this level," Woody said. "We're not satisfied yet, obviously. We still expect to do bigger and better things, not only this year, but over these next few years.
"But we're definitely excited about where we're at as a program. I think that we can be much higher."
Woody said his team's current ranking is more accurate than a typical preseason ranking because the indoor season already has started, so the information used to rank teams is more up-to-date.
"They actually changed things a little bit this year with the rankings because they knew everything was going to be delayed," Woody said of the impact from the global pandemic. "This is actually start of the season rankings since we started our season the first of January. So this is actually a little bit more realistic compared to kind of going off last year's information."
As is the case with any highly ranked team in track and field, Iowa is loaded with all kinds of talented athletes, including sprinter Wayne Lawrence Jr., and sprinter and long jumper Jamal Britt.
Lawrence, a native of Dayton Ohio, was named the Big Ten Male Track Athlete of the 2020 indoor championships after winning the 400-meter dash, the 200 and running the anchor leg for Iowa's victorious 1,600-meter relay team.
Britt, a senior from Las Vegas, is ranked second nationally in the high hurdles, and is ranked in the top 10 nationally in the long jump.
"Those two guys are kind of leading the program, but we've got great athletes in every event group right now," Woody said. "We've got great throwers, jumpers, sprinters, hurdlers, distance runners. So it's definitely a team effort and it's really an exciting time right now."
Woody thinks the Iowa men's team will be even stronger during the 2021 outdoor season because the roster will be more complete with the addition of some established seniors such as Will Daniels in the heptathlon and sprinter Antonio Woodard.
"This is just our indoor ranking, but when we get to the outdoor season, we're actually a better team," Woody said. "We've got some returning seniors that just have an outdoor season available."
Success has accompanied Woody throughout his track and field career.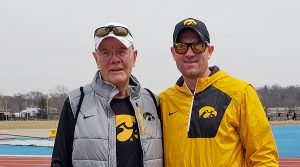 He helped launch Iowa City High's dynasty in track and field under John Raffensperger in the early 1990s, and then was a star performer for some really good teams at Northern Iowa.
Woody joined Iowa's full-time staff under head coach Larry Wieczorek after serving as a volunteer assistant coach with the Hawkeye sprinters and middle distance runners in 2006. He also served as sports performance director and co-owner of Velocity Sports Performance in Cedar Rapids in 2005 and 2006.
Wieczorek led the Iowa men's team to the 2011 Big Ten Outdoor title before retiring in 2014. He left the program in great shape, and Woody has since made it even better.
Woody credits Wieczorek and Raffensperger for helping him reach this level as a head coach.
Woody was especially close to Raffensperger, who passed away in April 2019 at the age of 78.
Raffensperger helped turn Woody into a star hurdler at City High, and he also helped Woody as a volunteer assistant coach at Iowa, almost up until the time of his death.
"I think about him every day," Woody said of Raffensperger. "I'm very thankful and he's definitely watching over us. He's excited."
Woody set a high standard for himself as a hurdler, as an assistant coach and now as a head coach. He believes strongly in his approach and has the results to prove it, including having led the Iowa men's team to the 2019 Big Ten outdoor title.
The Iowa women's team has also gained strength under Woody's leadership and is currently ranked fifth in the Midwest Region.
"There's no doubt that's been a big influence on myself and just what I expect out of our staff and out of our team," Woody said of his success in track and field. "Winning and competing to be the best is an expectation. It's not a want to, it's not a hope. It's an expectation.
"So our student-athletes know that coming in the door. When we recruit them, that's what we talk about. We talk about winning. We talk about being the best program in the history of the Big Ten and being one of the best programs in the country every single year. So we've got the athletes on board that expect the same thing and that's why we're having the success we're having."