By Pat Harty
IOWA CITY, Iowa – It wasn't easy, nor should anyone have expected it to be.
But the Iowa men's basketball team finally ended its misery against Michigan State, thanks largely to its bench.
Luka Garza has now defeated every Big Ten opponent as the Hawkeyes overcame an early 11-point deficit to prevail 84-78 on Tuesday at Carver-Hawkeye Arena.
It was Iowa's first victory over Michigan State at Carver-Hawkeye Arena since Dec. 29, 2015 when Iowa upset the top-ranked Spartans, 83-70.
The 6-foot-11 Garza did his part as usual with 27 points and 12 rebounds, but he also had plenty of help from his supporting cast, including from Iowa's bench led by sophomore forward Jack Nunge and sophomore point guard Joe Toussaint.
"The bench was huge tonight, said Garza, who on Tuesday joined Roy Marble as the only Iowa players to score at least 2,000 career points. "I'm so proud of those guys. They came in, throughout the whole game they were making plays. First half, second half, they definitely gave us a lift off the bench and some energy."
Iowa's bench helped lead a comeback in the first half and it played a key role in the second half, and down the stretch as Fran McCaffery used some different lineups than usual.
Senior point guard Jordan Bohannon, who struggled in each of the previous two games against Illinois and Indiana, both of which were losses, played little in the second half until the very end.
Junior starter Joe Wieskamp also spent more time than usual on the bench in the second half, as did sophomore guard C.J. Fredrick, who had missed the last 1 1/2 games due to a lower leg injury.
Bohannon and Wieskamp both were inserted in the game after Michigan State had trimmed the deficit to 79-76 with less than 2 minutes to play.
Bohannon then made two free throws with 15.3 seconds remaining to give Iowa an 82-78 lead. He also made two free throws with four seconds remaining to secure the victory.
As well as Toussaint had played, Fran McCaffery made the right decision to have Bohannon in the game to shoot free throws when Michigan State had to foul.
Bohannon is one of the best free throw shooters in the Big Ten and he came through in the clutch despite having spent much of the game on the bench.
Fran McCaffery has confidence in his starters, and deservedly so, but he also believes in his bench, and McCaffery showed on Tuesday that he will use his reserves over some of the starters if they're playing better.
Distributing playing time can be a delicate process, especially on a team with Iowa's experience. But Fran McCaffery showed that he will do whatever it takes to win and not worry about hurt feelings.
Basketball is a team sport and making sacrifices is part of being on a team, and some of Iowa's starters had to sacrifice some playing time in Tuesday's game for the good of the team.
It was that simple, but it doesn't mean it's permanent.
Fran McCaffery's only concern was to beat Michigan State and there were times when he preferred what his bench gave him. It was nothing personal. It was the business of big-time college hoops.
There have been some games in which the 6-foot Toussaint has played sparingly, but Iowa needed his quickness against the Spartans, especially on defense, and the Bronx, N.Y. native delivered.
Toussaint's penetration on offense and his defensive pressure at the point of attack helped change the tone. He also made some jump shots, and that's where he had been struggling.
"It's just whatever they need me to do," Toussaint said. '"When I get in, it's definitely defense 100% when I get in. But just seeing and feeling what's going on. If they're going to play off me, if I've got an open shot I'll take it. If I get a screen, they back off, I'll take the shot. If they need me to dish, I'll dish. It's just the feel of the game.
"When I get in, I've just got to get the ball moving a bit side to side to see how they're playing me, see how they're playing Luka, see how they're playing Wieskamp. When I get the right feel for it, when I go in, if they need me to shoot, I'll shoot. If they need me to dish, I'll dish."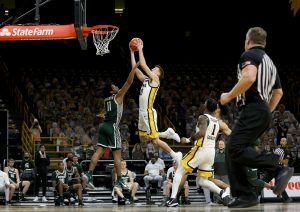 Iowa trailed early in the first half by 11 points as Michigan State made its first six shots from 3-point range.
But Garza and his cohorts kept chipping away at the deficit and Iowa led 48-43 at halftime.
Garza led Iowa with 15 points in the first half, but Nunge wasn't far behind with 11 points. Nunge also had seven rebounds in the first half while playing 13 minutes.
Nunge's performance in the first half was critical because Iowa needed a spark from someone besides Garza and Iowa's other 6-11 twin tower rose to the occasion.
Iowa (13-4, 7-3 Big Ten) struggled early on defense and Fran McCaffery turned to his bench and they delivered in the first half.
In addition to Nunge, the lightning-quick Toussaint and freshman guards Tony Perkins and Ahron Ulis were disruptive on defense and that caused Michigan State to start missing shots because many were contested.
Toussaint finished with 10 points and six assists, while Perkins and freshman forward Patrick McCaffery both scored four points.
Freshman forward Keegan Murray also contributed seven points and four rebounds off the bench, and Ulis directed the offense with poise during his appearance in the first half.
Perkins has seen his playing time increase in recent games, partly due to Fredrick's injury, but also because the 6-4 Perkins has played well on both ends of the floor.
"As I've been coming into games, game after game, like the Indiana game, I just started getting comfortable," Perkins said. "I just started feeding off my teammates."
Fredrick was substituted for barely one minute into the game after Michigan State made an easy layup in transition.
Fran McCaffery was upset with Iowa's defense early in the first half and he let the players know it during a timeout in which he pleaded with them to do a better job of face guarding.
However, McCaffery sympathized with Fredrick after the game, saying he just wasn't himself.
"I feel terrible for C.J., he's clearly not himself," Fran McCaffery said. "I love him, we're trying to help him work through this. We'll get him right. We missed some shots early with the first group. They came back and gave us some quality minutes after that, but we just have a team where we can go deep into our bench and get productivity. We got rebounds, we got points, and we got solid play."
Michigan State quickly erased the five-point halftime and it became clear about midway through the second half that Iowa was in yet another Big Ten battle until the very end.
Michigan State entered Tuesday's game with a 2-6 Big Ten record, its worst start under legendary head coach Tom Izzo, who has led the Spartans to eight Final Fours and to the national title in 2000.
Rutgers had recently crushed the Spartans by 30 points, so this isn't your typical Michigan State squad.
But that was hard to tell on Tuesday as the Spartans made Iowa work for everything.
The Iowa players had lots of reasons to be motivated and focused heading into Tuesday's rescheduled game with the Spartans.
Just the chance to play during a global pandemic is special, but this was also the one Big Ten opponent that Garza and his Iowa teammates had never defeated.
The Iowa players were on a mission to end the losing streak against Michigan State, and it was mission accomplished.
Garza also reached a career milestone, but sadly, Roy Marble isn't here to see it as he passed away from cancer in 2015.
Roy Marble is Iowa's all-time leading scorer with 2116 points, but Garza is poised to surpass him.
"I wish Roy (Marble) was here to see it," Fran McCaffery said. "He would have been a big Luka Garza fan and he would have gone out there and given him a big hug when he broke the record. 2,000 points, that's pretty amazing. It's a testament to his character, to his consistency. When you think about who he's doing it against, I think that makes it even more impressive."
Iowa will have just 48 hours to prepare for Thursday's game against Ohio State at Carver-Hawkeye Arena before capping the week at Indiana on Sunday.
Tuesday's game was originally scheduled to be played on Jan. 14 at Carver-Hawkeye Arena, but was postponed due to positive COVID-19 cases within the Michigan State program.
Three games in a week will test Iowa's depth, but the bench showed on Tuesday that it is more than capable of helping in critical situations.