By Pat Harty
IOWA CITY, Iowa – Seventh-ranked Ohio State is playing as well or better than any team in the Big Ten right now as it showed by defeating Iowa 89-85 on Thursday at Carver-Hawkeye Arena.
Iowa, on the other hand, has now lost three of its last four games, with two of the losses coming at home.
It hardly is a crisis, or reason to panic, but is a concern because Iowa was considered a top-five team nationally entering the season, and perhaps the favorite to win the Big Ten regular-season title, so as far as meeting expectations, there was little margin error.
To lose three of four conference games is a blow from a record standpoint, and from a morale standpoint.
Iowa (13-5, 7-4) is now three losses behind Big Ten leader Michigan in the loss column with a road game at Indiana up next on Sunday.
Indiana defeated Iowa 81-69 on Jan. 21 at Carver-Hawkeye Arena, and Iowa is 1-2 since then, its only win coming against a struggling Michigan State squad this past Tuesday.
Perhaps the most discouraging thing about Thursday's setback is that No. 8 Iowa led 61-50 in the second half, made 14 shots from 3-point range and had four players score in double figures, but still lost.
That shouldn't happen to a veteran team, especially at home.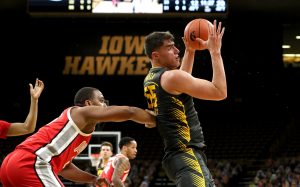 All-America senior center Luka Garza was held to 16 points, which is 10 below his per-game average, but senior point guard Jordan Bohannon and sophomore forward Joe Nunge both scored 18 points, while Joe Wieskamp finished with 17 points and 10 rebounds.
Iowa did enough on offense to win Thursday's game, but it's hard to win when the opponent scores 89 points and make 14 treys.
Ohio State also had a 43-36 advantage on the boards, committed just six turnovers and had 20 assists on 31 field goals.
In other words, the Buckeyes did what it takes to win.
They played with poise down the stretch and made some big shots at crunch time, while Iowa failed to close the deal at home despite shooting well from 3-point range.
Both teams made the same number of 3-point shots, but the Buckeyes made more with the game on the line in the second half.
Defense is the biggest concern for this Iowa team, and to have allowed 89 points and 14 treys will only add to that concern.
"I think at some point you've got to say we weren't as active with our slides as we should have been," said Iowa coach Fran McCaffery. "But give them some credit as well. They made them."
Fran McCaffery went almost exclusively with his veteran starters in the second half as Bohannon and Wieskamp both played all 20 minutes in the second half.
That was in contrast to the Michigan State game on Tuesday when Bohannon and Wieskamp both sat for much of the second half.
"I thought Bohannon was playing really well and I wanted to leave him out there," Fran McCaffery said. "I kind of went with my veteran guys in this game.
"In retrospect, I probably should have gone to those guys a few minutes and given those others guys some rest."
Iowa went nearly four minutes down the stretch without scoring, while the Buckeyes made one big shot after another.
"Credit to them, they shot the crap out of it, especially late game," Wieskamp said of Ohio State. "We just have to do a better job of closing out in their space and making those shots tougher. They're a good shooting team. Credit to them. But we've got to do a better job of closing into their space and forcing them to put the ball on the floor more."
The 6-foot-11 Nunge continues to be a bright spot for Iowa as he also had six rebounds and two assists while playing 23 minutes off the bench.
Redshirt freshman forward Patrick McCaffery, who is Fran McCaffery's son, also provided a spark off the bench, scoring eight points in 13 minutes of playing time.
Patrick McCaffery and Nunge were the only the reserves who scored for Iowa.
Nunge, Bohannon and Wieskamp all made four shots from 3-point range. But Nunge said the offense failed to execute down the stretch.
"They're a real physical team, so they kind of took us out of our offense," Nunge said. "We got a little bit stagnant towards the end.
"It's all a credit to them. They're a great team. But we've got to move the ball better. We've got to screen. We've got to run our motions better towards the end."
Iowa has been described as being a great team at times this season, but the Big Ten grind can be rough on any team, and shows no mercy.
Garza and his cohorts have hit a rough stretch and now the challenge is to get back on track.
Some fans will worry that this is the start of another fade under Fran McCaffery, but it's too early to make that assumption.
Each team, and each season is different, but Iowa's defensive woes have been an ongoing concern under Fran McCaffery, who likes to play at a fast pace on offense.
Iowa played with sophomore guard C.J. Fredrick because of a lower leg injury, and his absence was felt on both ends of the floor.
But Iowa still led by double digits in the second half and was playing at home. Iowa also led Indiana by nine points in the second half two weeks ago, but still couldn't finish the job at home.
So this was another blown opportunity for a veteran team that is running out of time in its quest to win the Big Ten regular-season title for the first time since 1979.
Iowa didn't play like a champion on Thursday and paid for it.