By Pat Harty
IOWA CITY, Iowa – The longer Kirk Ferentz coaches at Iowa, the harder it becomes to pick the All-Kirk Ferentz team.
Believe me, I know from experience as just I finished picking mine.
The team consists of 22 position players, along with a kicker, punter and return specialist, so 25 players overall.
The process of trimming the list of candidates down to 11 on offense and 11 on defense was fun at times, maddening at times and hopeless at times. Especially when it came to defensive end and cornerback.
But I was determined to get it done, so it came down to making some incredibly hard choices, especially at defensive end.
There is no right or wrong answers when picking the All-Kirk Ferentz team because the process is all subjective.
The first thing I did was make the obvious choices such as Bob Sanders at safety, Marvin McNutt at receiver and Desmond King at cornerback.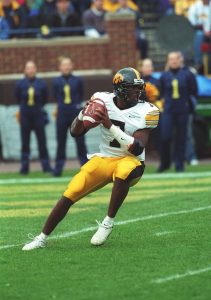 Quarterback came down to body of work in the cases of Ricky Stanzi and Drew Tate versus Brad Banks' magical season in 2002 in which he finished runner-up for the Heisman Trophy as a first-year starting senior.
Quality prevailed over quantity as Banks received the nod.
A native of Belle Glade, Fla., Banks made the most of his one season as a starter in 2002. He led Iowa to a school-record 11 victories, and to an 8-0 record in the Big Ten, and was named the Associated Press Player of the Year.
The offensive line had a number of worthy candidates, and it wasn't easy trimming the list of candidates to just five. And who knows, a year from now, current Iowa center Tyler Linderbaum might have played his way on to this team.
I gave Linderbaum serious consideration as a sophomore because of how well he performed this past season, but ultimately picked Bruce Nelson for his body of work. Nelson was a former walk-on tight end who helped lay the foundation in the early years under Kirk Ferentz. Nelson made first-team All-Big Ten as a senior in 2002, and also received first-team All-America accolades.
It is incredible to think that Bryan Bulaga, Riley Reiff and Marshal Yanda weren't picked for the offensive line. That is a testimony to Iowa's success on the offensive line under the 65-year old Kirk Ferentz, who is now preparing for his 23rd season as head coach.
Trying to settle on just two defensive ends was so difficult and maddening that I almost gave up and picked three to go along with Daviyon Nixon at defensive tackle.
But I ultimately settled on two defensive ends and two defensive tackles.
The two defensive end spots came down to Matt Roth, Adrian Clayborn and A.J. Epenesa. Each of them was a disruptive force off the edge and all three of them earned All-America accolades and twice made first-team All-Big Ten.
It finally came down to giving Clayborn and Roth the slightest edge because they played all four seasons at Iowa, while Epenesa played just three seasons.
I couldn't think of any other way to separate them.
Epenesa skipped his senior season to declare for the 2020 NFL Draft and was selected in the second round by the Buffalo Bills.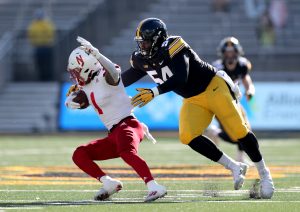 Daviyon Nixon wasn't even on my radar at defensive tackle before the 2020 season, but he now fills one of the two spots, along with Mitch King.
Nixon was spectacular this past season, earning consensus All-America honors, as well as being named the Big Ten Defensive Player of the Year. It was his only season as a starter, and the season consisted of just eight games, but Nixon was so dominant that he deserves to be on the team.
Mitch King is also deserving after having twice made first-team All-Big Ten and being named the Big Ten Defensive Lineman of the year as a senior in 2008.
The three picks at linebacker were easy compared to defensive end with Abdul Hodge, Chad Greenway and Josey Jewell all obvious selections.
Picking the two safety positions was easy in one respect with Bob Sanders, and sad in another respect with Tyler Sash filling the other safety spot, edging out Amani Hooker.
Sash, who died from an overdose of painkillers in 2015 at the age of 27, made first-team All-Big Ten in 2009 and 2010.
The Oskaloosa native had a knack for making big plays and finished his Hawkeye career with 13 interceptions over three seasons as Sash skipped his senior season to enter the 2011 NFL Draft.

Desmond King was an obvious choice for one of the cornerback spots, but picking the other cornerback was tough between Josh Jackson and Micah Hyde. I ultimately picked Jackson because he was a unanimous consensus All-American in 2017.
Hyde started more games as a Hawkeye than Jackson did, and Hyde was named the Big Ten Defensive Back of the Year in 2012.  So a strong case could be made for Hyde to be the other cornerback.
But I gave Jackson a slight edge because he was a consensus All-American, and because he led the nation with eight interceptions in 2017.
It was similar to picking Banks as the quarterback in that one spectacular season made the difference.

Tight end was another difficult choice with Dallas Clark, T.J. Hockenson and Noah Fant all worthy of consideration for the top spot.
Tony Moeaki was also a force at tight end under Kirk Ferentz, and arguably the most complete amongst all of them.
Durability was Moeaki's problem, however, as he missed numerous games due to multiple injuries.
I ultimately picked Clark by the slimmest of margins over Hockenson and Fant, but there isn't anything specific as to as to why I did. It was just a gut feeling, I guess.
The second receiver position, to go alongside McNutt, was also a difficult choice that came down to Derrell Johnson-Koulianos, Clinton Solomon, Kevin Kasper and Maurice Brown.
Johnson-Koulianos was given the nod because of his productivity as Iowa's second all-time leading receiver behind McNutt with 2,616 receiving yards and 17 touchdowns.
Nate Kaeding was a pretty easy pick as the kicker, while Ryan Donahue gets the nod for now at punter, although, Australia native Tory Taylor was spectacular as a freshman this past season.
Ladell Betts and Shonn Greene fill the two running backs spots, but under difference circumstances.
Betts was rewarded for his body of work, and for overcoming some tough obstacles, including mediocre and inexperienced offensive lines during the first two seasons under Ferentz, while Greene was recognized for his one incredible season in 2008 when he set a school-record with 1,850 rushing yards and 20 touchdowns and was the recipient of the Doak Walker Award, which goes to the nation's top collegiate running back.
I didn't pick a fullback because it has a limited role in Iowa's offense, and because I wanted to have two running backs. But Jeremy Allen would've been the easy choice at fullback.
The return specialist came down to Ihmir Smith-Marsette and Johnson-Koulianos. Smith-Marsette was given the nod, and perhaps it was due partly to me being prisoner of the moment with Johnson-Koulianos having played a decade ago, while Smith-Marsette returned a kick for a touchdown in the 2019 Holiday Bowl.
My All-Kirk Ferentz team
OFFENSE
WR – Marvin McNutt, 2008-11
WR – Derrell Johnson-Koulianos, 2007-10
TE – Dallas Clark, 2000-02
T – Robert Gallery, 2000-03
T –  Tristan Wirfs, 2017-19
C – Bruce Nelson, 1999-02
G – Brandon Scherff, 2011-14
G – Eric Steinbach, 1999-02
QB – Brad Banks, 2001-02
RB – Ladell Betts, 1998-01
RB – Shonn Greene, 2005, 06, 08
DEFENSE
DE – Adrian Clayborn, 2007-10
DE – Matt Roth, 2001-04
DT – Mitch King, 2005-08
DT – Daviyon Nixon, 2019-20
LB – Abdul Hodge, 2002-05
LB – Chad Greenway, 2002-05
LB – Josey Jewell, 2014-17
CB – Desmond King, 2013-16
CB – Josh Jackson, 2015-17
S – Bob Sanders, 2000-03
S – Tyler Sash, 2008-10
Special teams
K – Nate Kaeding, 2000-03
P – Ryan Donahue, 2007-10
RS – Ihmir Smith-Marsette, 2017-2020