By Pat Harty
IOWA CITY, Iowa – A curse is defined as a solemn utterance intended to invoke a supernatural power to inflict harm or punishment on someone or something.
That something in this case is the Iowa men's basketball team, which has lost four of its last five games and dropped from the top 10 in the Associated Press poll for the first time this season.
It probably isn't an exaggeration to say that Iowa is in a desperate situation heading into Wednesday's game against Rutgers at Carver-Hawkeye Arena.
The Fran fade narrative is gaining steam, while the chance of winning the Big Ten regular-season title for the first time in 42 years is fading fast.
The Fran Fade is in reference to Iowa's history of struggling down the stretch under head coach Fran McCaffery.
"In this league, you know it's going to happen at some point," Fran McCaffery said Tuesday on a zoom conference. "You try not to make it happen. Obviously, you want to do everything you can. But you're playing really good teams with really good players, and you've got to overcome certain things at certain times, whether it be foul trouble or a player injury, or being on the road or being at home, which isn't as much of a factor this year.
"But we just keep plugging away. If you're going good, it's great. You don't take that for granted. If you lose a game, you try and get better the next one. And then you try and get better the next one. Lose a couple in a row, respect your opponent and just keep working."
As for the curse, it seems more as an easy way to describe what have been some strange, costly, untimely and tragic events that have impacted the Iowa men's basketball program for over a half century.
From the death of head coach Bucky O'Connor in 1958 to four starters being declared academically ineligible early in the 1960-61 season to the Connie Hawkins scandal in 1961 to Pembrook Burrows' game-winning basket in the 1970 NCAA Tournament to Ronnie Lester's knee injury in the 1979-80 Final Four season to the second-half collapse against Nevada-Las Vegas in the 1987 Elite Eight to Matt Bullard's knee injury in 1988 to Ray Thompson being declared academically ineligible before the start of the 1989 NCAA Tournament, and before the start of the 1989-90 season, to the death of Chris Street in 1993 to Andy Kaufmann's buzzer-beater in 1993 to Jess Settles' ailing back in the mid-1990s to Sam Okey's broken right wrist in 1999 to Tom Davis being forced out as head coach in 1999 to the Pierre Pierce scandal under Steve Alford to the three disastrous seasons under Todd Lickliter from 2007-10, and now C.J. Fredrick's injury; it seems a little silly to call it a curse, but it's fair to say that the Iowa men's basketball program has experienced more than its share of hardship, disappointment and suffering.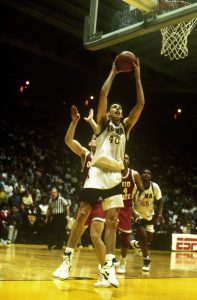 Some are convinced that Connie Hawkins would've become a Hawkeye legend if he were allowed to play.
Some are convinced that Iowa would've won the 1980 NCAA title if only Lester had been healthy.
Some are convinced that Chris Street, who was killed in an automobile accident on Jan. 19, 1993, and midway through his junior season, would've blossomed into a big-time star at Iowa, and would've had a long and distinguished career in the NBA.
"I don't necessarily believe it's a curse," said life-long Iowa fan and Iowa City native Tom Suter. "But there have been a lot of strange happenings."
Many believed heading into this season that Iowa, led by All-America senior center Luka Garza, finally had what it would take to win the Big Ten regular-season title for the first time since the 1978-79 season.
And it wasn't just Hawkeye fans, or the Iowa media, who was convinced.
Iowa was ranked fifth in the Associated Press preseason poll, and climbed to as high as third in the polls.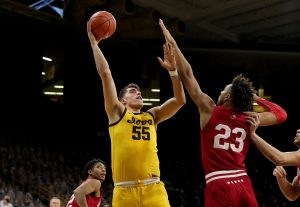 The 6-foot-11 Garza has lived up to expectations from an individual standpoint, averaging 25.5 points and 8.4 rebounds per game. He is also closing in on Roy Marble's career scoring record at Iowa, and is one of just two Iowa players to score at least 2,000 points in a career.
Garza is the first and only student-athlete in Big Ten history to accumulate 2,000 points, 800 rebounds, 125 blocked shots, and 100 3-pointers. He is the only player from a major conference with those numbers dating back to the 1992-93 season.
So the alleged curse has had no effect on Garza's productivity.
His team, on the other hand, is struggling to protect second-half leads for lots of different reasons.
Fredrick's absence certainly doesn't help, considering Iowa is just 4-8 in games in which he either has missed entirely due to injuries or played little.
However, Iowa's problems go beyond missing just one player.
Iowa has struggled on defense, and has struggled to make clutch shots despite having one of the top clutch shooters in program history in senior point guard Jordan Bohannon.
There also have been some questionable calls that have hurt Iowa, but to blame the officials after losing four of five games certainly wouldn't be a good look.
Some fans seem convinced that the current skid is another Fran fade, and the fact that Iowa entered the season with enormously high expectations makes it harder to explain, and to accept.
The COVID-19 global pandemic has created new and unique challenges, but every team is having to deal with those distractions.
Junior guard Connor McCaffery, who is Fran McCaffery's son, said Tuesday that confidence isn't a problem.
"I think we have enough experience, I honestly think when any team goes into a little lull there's maybe some confidence issues," Connor McCaffery said. "But I would just say it's more just staying connected at all times.
"We know the type of team we can be."
Fran McCaffery said Tuesday that the plan is for Fredrick to play against Rutgers on Wednesday. Fredrick practiced on Monday, and was expected to practice on Tuesday, so that's a good sign.
But Fredrick also has an injury that could linger for the rest of the season, according to Fran McCaffery.
And if you're an Iowa fan, history has taught you to assume the worst.
Iowa vs. Rutgers
When: Wednesday, 6:30 p.m.
Where: Carver-Hawkeye Arena
TV: Big Ten Network
Radio: Hawkeye Radio Network
All-time series: Wednesday will be the 11th meeting between Iowa and Rutgers. The Hawkeyes are 8-2
against the Scarlet Knights, including a 3-1 record in Iowa City. Iowa defeated Rutgers earlier this season, 77-75, in Piscataway, N.J on Jan. 2.