By Pat Harty
IOWA CITY, Iowa – Urban Meyer is proof that it doesn't take common sense, awareness or decency to thrive as a head football coach.
Meyer has been wildly successful at all of his coaching stops along the way, winning two national titles at Florida and one at Ohio State.
And with that success, especially at the Power Five level, Meyer's power and influence mostly has gone unchecked.
His way was the only way, and as long as there was dominance on the field, it was accepted.
But that was college.
Meyer is now coaching the NFL's Jacksonville Jaguars, and learning the hard way that it's a whole different ball game.
It was much easier for Meyer to dictate the narrative in college, because for one, he was highly successful, and he also had more control over the environment, and the message.
His rosters were filled with young men, mostly between the ages of 18 and 22, and with many who dreamed of playing in the NFL, and knew there only chance was to adhere to whatever Meyer wanted and promoted.
Jacksonville's roster, on the other hand, is filled with players, mostly between the ages of 22 and 30, who are being paid money, in many cases lots of money, to play a game that is now a business to them, and that also gives them way more power and influence, and a much bigger voice, than they had in college.
Jacksonville's roster is also more than 50 percent black, as is the case with every NFL roster.
So when Meyer announced that Jacksonville had hired Chris Doyle as Director of Sports Performance, it was a powder keg ready to explode, and it barely took 24 hours for it to blow as Doyle resigned late Friday night.
Only eight months earlier in June, 2020, Doyle had reached a $1.1 million separation agreement with the University of Iowa in the wake of Doyle having been accused of racial disparities and bullying by multiple former Iowa black players.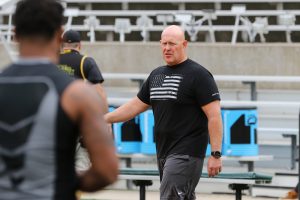 It was a stunning fall for somebody who had been with Kirk Ferentz at Iowa since the beginning in 1999 as his strength and conditioning coach.
Doyle was the highest paid strength and conditioning coach in college football, and he also had an incredible amount of power, influence and trust from Kirk Ferentz, and looking back on it now, probably too much power, influence and trust.
The backlash was fast and furious on social media, and Doyle's hire soon became a national story in which Meyer was widely criticized for his selection.
The hiring of an NFL strength coach rarely gains much attention beyond that team's fan base. But Doyle's hire soon became one of the biggest stories in sports, but for all of the wrong reasons.
Meyer was being ripped and ridiculed for his choice, as some Jacksonville fans threatened to cancel their season tickets, and the ugliness and embarrassment from the summer of accusations at Iowa had resurfaced.
The protest climbed to a new level, however, when the Fritz Pollard Alliance, which promotes diversity in the NFL, called the decision to hire Doyle "simply unacceptable."
It was also being reported that some of the Jacksonville players were upset and disappointed with the hire.
That's when you had to wonder if the 56-year old Meyer finally had met his match, and would ultimately cave.
And he did, just hours later in a statement.
"Chris did not want to be a distraction to what we are building in Jacksonville," Meyer said. "We are responsible for all aspects of our program and, in retrospect, should have given greater consideration to how his appointment may have affected all involved. We wish him the best as he moves forward in his career."
If the way Meyer described it is true, then Doyle deserves some credit for recognizing the severity of the situation, and for putting the team before himself.
That couldn't have been easy to do because lots of people in his profession dream of landing a job of this stature.
The 52-year old Doyle is certainly qualified from a knowledge, experience and results standpoint.
But he's also damaged goods because of what happened at Iowa.
And it's only been eight months since Doyle left Iowa in shame.
Doyle certainly has his supporters, and I know and like many of them.
They feel that he was made a scapegoat and forced out at Iowa in order to protect and appease others. They don't necessarily dispute all of the accusations, but wonder why only Doyle was forced to pay a heavy price.
I don't have enough facts to form an opinion on that, but Doyle's supporters certainly are entitled to their opinion.
All I know is that multiple former black players made accusations, and it would be naïve and unfair to dismiss them all.
I'm all for second chances, and that includes Chris Doyle.
However, some will say that Doyle was given some second chances at Iowa, and that justifying or excusing his behavior ultimately backfired.
Doyle shouldn't be kept from working again in his profession because of what happened at Iowa.
But shouldn't he be forced to feel the consequences of his actions just a little bit?
It was a slap in the face to the Iowa players who made the accusations for Doyle to have been hired by an NFL team just eight months later.
It was also Meyer failing to realize that his power is limited in the NFL, because in this case, the power belongs to the people.