By Pat Harty
IOWA CITY, Iowa – In trying to explain or illustrate the true greatness of Luka Garza, there are so many moments and performances and milestones from which to choose.
In his most recent game on Thursday, Garza scored 30 points and made four 3-point baskets as Iowa defeated Wisconsin 77-62 at the Kohl Center in Madison, Wis.
There was his 44-point barrage against Michigan last season, and his 38-point performance at Indiana last season that was two points from tying an Assembly Hall record for an opposing player.
There was his performance at Iowa State this season in which Garza scored 34 points in just 17 minutes. It was the most points scored by a Division I player who has played less than 20 minutes over the last 25 seasons.
There was his 41-point gem against Southern University this season in which Garza made 14-of-15 shots from the field.
There was his 32-point and 17-rebound performance in a loss at Minnesota this past Christmas day, and his 33-point performance against the Gophers in a victory barely two weeks later at Carver-Hawkeye Arena.
For nearly two seasons, the 6-foot-11 Garza has performed at a level on offense that rarely has been seen at any level of basketball.
He has scored at least 30 points in 12 games as a Hawkeye and only needs 14 points to become Iowa's all-time leading scorer, a record that the late, great Roy Marble has held since 1989 with 2,116 points.
And with the way Garza can score, he might have the record by halftime of Sunday's game against Penn State at Carver-Hawkeye Arena.
"It was one of those records that you knew it would eventually get broken, but it was going to be really hard, especially now with people leaving early," said Iowa coach Fran McCaffery. "But any time you can score over 2,000 points, that's an incredible accomplishment. I coached against Roy and, of course, like you said, I got to know him, which was really special for me.
"But to watch Luka just keep grinding, we had Aaron White, he came close, but you're going to have to be an incredibly productive player for four years to score over 2,000 points and stay on the floor. I'm so proud of Luka, and as I said before, I just wish Roy was here to see it and be a part of it."
Marble passed away from cancer in 2015 at the age of 48, so he never had the pleasure of watching Garza play for his alma mater.
And that's unfortunate because it truly has been a pleasure watching Garza ascend to stardom.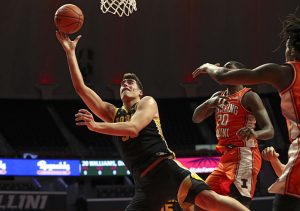 But the moment that perhaps best illustrates why Garza is so special actually happened with him on the bench in the closing minutes of a rare lopsided win at Michigan State this past Saturday.
Iowa's reserves were putting the finishing touches on what would ultimately be an 88-58 drubbing, but the game had sort of been a struggle for Garza, as he was held to just eight points, breaking a 44-game streak in double figures.
But you couldn't tell by the way Garza cheered enthusiastically from the Iowa bench. Any sense of personal frustration had been erased by the pure joy of victory.
Iowa had earned a milestone win and that's all that really mattered to Garza. The Washington D.C. native was too excited to even sit down as his teammates closed out the victory at Michigan State, and that spirit and enthusiasm is contagious.
So is Garza's work ethic and his inner drive to succeed.
Iowa is so fortunate that its best player is also its hardest worker and the ultimate teammate because that doesn't always happen.
"What was really impressive to me was how happy Luka was in the locker room for his teammates and our victory," Fran McCaffery said after the Michigan State game last Saturday. "That says all you need to know about our leader."
Garza, obviously, is proud of what he has accomplished from an individual standpoint, and he should be because it's the stuff of legends.
He was a consensus All-American last season, and will be again this season, and is the leading candidate for National Player of the Year.
You name it and Garza has pretty much done it from an individual standpoint.
With help from his father, Garza transformed his body in high school, and that turned him into a legitimate Division I prospect.
And now that prospect is a superstar, and one of just two Iowa players to score at least 2,000 points in a career.
However, it's team goals that Garza is more focused on these days.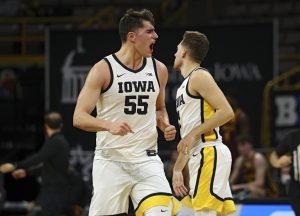 "I didn't come back to score points," Garza said after Thursday's victory at Wisconsin. "I didn't come back to win awards. I've won awards — I did that last year.
"My main focus is winning games. There's a lot of noise around this team. I try and stay away from it, not let it bother me, and do what I do."
The beauty of Garza is that he is a prolific scorer, but is so without hunting for shots and without being a ball hog. Garza does his damage within the framework of the offense, and does so with hard work, fundamentals and persistence.
"He's one of the more unique players you'll see," said Indiana coach Archie Miller "He's got great size, he's got great physicality. He doesn't jump that high and he probably doesn't run that fast, but you will not find a guy that you watch on film that moves and works like he does.
"Great scorers have a knack to get the ball. Great scorers have a knack to get to the foul line. But this guy right here never stops moving. It's a credit to him. It's also a credit to their system. Their pace is great, their motion's great. But he does not take a break."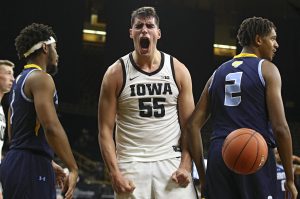 Even with his sustained dominance, Garza has his doubters when it comes to his future in the NBA.
His lack of quickness and jumping ability is a concern, especially on defense, but that stuff will work itself out.
All I know is that Luka Garza is nearly 7-feet, can make 3-pointers, has an assortment of post moves, a motor that never stops and the respect and admiration of his teammates, coaches and fans because of how he conducts himself on and off the court.
If I'm an NBA executive, I'd take a chance on somebody with all of those qualities.
Iowa is lucky that its newest hoops legend is what you would hope he or she would be; a player who doesn't let greatness shift his or her priorities.
Fran McCaffery saw Garza's potential before most other Power Five coaches did, and their relationship is at the center of Garza's rise to stardom.
They have both helped to make each other better.
Fran McCaffery has helped turn Garza into one of the best players in program history, while Garza has helped McCaffery lift the program to a new level.
Iowa (16-6, 10-5) was ranked fifth in the Associated Press preseason poll, and much of the hype was due to Garza's presence.
The team did have a recent rough stretch where it lost four of five games, but Iowa has since won three games in a row.
Iowa has five conference games remaining, followed by the Big Ten Tournament and a spot in the NCAA Tournament.
So at the most, that's 14 or 15 games should Iowa advance to the championship game in both postseason tournaments, and assuming there are no interruptions caused by the COVID-19 global pandemic.
It's unfortunate that the global pandemic has kept fans from getting to experience Garza's senior season up close. It also kept him from playing in the NCAA Tournament last season.
But in the big scheme of things, those are small prices to pay compared to other damage caused by the pandemic.
Luka Garza has represented the Iowa program with class since he arrived on campus as a freshman in 2017.
He overcame a losing season as a freshman, and having a 9-pound benign cyst removed from his abdomen in 2018.
So it's been a struggle at times for Garza, but he has never wavered.
Garza is on a mission to reach his full potential as a basketball player, and Hawkeye fans should be grateful that he chose Iowa to be a major part of that mission.
Because, so far, it's been an incredible ride with maybe the best yet to come.