By Pat Harty
IOWA CITY, Iowa – In case you weren't aware, I'm a huge Ronnie Lester fan.
He's my favorite Hawkeye of all time in any sport, and in my opinion, the greatest player in the history of the Iowa men's basketball program.
Lester's individual greatness as a point guard, coupled with what Iowa accomplished during his four years on the team, puts him at the top of my list, and I'm sure on top of many lists.
One of my greatest thrills as a Hawkeye fan was just watching Lester, when healthy, race from baseline to baseline like a human blur. The soft-spoken Chicago native was impossible to stop in transition, and to keep out of the lane.
Lester also led Iowa's resurgence under Lute Olson in the late 1970s, and was a junior, and the driving force, when Iowa last won the Big Ten regular-season title in the 1978-79 season.
Many Hawkeye fans still believe that Iowa would've won the 1980 national title if Lester had stayed healthy as a senior.
Iowa still advanced to the 1980 Final Four, even with Lester hobbled by a knee injury. But when Lester re-injured his knee against Louisville in the national semifinal, Iowa's chance of winning was greatly diminished.
Louisville would gone to win 80-72, and would also go on to win the national title.
Iowa hasn't advanced to the Final Four since then, nor has Iowa won a Big Ten regular-season title since Lester and his cohorts last did so 42 years ago.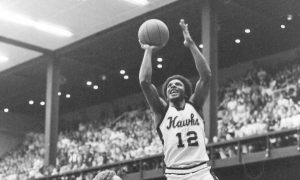 There is a lot to like about Ronnie Lester, both individually, and from a team standpoint, so for me to even suggest that Iowa senior center Luka Garza has earned the right to be compared to Lester speaks volumes.
But that's what I'm doing with this column because Garza has earned the right to be compared to Lester.
I'm not ready to rank the 6-foot-11 Garza ahead of Lester, but I am willing to say that Garza is without question second on my list of all-time great Hawkeyes, and that he could climb above Lester, but it won't be easy.
Garza has Lester beat by a long shot when it comes to individual statistics and awards.
Garza became Iowa's all-time leading scorer in Sunday's victory over Penn State, and has 2,126 career points heading into Thursday's game at No. 3 Michigan. Garza could realistically score up to 2,500 points should Iowa play enough postseason games.
Garza posted his team-leading 10th double-double of the season against Penn State on Sunday (23 point and 11 rebounds), and 31st of his career.
He currently leads the nation in scoring and has scored at least 20 points 16 times this season and 53 times in his career.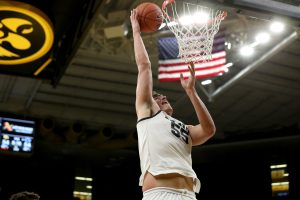 Where Garza comes up short compared to Lester is team success.
Iowa won a Big Ten regular-season title and advanced to the Final Four with Lester on the team, whereas Iowa has won just one NCAA Tournament game with Garza on the team.
Iowa was a lock to make the 2020 NCAA Tournament before it was canceled last March due to the outbreak of the COVID-19 global pandemic.
But Iowa also lost three of its last four games last season, and barely finished above .500 in conference play with an 11-9 record.
Iowa finished 10-10 in conference play during Garza's sophomore season in 2018-19, and split two games in the Big Ten Tournament, and two in the NCAA Tournament.
Iowa defeated Cincinnati 79-72 in the first round of the 2019 NCAA Tournament, but then lost to Tennessee 83-77 in overtime in the second round.
Iowa didn't make the postseason in Garza's freshman season, finishing just 4-14 in the Big Ten and 14-19 overall.
So for Garza to narrow the gap with Lester, Iowa will have to finish the regular season on a high note, make a strong showing in the Big Ten Tournament, and a deep run in the NCAA Tournament.
Yes, that's asking a lot.
But we're also talking about supplanting Ronnie Lester as the greatest player in program history, and that shouldn't come easy.
The pressure to break Roy Marble's career scoring mark was apparent in Sunday's game when Garza, following a timeout, shot an air ball on a free-throw attempt that would've broken the record.
"The moment I started thinking about it was when we called that timeout, I knew that if I hit two, I was going to pass it," Garza said. "That was the moment. The whole first half I was fine and then when I got past that point, I was nervous on the free throw, and after that I calmed down and was able to play the rest of the game.
"The free throw was the only point where I thought I was pressing. I was locked into the game the whole first half and I just missed a couple of jumpers."
Iowa withstood Penn State's upset bid, winning 74-68 to improve to 17-6 overall and 11-5 in the Big Ten. Iowa has also won four games in a row.
A video tribute to Garza was played on the big screen after Sunday's win in which former Iowa players, and Garza's father, congratulated him on his accomplishment. Just the thought of having to celebrate his achievement after a loss was something Garza wanted no part of.
"It wouldn't have felt the same, it felt good to get a win, continue this streak, and have that as a bonus at the end," Garza said. "It wouldn't have felt right without a win. That's why the whole game I was locked in, trying to do what I could to help the team win."
The next two games against Michigan, and at Ohio State on Sunday, will be huge opportunities for Garza from both a team and an individual standpoint.
Iowa trails Michigan by four games in the loss column with four games left to play.
But the Big Ten standings won't matter as much should Iowa play well in the conference tournament and make a deep run in the NCAA Tournament.
Iowa hasn't advanced to the NCAA Sweet 16 since 1999 when Garza was about four months old.
That dubious streak will have to end this season in order for Garza to be seriously considered as good, or better than Lester.