By Pat Harty
IOWA CITY, Iowa – Born on Feb. 24, 1981, Demond "Bob" Sanders turned 40 years old on Wednesday.
So this seems an appropriate time to remind Hawkeye fans just how great and influential Bob Sanders was as an Iowa football player from 2000-2003, even though you probably don't need to be reminded.
You would be hard-pressed to think of an Iowa football player, outside of Nile Kinnick, or maybe Tim Dwight, who is more loved, respected and revered than Bob Sanders.
Just the mention of his name causes Iowa fans to get excited on social media.
They start reminiscing about his bone-jarring hits, and about how Sanders helped change the culture under Kirk Ferentz more than any other player.
And that's not really even open for debate because Kirk Ferentz and multiple players have credited Sanders with changing the culture, and with instilling a toughness and a relentlessness that is all part of winning.
Iowa fans had the pleasure of watching Sanders play for four seasons as a Hawkeye defensive back, and he never disappointed.
From his very first game against Kansas State in the 2000 Eddie Robinson Kickoff Classic, to his last game against Florida in the 2004 Outback Bowl, Sanders played with a style, pace and ferocity that was truly special.
He made tackles in which you often felt sorry for the opponent, and hoped that the opponent would get up.
Sanders wasn't dirty, but he was destructive.
He only knew one speed, and that was full-speed. But he also played under control, and with great awareness and passion.
Sanders is only about 5-foot-8, but he weighed over 200 pounds during his playing days and was incredibly strong, fast an agile.
He was also fearless.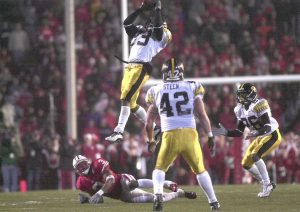 The fact that Sanders would go on to become a star in the NFL, including being named the 2007 NFL Defensive Player of the Year with the Indianapolis Colts, just adds to his legend, and to his mystique.
Most of us only witnessed Sanders' greatness on Saturdays or Sundays, but those who played with him saw it every day in practice, and in the weight room, and they fed off it."
I've heard stories from former players in which Sanders supposedly was so feared by some of the offensive players that they tried to avoid being matched with him in drills that involved contact.
One man, or one player doesn't make a culture.
But one player, and in this case, Bob Sanders, led a culture change and inspired those around him.
That's not me saying it, but rather countless former players who say it.
They say that Sanders had more to do with changing the culture during the early years under Ferentz than any other player.
According to some former players, the tempo in practice changed once Sanders started practicing as a Hawkeye.
He had an aura about him, one that was built on respect, admiration, and maybe even some fear.
Sanders, who grew up in Erie, Pa., also might have had a chip on his shoulder when he came to Iowa since it was his only scholarship offer besides one from Ohio University.
But I think Sanders would've been just as hungry and determined as a Hawkeye if he had been a 5-star recruit because that was just his nature.
Sanders respected the game and he only knew how to play it one way, and that was full-steam ahead, and with a level of violence, physicality and fearlessness that put him in a class by himself.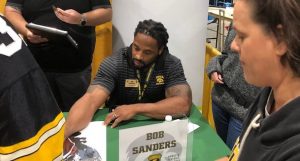 Sanders has mostly kept a low profile since retiring from the NFL in 2011, but he served as Iowa's honorary captain for the Purdue game in 2019 and delivered a powerful pre-game message about giving it everything you have.
Sanders told the players about a conversation he had with Iowa defensive backs coach Phil Parker during the 2003 Orange Bowl.
"He said if you decide to go, when you get on the field, give it everything you have," Sanders of Phil Parker, who is now the Iowa defensive coordinator, in addition to coaching the defensive backs. "If you can't make it off the field, I will go out there myself and I will carry you off."
"That moment changed me forever. I always played 100 percent every time I was on the field. When coach Parker said he would carry me off himself, that made me realize it was more than football. He cared about me — he knew what I was capable of, but he loved me enough that if I couldn't make it off the field, he would come out there himself and carry me off."
That statement speaks very highly of the Iowa culture under Kirk Ferentz, and shows there is a good side to a culture that has been widely criticized in the wake of multiple former Iowa black players accusing the program of racial disparities and bullying.
Sanders hasn't said anything publicly, at least to my knowledge, since the accusations were made this past summer.
But if there is any one person whose words would carry extra significance and meaning, it's Bob Sanders because of how much he is respected.

Sanders was the ultimate warrior from a football standpoint, tough brave and determined.
He often sacrificed his body for the good of the team.
"You have to love it so much you are willing to give up your body for your brother," Sanders said to the Iowa players in 2019.
Iowa took a chance on Sanders, and he took a chance on Iowa, and with that a legend was made.
And now that legend just turned 40.
Happy birthday, Bob Sanders, and thanks for everything you did for Hawkeye football.