By Pat Harty
IOWA CITY, Iowa – The Iowa men's basketball team is hurting right now, literally, figuratively and emotionally.
It came up short against another elite opponent, this time way short in a deflating and discouraging 79-57 loss at Michigan on Thursday, but Iowa's pain goes far beyond losing a game.
Everybody's thoughts were on Jack Nunge when Thursday's game ended, and with those thoughts were probably some prayers.
Sadly, what everyone had feared was confirmed on Friday as Iowa announced that the 6-foot-11 Nunge had suffered a season-ending torn meniscus of his right knee early in the first half against Michigan.
It was heartbreaking to see Nunge helped off the floor after he barely had played one minute with what appeared to be a serious injury.
Nunge also had to overcome a torn anterior cruciate in the same knee that he suffered on Nov. 24, 2019 against Cal-Poly in the fifth game of the 2019-20 season.
Nunge's loss is a crushing blow from a team standpoint. However, no disrespect to the team, I'm more concerned about Nunge's well-being because life has been so cruel to him.
I just lost my 91-year old mother last week, and it was devastating despite her age, and despite having time to prepare for her passing.
My father also passed away at the age of 91 in 2018 after having lived a long and mostly healthy and happy life.
So I couldn't begin to imagine how Nunge must have felt when his father, Mark Nunge, died suddenly and unexpectedly on Nov. 21 at the age of just 53.
One minute Jack Nunge is getting ready for the season to start and then he gets word that his father is gone.
It's just so cruel and unfair.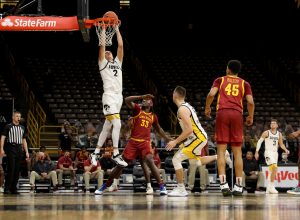 And now Nunge has to deal with this latest injury, but he doesn't have his father, who was a doctor, to support and comfort him.
In barely 16 months, Jack Nunge has lost his father unexpectedly and suffered two season-ending knee injuries.
"Jack has been through so much and we all feel terrible for him," said Iowa coach Fran McCaffery. "He was really playing well and making great strides this year before another unfortunate setback.
"Jack is beloved and respected by his teammates, and everyone in our program will support Jack during his recovery. We look forward to having him back on the court next season."
Nunge technically has three seasons of eligibility remaining since this season was a free year due to the global pandemic. But he also turned 22 on Feb. 20, and this is his fourth year in the Iowa program.
Nunge can gain strength from knowing that he has two families to help guide him through this latest nightmare.
His mother, his siblings, and his aunts and uncles will play a vital role in helping him persevere, but so, too, will his Hawkeye family.
Iowa senior guard Jordan Bohannon was visibly shaken as he addressed Nunge's situation following Thursday's loss to Michigan.
"I don't even know what to say at this point to Jack knowing the road he's gone through beginning this season with his father," Bohannon said. "Hopefully, I'm praying it's not the same thing because that kid has gone through hell.
"He's one of my best friends and I can't even think about what he's going through mentally. I just have to be there for him and try to keep him positive through this tough time he's going through because we all need him out there. He's a big part of this team."
Nunge didn't suffer the same injury, but it was serious enough to end what had been a promising season for the fourth-year sophomore.
His size, length and versatility was helpful on both offense and defense, and Nunge gave Iowa another post presence alongside All-America senior center Luka Garza.
Freshman forward Keegan Murray will have to help fill the void beginning with Sunday's game at No. 4 Ohio State.
But no question, Iowa's depth and versatility will not be the same without Nunge.
Nunge played in 22 games this season, leading the team in scoring (7.1) and rebounding (5.3) off the bench. The native of Newburgh, Indiana, redshirted the 2018-19 season and was approved for an additional year of eligibility after playing in only five games due to injury.
The rehabilitation process can be a grueling and lonely experience, because no matter how much teammates try to include an injured player in the day-to-day activities, it's still not the same.
Nunge has a tough road ahead, physically and emotionally.
But he also has two families, and a large and devoted fan base praying for him.
And with that comes a lot of power and influence.
Nunge listed the "The Shawshank Redemption" as his favorite movie in the Iowa media guide, and it's a movie about hope and optimism helping to overcame horrible and undeserving adversity.
Hope and optimism are just what Jack Nunge needs right now.