By Pat Harty
IOWA CITY, Iowa – Joey Woody is on a mission to turn Iowa into a track and field power, and that mission is well under way and producing positive results.
Iowa's Director of Track and Field and Cross Country knew that the Iowa men had enough firepower to win the Big Ten indoor title, and it was just a matter of living up to expectations and doing it.
The Hawkeyes did it in overpowering fashion on Saturday, finishing with a school-record 119 points and crowning two individual champions at the 2021 Big Ten Indoor Championships in Geneva, Ohio. It was Iowa's first Big Ten indoor title since 1929.
Iowa also had 10 podium finishes and left no doubt that it was the champion as Indiana finished a distant second with 92 points.
Saturday's indoor title comes less than two years after the Iowa men won the 2019 Big Ten Outdoor Championships in Iowa City.
"It's just having the belief first and then having the mission and getting the right athletes here that are bought into the mission, and then, obviously, our staff that's bought into the mission," Woody said on a zoom conference shortly after the conclusion of the meet. "And so our mission is to be the best program in the country and that starts with being the best program in the Big Ten."
The Iowa women's team also had a strong performance during the three-day event and finished third in the team standings.
The focus now shifts to the NCAA Indoor Championships, and then after that it'll be the outdoor season where Woody believes his two teams will be even stronger with the addition of some student-athletes who aren't competing in the indoor season.
Iowa has depth and talent spread throughout both rosters, and that's what it takes to win.
Woody and his assistants also have recruited student-athletes from all over the United States and beyond. Iowa is strong in just about every event, sprints, field events, long distance, you name it and both the men's and women's teams are well equipped to compete at a high level.
"I'm really excited about where we're at as a program, but we've still got a long ways to go," Woody said. "I think that we can be one of the best programs in the country. We've got the right athletes, we've got the right coaching staff. We've just got to keep building.
"I'll tell you what, we've got some kids back home that didn't even make the travel roster that I think can compete and score big points for us at the outdoor championships."
Iowa had struggled for years in track and field, but that started to change under former head coach Larry Wieczorek, who led the Iowa men to the 2011 Big Ten Outdoor title with Woody as one of his assistants.
The 47-year old Woody then was promoted to his current position in July 2014 and both the men and women's programs have improved steadily under his watch.
Woody made sure to thank the former Iowa student-athletes and coaches that have helped to build both programs.
"From where we've come, I'm really proud," Woody said. "But like I told coach Wieczorek and all the former coaches and all the former student-athletes, we wouldn't be where we're at today without our former athletes that have been here to help this program build to where it's at now."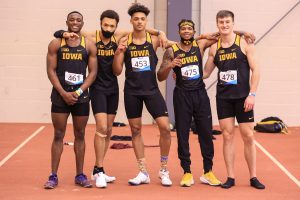 Junior Peyton Haack highlighted a great Day 2 for the Iowa men on Friday, winning gold in the heptathlon with a school record 5,749 points. He is the first Hawkeye in school history to win a Big Ten heptathlon title.
Junior James Carter also won the long jump on Thursday with a career-best effort of 25-feet, 1 ¼ inches.
On the women's side, freshman Paige Magee finished first in the 60-meter hurdles with a personal-best time of 8.26 seconds.
"I was really nervous coming in," Magee told Hawkeyesports.com. "My coaches said to come out and have fun, no expectations, just be able to smile at the end of the day."
Woody grew up in Iowa City and was a star hurdler for City High, but he chose to attend Northern Iowa where he became an NCAA champion in the 400 hurdles in 1997.
The Iowa men's track and field team was struggling at the time, but that no longer is the case thanks to Woody's mission.
Wieczroek certainly deserves credit for helping to lay the foundation, and for hiring Woody, while Woody deserves praise for taking the program to the next level.
Where it goes from here should be fun to watch.