By Pat Harty
IOWA CITY, Iowa – Is there a better threesome in men's and women's college basketball and wrestling that are competing at the same time, and for the same school, than Iowa's threesome of Luka Garza, Caitlin Clark and Spencer Lee?
The answer is no.
And it's not even close.
I looked at schools from all over the country, the powerhouses like Texas, Notre Dame, Ohio State, Stanford, Michigan, Oklahoma, Georgia, the University of Southern California and Baylor among others, but none of them come close to matching Iowa's three-headed monster.
It really shouldn't be a surprise, considering Garza is the favorite for National Player of the Year, while Lee is the reigning Hodge Trophy winner as the nation's top collegiate wrestler.
As for Clark, she has tallied 20 Big Ten Weekly honors on the season, including a Big Ten best 12 freshman honors, a Big Ten record five Big Ten Player of Week honors as a freshman, and three Player of the Week Honor roll nods.
The former West Des Moines Dowling Catholic standout is also one of five finalists for the Nancy Lieberman Point Guard of the Year award.
This is an unprecedented time in Iowa athletics with three spectacular student-athletes having unprecedented success at the same time.
There have been some other impressive triumvirates in these three winter sports at Iowa, but none like the current one.
Andre Woolridge, Mark Ironside and Tangela Smith were a formidable threesome in 1996-97, but their success as a group pales in comparison to what Garza, Lee and Clark are accomplishing right now.
The 6-foot-11 Garza, who is from Washington D.C., surpassed Roy Marble as Iowa's all-time leading scorer against Penn State on Feb. 21, and has 2,166 career points heading into Thursday's game against Nebraska at Carver-Hawkeye Arena.
Garza is the only player in Big Ten history with at least 2,000 points, 850 rebounds, 125 blocked shots and 100 3-point baskets.
Iowa is also a lock to make the NCAA Tournament and is ranked fifth in this week's Associated Press poll.
It's Iowa highest ranking in March since 1956.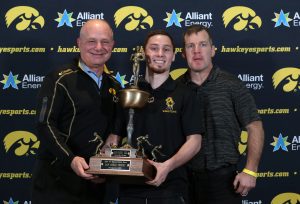 Lee, meanwhile, has been dominant in the four matches he has had during a season that has been interrupted and shortened by COVID-19 health concerns.
The Pennsylvania native was on course to become Iowa's first four-time national champion until the 2020 NCAA Championships were canceled due to the outbreak of the coronavirus.
Lee is now the heavy favorite to win his third national title at 125 pounds, while Iowa is also heavily favored to win the team title, as it was last year before the event was canceled.
I didn't even bother listing some threesomes from other schools because none were even close to being at the level of Iowa's big three.
Iowa has arguably the best and most celebrated men's basketball player, the best and most celebrated wrestler and one of the best women's basketball players in the country all competing at the same time.
No other school could make such a claim.
If by chance, I missed a threesome that deserves comparison, please, enlighten me.
But also remember what you're up against.