By Pat Harty
IOWA CITY, Iowa – At the most, Luka Garza, Jordan Bohannon, and maybe Joe Wieskamp, have 11 or 12 games left to play as members of the Iowa men's basketball team.
To play that many games would require Iowa to reach the finals of both the Big Ten Tournament and the NCAA Tournament.
So, obviously, it won't be easy for them to play more than 10 games.
Fifth-ranked Iowa (18-7, 12-6) has two conference games left, beginning with Thursday's contest against Nebraska at Carver-Hawkeye Arena.
Iowa will then play Wisconsin in the regular-season finale on Sunday at Carver-Hawkeye Arena.
Should Iowa finish in the top four in the conference, it would get a double bye and only have to play three games to win the Big Ten Tournament, while the march to an NCAA title would take six games.
So that's it.
One of the greatest eras from an individual standpoint is nearly over, so fans should try to savor the moment and hope for the best over these last few precious weeks.
The odds of another Luka Garza showing up at Iowa anytime soon are slim because players like him are few and far between.
From his incredible work ethic to his size to his productivity, the 6-foot-11 Garza now ranks as one of the greatest players in program history, right up there with the likes of Ronnie Lester, Roy Marble and Sam Williams.
Garza became Iowa's all-time leading scorer against Penn State on Feb. 21, and has 2,166 points heading into Thursday's game against Nebraska.
Fran McCaffery was among the first coaches to offer Garza a scholarship, and by the time Garza had developed into a national recruit as a high senior in Washington D.C., it was too late for the other Power Five schools.
Garza picked Iowa largely due to his trust in Fran McCaffery, and the rest is history that still is being written.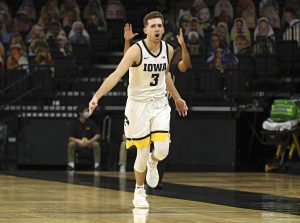 Bohannon picked Iowa mostly because it was one of his very few scholarship offers, and his only Power Five offer.
The 6-1 Bohannon came to Iowa undersized and with the reputation as a shooter.
But Iowa has needed him to play point guard, and while Bohannon has struggled at times, the Marion native, and son of former Iowa quarterback Gordy Bohannon, will leave Iowa as the most statistically accomplished point guard in program history.
He became Iowa's all-time assists leader (615) in this past Sunday's 73-57 victory at Ohio State, and he is also Iowa's all-time leader in 3-point field goals made with 344.
Bohannon also had the assist on Garza's basket that broke Roy Marble's career scoring record that had stood since 1989.
"It was fitting for me to be able to pass him the ball on a pick-and-roll and have him break that record," Bohannon said. "I felt it was destined to be for me to be the one to pass it to him and it kind of happened the way it did."
Fran McCaffery has been willing to put up with some of Bohannon's defensive weaknesses because of what Bohannon brings to the offense as a clutch perimeter shooter, trusted ball handler and being nearly automatic from the free throw line.
Bohannon doesn't often blow by a defender and get to the basket. But he also rarely makes a turnover.
He runs the offense and usually gets the ball where it needs to be.
It is kind crazy to think that because of the COVID-19 global pandemic Garza and Bohannon both could return to Iowa for another season since the NCAA ruled this to be a free year.
Both plan to move on, however, and Wieskamp could choose to do the same despite only being a junior.
There is speculation Wieskamp will skip his senior season and declare for the 2021 NBA Draft.
The 6-6 Muscatine native declared for the NBA Draft after his freshman season before deciding to return to Iowa.
Wieskamp is performing at high level right now, and Iowa has won five of its last six games.
So he has momentum.
But even with so few games left to play, this Iowa team is a long way from being defined.
Playing during a global pandemic has been a surreal, and sometimes frustrating  experience, but Iowa is on the verge of playing all 27 games this season. And that's significant.
The biggest drawback, of course, has been the empty arenas. If ever there was an Iowa team to watch in person, it's this one.
Sadly, the pandemic has kept that from happening, but it hasn't kept this Iowa team from giving its fans something to cheer about.
What happens in the postseason will ultimately define this Iowa team, and particularly what happens in the NCAA Tournament.
Iowa could win the Big Ten Tournament and then lose in the first or second round of the NCAA Tournament and some would likely consider the season to be a failure.
So instead of worrying about how the season will conclude, just enjoy what's left of this unique ride.
Enjoy Garza's tenacity, non-stop motor and double-doubles.
Enjoy Bohannon's incredible shooting range and his poise as a fifth-year senior.
And enjoy Wieskamp's versatility and team-first approach.
Players like these three don't come around very often, but Garza, Bohannon and Wieskamp are here at the same time stuffing the stat sheet and breaking records.
All that's left now is team goals, and it should be fascinating to watch Iowa pursue them over these next few weeks.