By Pat Harty
IOWA CITY, Iowa – My first conversation with Luka Garza occurred over the telephone, and not long after he had been offered his first Power Five scholarship from Iowa coach Fran McCaffery.
Garza wasn't committed to Iowa at the time, but I remember thinking after our phone conversation that it would only be a matter of time before he did commit.
Garza spoke so highly of Iowa coach Fran McCaffery and made it abundantly clear that McCaffery's decision to offer him a scholarship before any other Power Five coach, and the relationship they were building, was significant and would definitely impact his decision.
Garza would go on to become a four-star recruit and would have scholarship offers from a long and distinguished list of Power Five schools, including Georgetown, Notre Dame, Indiana, Louisville, Georgia and Virginia Tech among others.
But it didn't matter because the Washington D.C. native never forgot who believed in him first.
Garza's relationship with Fran McCaffery would only get stronger during the recruiting process and Garza committed to Iowa early in his senior year of high school on Sept. 10, 2016.
I had another phone conversation with Garza shortly after he committed and he said his relationship with Fran McCaffery was the biggest factor in picking Iowa.
And now four years later, the 6-foot-11 Garza is Iowa's all-time leading scorer and the favorite to win National Player of the Year.
Fran McCaffery's vision and his willingness to take a chance on Garza when other coaches wouldn't has paid huge dividends with Garza now one of the greatest players in program history.
"We were in first in terms of a BCS school that said, 'hey, you're our guy,'" Fran McCaffery said. "We never wavered from that. The whole getting in early thing, a lot of people think that goes a long way, and it does, but it goes a long way because you develop a relationship. It's not we were the first school that offered. You develop a relationship in a way that I think builds trust. That's what we had.
"Luka and his parents, his high school coach, trusted us. That's a tremendous feeling as a coach."
Garza transformed his body during high school by losing a considerable amount of weight.
Once he trimmed down, schools besides Iowa started to take notice.
But again, it was too late.
Fran McCaffery had faith in Luka Garza long before any other Power Five coaches did, and that also made an impression on Garza's father, Frank Garza.
"Again, for whatever reason that I couldn't figure out, there were knocks on him in the recruiting process," Fran McCaffery said. "What was interesting, Frank and I would talk about this, we both knew that in the end he would have everybody there wanting him.
"I think it was important, maybe not so much to Luka, but to Frank, to see how his hard work paid off with the recognition that he deserved. So by the end of the summer of his junior year, before his senior year, when really the recruiting decisions are made, he pretty much had everybody that wanted him."
And while his relationship with Fran McCaffery helped convince Garza to travel half way across the country to attend college, there is more to being happy as a student-athlete than liking your head coach.
Garza knew very little about the University of Iowa, or about Iowa City, when he arrived in the fall of 2017.
But he adjusted quickly to his new surroundings, and seems to have enjoyed life off the court in Iowa City as much as on the court.
The global pandemic has certainly been a distraction, but Garza has persevered in a faraway place where he feels great happiness and comfort.
"It was an adjustment coming from a big city," Garza said. "It's a lot a different. But it's really nice how it's a lot different. I love both places and once I came here I fell in love with everything. I just love this university, and I've been very thankful to be here for the time I have been.
"So it's really been special, and I think all the guys on the team really welcomed me with open arms and made me feel like I was joining a new family. And that's really what it's been since I got here. It's really just a family environment."
Garza came to Iowa on a leap of faith connected to Fran McCaffery.
Iowa City was a strange place when Garza arrived, but now it's his home away from home.
"People have taught me about Iowa and just different things that I had never known," Garza said. "I hadn't really been to the Midwest ever. I was a city kid."
Upon his arrival to Iowa, Garza  became friends right away with another incoming freshman whose background was entirely different.
Austin Ash was a walk-on guard from Mount Vernon, but he and Garza discovered they actually had a lot in common, including a burning desire to compete in basketball.
They have lived together throughout college and are the closest of friends.
"He kind of showed me what Iowa City is about," Garza said of Ash.
Garza, Ash, senior point guard Jordan Bohannon and walk-on senior forward Michael Baer are nearing the end of their Hawkeye careers with just two regular-season games remaining.
Fifth-ranked Iowa (18-7- 12-6) will face Nebraska on Thursday and Wisconsin on Sunday, with both games at Carver-Hawkeye Arena.
The four seniors will be honored before the game, but it won't be a typical Senior Day ceremony due to COVID-19 health restrictions.
"We all wish the place was full and they could be honored properly," Fran McCaffery said. "We're going to do the best we can, pretty much what we always do. But, unfortunately, not even the parents are going to be allowed on the floor. They're going to be up.
"Hope to honor them at another time, maybe at the banquet, maybe next year at a game when it's full again. But those two guys have been so instrumental and had so much success in our program's history. I'm just thankful to have had the opportunity to coach both of them, watch them grow and develop and become record setters essentially.
"We'll do the best we can on Sunday for them, but at some point they'll be honored again, I'm sure."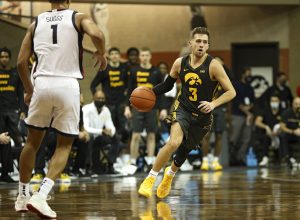 Bohannon has his own recruiting story to tell, that while different than Garza's story, the one common denominator is the trust factor with Fran McCaffery.
Iowa was Bohannon's only Power Five offer, and much like Garza, Bohannon, who is from Marion, has rewarded Fran McCaffery's faith by becoming Iowa's all-time leaders in assists (615) and 3-point field goals made (344).
Recruiting is about building relationships more than anything else, and Fran McCaffery has certainly accomplished that with Bohannon and Garza.
They will be friends for life, and that's the way recruiting should work.
A coach and a player develop a mutual trust and respect, and together they go on to accomplish great things.
Luka Garza seemed convinced the first time I spoke with him about five years ago that he wanted to be a Hawkeye. He didn't go as far as to say it.
But you could just hear it in his voice.
Garza found what he considered the perfect place to play college basketball, and it's hard to argue with his choice.
Iowa vs. Nebraska
When: Thursday, 8 p.m.
Where: Carver-Hawkeye Arena
TV: Big Ten Network
Radio: Hawkeye Radio Network
Records-rankings: Nebraska is 7-17 overall and 3-14 in the Big ten and unranked; Iowa is 18-7, 12-6 and ranked fifth in the Associated Press poll.
All-time series: Iowa holds a 21-13 edge in the series. The Hawkeyes have won nine of the 15 meetings since Nebraska joined the Big Ten in 2011. Iowa owns a commanding 15-3 advantage in games in Iowa City. Thursday will be Nebraska's ninth contest played in CarverHawkeye Arena. The Hawkeyes have won 12 of the last 13 contests in the series played in Iowa City, dating back to 1943.