By Pat Harty
IOWA CITY, Iowa – This game on Sunday was all about mixed emotions.
It started with the annual Senior Day ceremony being held in a mostly empty Carver-Hawkeye Arena, and concluded with fifth-ranked Iowa hanging on to defeat Wisconsin 77-73 in the regular-season finale, and with Iowa Athletic Director Gary Barta announcing afterwards that Luka Garza's jersey number 55 will be retired after the season.
But at what cost?
Iowa was leading 22-15 when junior Joe Wieskamp was helped off the court with what was described as a lower right leg injury with 8 minutes, 16 seconds left in the first half.
An eerie silenced swept over the arena with Wieskamp sprawled on the court and clutching his right ankle. The Muscatine native barely put any weight on his right leg as he was helped off the court in noticeable pain.
Iowa then announced on Twitter at halftime that Wieskamp wouldn't return due to a lower right leg injury.
Iowa coach Fran McCaffery said on the zoom conference after the game that Wieskamp's status is day-to-day. So Wieskamp's situation could be worse.
Wieskamp already had scored 12 points in less than 12 minutes when the injury occurred.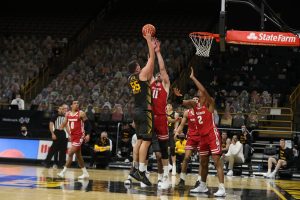 Wisconsin then trimmed the deficit to three points at 23-20, but Iowa answered with back-to-back 3-point baskets by Garza and C.J. Fredrick to quell that rally.
Iowa led 35-25 at halftime, but again there was mixed emotions because of what happened to Wieskamp.
He returned to the Iowa bench with his right lower leg in a boot and watched the second half from the bench. He stood during timeouts and put weight on his right leg, so perhaps that is a good sign, because to lose the 6-foot-6 Wieskamp for any time would be significant, especially this time of year.
Iowa now moves on to the Big Ten Tournament as the No. 3 seed and will receive a double bye before playing in Friday's quarterfinals in Indianapolis.
"I'm just really proud of what we did today and what we've done all season," said Fran McCaffery. "I want them to cherish what they experienced today. Enjoy it, get some rest, but then turn the page to what we have coming down in Indianapolis."
A lot can happen over five days from a healing standpoint, so maybe Iowa will catch a break in Wieskamp's case.
Wisconsin, as expected, made a rally in the second half, quickly erasing a 12-point deficit.
The game was close the rest of the way, but Iowa made just enough plays, and free throws, to escape with the win, it's seventh in the last eight games.
Senior point guard Jordan Bohannon made three consecutive free throws to give Iowa a 74-71 lead with 34.3 seconds remaining.
Bohannon finished with 16 points, eight assists and six rebounds while playing 34 minutes.
"We came out in the second half, I thought we did a good job the first four minutes, then midway through the second half they cut the lead and ended up taking the lead," Bohannon said. "A lot of teams probably would have folded over but we maintained and stuck to what our roots are, what got us to this point and put us in position to have a great postseason run."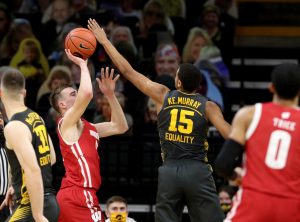 Keegan Murray also made two free throws to give Iowa a 76-73 lead with 21.6 seconds remaining. His free throws came as a result of Wisconsin guard Brad Davison being called for a flagrant foul.
Murray's free throws capped a fine all-around performance by the 6-8 Cedar Rapids native and son of former Iowa player Kenyon Murray.
Keegan Murray finished with 13 points, six rebounds and three blocks, and Iowa needed everything he contributed in order to prevail without Wieskamp.
Keegan Murray already is a valuable piece to Iowa's puzzle, but his role will increase if Wieskamp is out for any length of time.
Garza finished with a workmanlike 21 points and 16 rebounds.
Garza became emotional as he addressed the few fans that were in the arena, including his parents. He thanked Fran McCaffery for changing his life, and he thanked his teammates and family for their support along the way.
"Honestly, I didn't expect that at all," Garza said. "I didn't realize that was a plan or that was going to happen. I  was just really happy we won the game, and then for coach to tell me that was a surreal feeling. That moment will be something I remember forever. Time slowed down as I heard those words, it was just an honor."
Sunday's game was physical throughout, which is typical when Iowa faces the Badgers.
"It definitely resembled a football game," Bohannon said. "There were so many tangle ups, so many stoppages of play. It just shows how physical and aggressive this game is. You need to be very, very tough-minded to win in this league."