By Pat Harty
IOWA CITY, Iowa – Great athletes often are creatures of habit.
By practicing a routine, they find a comfort zone, and the focus needed to compete at a high level.
It also might be a way of showing respect and support for someone special.
For Iowa All-America center Luka Garza, it's all of those things, although, the COVID-19 global pandemic has changed one of his pre tip-off routines, but not his message.
Just prior to the introduction of the starting lineups for Iowa's game against Penn State on Feb. 21 at Carver-Hawkeye Arena, Garza looked up to Iowa's radio broadcasting team of Gary Dolphin and Bobby Hansen and gave them a fist bump in the air.
Dolphin and Hansen both responded with their own fist bumps, and with smiles.
Garza has practiced this routine for most of this season, but he isn't sure which game it actually started.
Iowa's All-America senior center during normal times used to walk over to Dolphin and Hansen, who were seated courtside, and give both a fist bump just prior to tip-off.
But with Dolphin and Hansen now seated in the stands rather than courtside due to COVID-19 safety restrictions, Garza has had to improvise.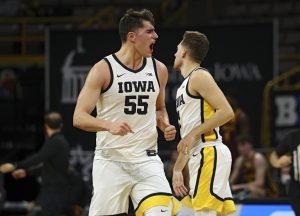 "It's, obviously, a lot different this year without them being on the court like they usually are," Garza said. "Last year, mostly I would walk over and give each of them a fist bump, and I think that just became part of my routine going into each game.
"And then, obviously, this year I didn't really even try and do it at first. I was just getting ready for one of the games and it wasn't even the first game of the year. I walked over and I was about to sit on the bench before they started calling our names out and I looked up and saw both of them and kind of motioned up the fist bump and they did the same. And so ever since then, I've been doing it."
Garza also gives Dolphin and Hansen fist bumps in the air before the start of road games once he finds where they are seated.
"Every time I can find them, obviously, at home they're always in the same spot so it's easy to find them," Garza said. "It's definitely a lot different this year because they can't be on the court. But it's great that they're still there and to be able to be there and support us and talk about the game."
Garza might have to improvise even more since Dolphin and Hansen won't be in Indianapolis this weekend to call the Big Ten Tournament.
They will instead call Friday's quarterfinal-round game from the Kinnick Stadium press box, so perhaps Garza will look up from the Iowa bench and give them both a fist bump.
Whatever happens, it's the message that really counts.
Garza started giving Dolphin and Hansen a fist bump out of respect, and as part of his pre-game routine, and Garza has refused to let a global pandemic stop it.
It was common before the global pandemic to see multiple Iowa players, dating all the way back to Melsahn Basabe, give Dolphin and Hansen a fist bump when they were seated courtside.
It's not as common now, however, for obvious reasons.
"This year now we're moved, we don't even see the guys, don't even really get to talk to them outside of what's presented to us," Hansen said Thursday. "I just happened to look down there and Luka was looking up and he gave me the old air fist bump.
"I tapped Dolph because he's always trying to keep the show going, and it's been something that, hopefully, works for Luka."
It sure seems to be working, considering everything the 6-foot-11 Garza has accomplished this season, and throughout his Hawkeye career.
He became Iowa's all-time leading scorer in the Penn State game, and he twice has been named National Player of the Year by the Sporting News, with the second honor coming earlier this week.
"It's all routine," said Hansen, who played shooting guard for Iowa from 1979-83 before playing nine seasons in the NBA. "I think athletes are creatures of habit and routine."
Garza has made it a point to acknowledge Hansen and Dolphin just prior to tip-off since he became a Hawkeye.
"He used to run across the court, I remember in Las Vegas where we had those two games down there, we were sitting on the other side and he'd come over and make sure, and even in the Big Ten Tournament, Lukas has done that in the past," Hansen said. "He just makes it a point, and I appreciate it, really. It makes you feel a little bit connected to the team, especially when we're really kind of disconnected from them, and from the world right now. We're just trying to do what we can do."
I was just lucky to have been looking at Garza when he recently did the fist bump in the air because it's easy to miss. There is no photo of Garza doing the fist bump this season, at least that I'm aware of, and by the time I was ready to take a photo with my cell phone, it was too late.
Garza is very subtle about it because he isn't trying to draw attention to himself.
He's just paying his respect as part of his pre-game routine, and with it comes a powerful message of Hawkeye unity.