By Pat Harty
IOWA CITY, Iowa – Jan Jensen probably could've left Lisa Bluder's side a long time ago to run her own college basketball program.
Jensen could've climbed the coaching ladder and been the person in charge, the person with the final say on everything
It's reasonable to think that Jensen has had opportunities to leave Iowa for head coaching jobs. But instead, she has stayed loyal to Bluder, and to Iowa.
Jensen is in her 21st season under Bluder at Iowa, including her 18th as associate head coach.
She and fellow Hawkeye assistant Jenni Fitzgerald both played for Bluder at Drake, and have coached under Bluder ever since.
Few schools can match that kind of stability and continuity.
And the three together have been highly successful with Iowa preparing to make its 15th appearance in the NCAA Tournament under Bluder.
Jensen, in addition to being Iowa's recruiting coordinator, also works closely with the post players, and the results have been nothing short of extraordinary.
From Jennie Lillis to Jamie Cavey to Megan Skouby to Morgan Johnson to Bethany Doolittle to Megan Gustafson and now Monika Czinano, the list of post players who have thrived under Jensen is long and distinguished.
Gustafson went from being an average recruit based on hype and her scholarship offers to arguably the greatest player in program history, and one of the greatest post players in Big Ten history.
Gustafson improved dramatically throughout her Hawkeye career, which is a trademark of Iowa's post players under Jensen, with the latest example being Czinano.
Gustafson is clearly the best center that Jensen has helped to develop at Iowa, but the 6-foot-3 Czinano is coming on strong as a junior.
Czinano made the Big Ten All-Tournament team and set a tournament scoring record with 107 points in four games this past week as Iowa finished runner-up to Maryland.
The Watertown, Minn., native also leads the nation in field-goal percentage at 65.7 percent and twice has made first-team All-Big Ten.
Czinano could've buckled under the pressure of trying to replace a legend, but she instead has embraced the pressure.
Czinano certainly deserves a lot of credit for her success, but so does Jensen for guiding her along the way.
The global pandemic has changed so much off the court, and has been an ongoing threat and distraction, yet, Czinano hasn't let if affect her play, or her availability.
She just brings it every game, and plays with tremendous poise and efficiency, which is a testimony to Jensen's influence.
One of the many things that standout about Iowa post players under Jensen is their footwork and their ability to use both hands.
It's obvious that Jensen emphasizes the importance of being fundamentally sound, and that her message gets heard loud and clear.
Jensen was a great player in her own right at Drake where under Bluder she led the nation in scoring as a senior with a 29.6 per-game average.
That's a higher average than what freshman sensation Caitlin Clark is averaging this season, and higher than what Luka Garza has ever averaged as a Hawkeye.
In 1993, Jensen was inducted to the Iowa Girls High School Basketball Hall of Fame after having led the nation in scoring as a high school senior, averaging 66 points per game.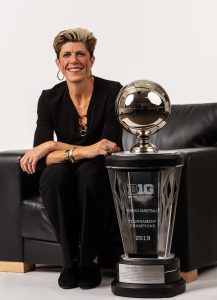 Jensen has instant credibility as a former star player, but a coach's success as a player only goes so far. A coach also has to know how to relate to his or her players, and how to communicate and inspire on a daily basis.
Coaches also have to know how to listen to their players, and how to react to situations that arise during the course of a season.
Some former star players struggle to make the adjustment to coaching, but Jensen has made it look easy.
Her players admire her. They respect her, and they trust her.
You put all of that together and it creates a healthy environment for learning, for getting better on a daily basis, and for reaching your potential.
Because there are no short cuts or easy paths to success. It's a daily grind, emotionally, mentally and physically.
It takes talent, hard work and sacrifice, and last, but certainly not least, the guidance and support from a respected coach like Jan Jensen.
It's easy to overlook Jensen's impact, and her contributions, because she isn't the head coach.
But Jensen is a huge part of Iowa' success, and there's a long list of post players who have exceeded expectations to back up that statement.