By Pat Harty
One of the greatest careers in the history of the Iowa men's basketball program, maybe the greatest, ended on Monday, and much sooner than Luka Garza had hoped.
For the 22nd year in a row, the Iowa men's basketball team will not be a part of the NCAA Sweet 16 as it lost to Oregon 95-80 in the second round at Bankers Life Fieldhouse in Indianapolis.
Iowa has played in the NCAA Tournament eight times since last advancing to the Sweet 16 in 1999, but none of those eight teams made it beyond the second round.
There was hope and optimism that the streak would end this year with Iowa led by the 6-foot-11 Garza, who is a two-time consensus first-team All-America selection, and Iowa's all-time leading scorer.
But it just wasn't meant to be.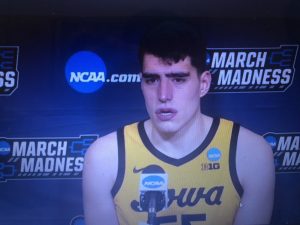 "Our seasons wasn't supposed to be over today, and that's upsetting to me because everybody in that locker room worked so hard to be able to get back to this moment," Garza said. "It's upsetting that we couldn't excel and win the game."
The 6-foot-11 Garza fought to the end and stuffed the stat sheet with 36 points, including 22 in the first half.
Iowa's only two time first-team consensus All-American was removed from the game in the closing seconds, and as headed toward the bench, Garza and Iowa head coach Fran McCaffery shared an emotional embrace.
Garza buried his face in McCaffery's shoulder and cried.
A career that spanned four seasons, and in which Garza shattered numerous individual records, sadly, was over.
"Obviously, I love the university of Iowa, I love my teammates, I love my coaches," Garza said. "These guys changed my life, and I worked as hard as I could. I played as hard as I could, and it just hurts that it's over."
The NCAA Tournament produces unbelievable highs and devastating lows, and Iowa was on the wrong end of that emotional roller coaster.
Senior point guard Jordan Bohannon also played his last game as a Hawkeye, but it was hardly a game to remember as Bohannon struggled against Oregon's pressure and athleticism.
He missed all four of his field-goal attempts and was held scoreless in his final game as a Hawkeye.
Fellow starting guards Connor McCaffery and C.J. Fredrick also were held scoreless, so that's three starters for Iowa who failed to score.
Fran McCaffery said on the zoom conference afterwards that Fredrick played despite being in pain, and that Connor McCaffery played despite having torn labrums in both hips that will require surgery.
Their injuries certainly made things more difficult for Iowa, but also give credit to Oregon for doing what it takes to win.
It seemed pretty clear that Oregon head coach Dana Altman was willing to let Garza have his way, but Altman was determined to shutdown Iowa's perimeter offense.
And that strategy worked for the most part as Iowa only made 8-of-25 shots from 3-point range, while Oregon made 11 treys.
"I just want to begin by congratulating Dana and Oregon for a well-played game, congratulate them as they move forward," Fran McCaffery said. "I just want to say I'm proud of our guys for the way they fought today, and for the way they fought all year long."
Fran McCaffery then explained why he didn't go back with Connor McCaffery, who is his son, and Fredrick, after replacing them early in the second half.
Fredrick has been hampered by an undisclosed lower leg injury for much of the season.
"Neither of them are healthy and I didn't want to put them back in there," Fran McCaffery said. "They've been gutting it out all year, both of them with injuries, and I'm really proud of them both. And we'll get them in the offseason."
That's what this is now suddenly, the offseason.
Luka Garza is now a former Iowa basketball player, and that will take some getting used to for his teammates, for the fans, and for Fran McCaffery because he and Garza share a special bond that goes far beyond basketball.
"The only thing I can say is I have been truly blessed to have had the opportunity to have Luka be on our basketball team for the last four years," Fran McCaffery said. "His leadership, his work ethic, his determination, and his example for the young players, his consistency in effort and performance, we may never see another one like him certainly. I just appreciate who he is more so that what he's done. It's been an honor."
"We've had some great ones that have worn the black and gold. And he's right there at the top. His production and like I said, his consistency, I think that's the legacy that he will leave. And I think that's why everybody in Hawkeye nation appreciates who he is. And I think that's the message that I have."
The only thing Garza's Hawkeye legacy doesn't have is a deep run in the NCAA Tournament, and that's hard for him to accept. A chance to make run in the Big Dance is one of the reasons Garza decided to return for his senior season.
Garza said Monday's loss, and the fact that Iowa failed to make the Sweet 16, will haunt him for the rest of his life.
"It hurts that we weren't able to do it when it mattered the most," Garza said. "That's something that's going to haunt me forever.
"But I've been so blessed, and so lucky to be able to play her at the University of Iowa. It changed my life. And I really and truly did everything I could, and those guys in the lockeroom did everything they could. We worked so hard."
Hopefully, with some time, Garza will come to realize that he is Hawkeye legend, even without a deep run in the NCAA Tournament.
It'll be interesting to see what Fran McCaffery does in the offseason to prepare for life without Garza, Bohannon and possibly junior Joe Wieskamp should he enter the NBA Draft.
Iowa could certainly use help in the post, but there also could be a need for a 3-point shooter without Garza, Bohannon and maybe Wieskamp on the roster.
But there is plenty of time to address the roster, while time has run out on the career of Luka Garza.
Today should be more about appreciating what Garza and Bohannon accomplished as Hawkeyes than complaining about what they didn't accomplish. Bohannon is Iowa's all-time leader in assists and 3-point field goals made.
Garza and Garza won a lot of games together.
And remember, Iowa only finished 14-19 in Garza's freshman season.
"We were one of the worst teams in the Big Ten," Garza said. "We were the laughingstock. Teams were coming into our building and beating us by thirty. There was no postseason for us. There wasn't March Madness."
Iowa also missed the chance to play in the NCAA Tournament last season because the event was canceled due to the outbreak of the coronavirus.
"We would have made it three times after that," Garza said. "An obviously, one year, we got cut short. And the two years that we did have, we couldn't make it past the second round.
"So it's incredibly heartbreaking. I love those guys in that lockerroom. I love my coaches. Everybody in there really changed my life. I did everything I could."
Even without advancing to the Sweet 16, Garza and Bohannon made the Iowa program better during their time as Hawkeyes.
It's hard to appreciate that right now because the NCAA Tournament has so much power and influence.
And in some ways, that's unfortunate because all of the good things get overlooked.