By Pat Harty
IOWA CITY, Iowa – Last week, I paid tribute to Jan Jensen by writing a column that recognized her commitment and contributions to the Iowa women's basketball team as associate head coach.
This week, it's her boss who gets my praise, and deservedly so, because Lisa Bluder continues to excel as the Iowa women's basketball coach.
In fact, Iowa is in the midst of its most impressive stretch under Bluder, having made the Sweet 16 in three of its last four NCAA Tournament appearances, including the Elite Eight in 2019.
Iowa advanced to this year's Sweet 16 by defeating Kentucky 86-72 in the second round on Tuesday. The game wasn't as close as the final score would indicate as Iowa led 49-22 at halftime.
Freshman sensation Caitlin Clark actually outscored Kentucky 24-22 in the first half on her way to an Iowa single-game record for the NCAA Tournament with 35 points.
It was Iowa's 20th victory of the season, marking the 14th time that Iowa has won at least 20 games in 21 seasons under Bluder.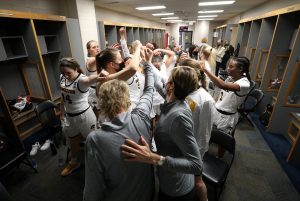 Iowa will be an underdog when it faces top-ranked Connecticut in the Sweet 16 on Saturday in San Antonio, but just to have made it this far is a worthy accomplishment under the circumstances.
"I'm extremely thrilled," Bluder said after Tuesday's victory over Kentucky. "Look at our team at the beginning of the year – no one had us receiving votes in the Top 25. We kept believing in ourselves. I am so happy for my team. We're a young team and we're going to build on this."
Iowa's youth and inexperience was one of the reasons I thought this might not necessarily be a rebuilding year, but a season in which Iowa might struggle to stay in the upper half of the Big Ten, and to make the NCAA Tournament.
I was wrong because I underestimated Bluder's impact, Caitlin Clark's impact, Monika Czinano's impact and the impact of everyone associated with the program.
Clark has been terrific as a freshman, while Czinano, thanks largely to Jensen's coaching, has developed into one of the most efficient and effective post players in the country.
Czinano isn't at the level of Megan Gustafson, but Czinano is a force, and the perfect complement to Clark's perimeter game.
Iowa's role players also have met the challenge more times than not, and no team succeeds without role players helping to fill the gaps and doing the little thing that often are the difference between winning and losing.
And it all starts with the head coach.
One thing that always has impressed me about Bluder's teams is how close the players seem to be on and off the court, and how much fun the players and coaches have with each other on a daily basis. The respect and admiration just seems so true and genuine.
The college basketball season can be a grind, especially this season with the obstacles caused by the global pandemic, and yet, the Iowa players and coaches have remained upbeat and connected.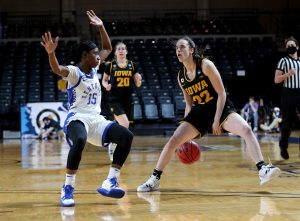 Clark's presence could've created an awkward situation because it isn't often that a freshman steps into a starring role for a Big Ten team.
But Iowa has made it work, which is a tribute to Clark, her teammates, the assistant coaches, and, of course, Bluder.
This Iowa team has a lot of strengths, with chemistry perhaps it biggest strength.
Even with individual star power, basketball still is a team sport and the challenge is to find the right balance between allowing a star player to do her thing within the framework of the team, and without alienating the other players.
Iowa having advanced to the Sweet 16 this season is proof that Bluder has met that difficult challenge.
She has given Clark the freedom to use her immense talent, but without losing the team-first mentality, and that isn't easy to do.
C. Vivian Stringer set a high bar as the Iowa women's basketball coach from 1983-95, and it took a while for Bluder to approach that bar.
But Bluder is there now, thanks to this current surge in which Iowa's record is 96-31 since the start of the 2017-18 season.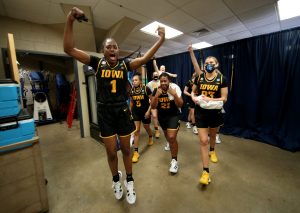 Megan Gustafson deserves a lot of credit for fueling this current surge, but Iowa's former All-America center also benefitted from having solid coaching and from having a healthy environment in which to excel.
It isn't easy making the Sweet 16 as shown by the Iowa men's team, which last made it there in 1999 despite having some quality teams and star players, including Luka Garza.
So for the Iowa women to have made it three times in the last four tournament appearances is very impressive.
Women's college basketball doesn't get near the attention as the men's game, and that makes it easier to ignore or take for granted what Iowa has accomplished under Bluder.
The Iowa Athletic Department likes to promote the phrase, Win. Graduate. Do It Right, and that describes exactly how Bluder runs her program.
Her teams win.
Her players graduate.
And she does it the right way.
The Iowa Athletic Department is fortunate to have a number of quality and proven head coaches, and Lisa Bluder ranks near the top.