By Tyler Devine
Noon on Saturday can't come soon enough for star freshman guard Caitlin Clark and the Iowa women's basketball team.
That means the talk surrounding the matchup between Clark, the nation's leading scorer, and UConn freshman guard Paige Bueckers will be over as No. 5-seed Iowa tries to upset top-seeded UConn in the Sweet 16 in San Antonio, Texas.
It is Iowa's second consecutive appearance in the Sweet 16. The Hawkeyes were headed to the postseason in 2020 before the NCAA Tournament was canceled due to the COVID-19 pandemic.
"I'm excited for the matchup," Clark said. "It's more than just me and Paige. UConn is super talented, and we have their whole team all over the scouting report. We're going to try a lot of things to slow them down. It's going to take a locked-in effort from every person on our team."
Clark and Bueckers are no strangers to hype or national attention.
Coming out of high school, Bueckers was the top-rated prospect nationally by ESPN and Clark was the No. 4 overall prospect.
The two freshman phenoms also are not strangers to one another.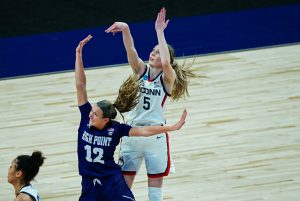 Clark, a native of West Des Moines, and Bueckers, a native of Hopkins, Minnesota, crossed paths on the AAU circuit during high school and played on Team USA together where they won a gold medal at the 2019 FIBA U19 World Cup Tournament.
Going into Saturday Clark is averaging nearly 27 points per game while Clark averages 19.9.
Clark also has scored 30 points in a nation-leading 12 games this season.
Bueckers was recently named a first-team All-American, while Clark was named second-team All-American, much to the chagrin of Hawkeye fans.
Iowa coach Lisa Bluder said Clark's high school experiences were a major factor in Clark's seemingly easy transition to the collegiate level.
"She stepped foot on this campus ready to compete, ready to win, ready to lead," Bluder said. "I give credit to all those people who had a hand in that before she got to the University of Iowa. I hope that she's grown throughout the year as well. We want to continue that journey. I think she can get so much better from here yet."
UConn coach Geno Auriemma spoke Thursday about how rare it is to have two freshman garnering this kind of national attention.
But Auriemma also downplayed the individual matchup because, after all, there are still eight other players on the court at any given time.
"It's been a while since you've had two kids have this kind of an impact," Auriemma said. "Both on their teams and on the game itself, nationally. To have one is unusual – not that unusual – but to have one is kind of cool. But to have two, and to be so alike in so many ways.
"Now, unfortunately they're going to be in a situation where it's like a big football game where they say it's Brady versus Aaron Rodgers, and it couldn't be further from the truth. It's two really, really young kids, really good players that do a lot for their teams. But like it always is in these games, they're just a part of it. I think they would tell you they appreciate the attention, but it's better if it's left to Iowa versus UConn."
Facing the most successful women's basketball program in history is a daunting task, but Clark said that she and her teammates can't get caught up in the mystique of Connecticut's history.
The Huskies have won a record 11 national titles, including four straight from 2013-16.
"Personally, I'm not going to be starstruck," Clark said. "Obviously, that's a team you grow up watching. It's a cool opportunity more than anything. That's just what the coaches have been telling us. You have a chance to do something special here. And we're going to believe we win. That's what we come into every game thinking."