By Pat Harty
IOWA CITY, Iowa – Despite some unusual obstacles, distractions and challenges, the Iowa Athletic Department performed quite well during the winter sports season.
It is easy to dwell on the Iowa men's basketball team's loss to Oregon in the second round of the NCAA Tournament, and the fact that Iowa hasn't advanced to the Sweet 16 since 1999, and the fact that Luka Garza has played his last game as a Hawkeye.
But look beyond that disappointment and you'll see a winter sports season that provided some sense of normalcy during a global pandemic, and a lot of success, both team and individual.
That crossed my mind as I watched the final minutes of the Iowa women's basketball team's 92-72 loss to Connecticut in the Sweet 16 on Saturday.
Iowa hung tough against arguably the best team in the country, but just didn't have enough firepower to keep the winter sports season going for a least another game.
But from winning 20 games after starting the season unranked to advancing to the Big Ten Tournament title game to the incredible season by freshman guard Caitlin Clark, the Iowa women have much to be proud about, and reason to be optimistic about the future with such a young roster.
"Nobody else expected much of our team this year, but we did," Iowa coach Lisa Bluder said after Saturday's loss.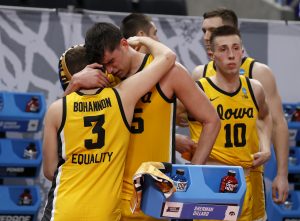 The Iowa men's team also accomplished a lot this season, but now it gets overlooked due to what happened in the NCAA Tournament.
And that's unfortunate because Iowa did win 22 games and finished third in the Big Ten regular-season standings with a very respectable 14-6 conference record.
Those who still are upset about the loss to Oregon, maybe with some more time, will come to appreciate what Garza and his cohorts accomplished this winter.
But as great as Garza and Caitlin Clark both were on the court this winter, what Spencer Lee accomplished on the wrestling mat while leading Iowa to its first national title since 2010 was even more incredible.
Lee won his third national title at 125 pounds in dominating fashion, and did so despite suffering his third torn anterior cruciate ligament barely a week before the start of the NCAA Championships.
Lee clearly wasn't himself during his march to the title, and yet, he still outscored his opponents 59-8, including a 7-0 victory over Arizona State's Brandon Courtney in the title match.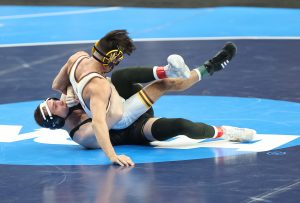 "Eight days ago, I tore my ACL in my other knee, so I'm wrestling with no ACLs," Lee said moments after winning his third national title. "Whatever man. I didn't want to tell anybody because excuses are for wusses."
Lee's performance was the kind of thing you wouldn't believe without having seen it.
To overcome the flu or a twisted ankle is one thing. But to win a national title at the highest level of collegiate wrestling despite having a torn ACL is the stuff of legends.
It's something we'll probably never see again, and let's hope that Lee doesn't have to endure another knee injury.
This latest injury has cost him a chance to compete in the Olympic trials, but this adversity will only make Spencer Lee stronger and more determined as he tries to become Iowa's first four-time national champion.
And his quote about excuses are for wusses will forever be a part of his legacy, and his legend.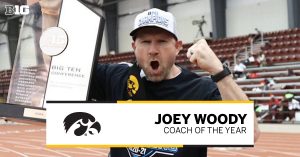 The Iowa men's track and field team also stood tall this winter, winning the Big Ten indoor title by 27 points over runner-up Indiana.
Iowa crowned two champions – Peyton Haack in the heptathlon and James Carter Jr. – in the long jump- and had 10 podium finishes.
It was Iowa's first indoor title since it shared the crown in 1963 with Michigan, and its first outright title since 1929.
"I'm really excited about where we're at as a program," said Iowa director of track and field, Joey Woody. "Our mission is to be the best program in the country. That starts with being the bet program in the Big Ten."
The Iowa women's gymnastics team also won the Big Ten regular-season title this winter. It was Iowa's first Big Ten crown since the conference began awarding the regular-season champion in 2013.
One of the biggest disappointments about this winter sports season is that so few fans saw the games or matches in person due to health concerns.
The Iowa student-athletes performed mostly in empty arenas this winter, but they certainly made the best of it.