By Pat Harty
IOWA CITY, Iowa – This past Oct. 31, the Iowa football team lost to Northwestern 21-20 at Kinnick Stadium despite leading 17-0 after the first quarter.
Iowa fell to 0-2 with the loss and it look as if Kirk Ferentz might have some serious problems, on and off the field.
It was hard enough dealing with the global pandemic, but Ferentz also had a team that looked lost and confused on offense, because remember, Spencer Petras attempted 50 passes against Northwestern despite it being just his second career start.
For Petras to attempt that many passes under the circumstances didn't make sense, especially with so little to show for it.
But the concern that day stretched beyond the playing field, because just four months earlier in June, Kirk Ferentz's once-stable world had been rocked to the core as multiple former Iowa black players had accused the program of racial disparities.
It quickly became a national story, and Iowa severed ties with long-time strength and conditioning coach Chris Doyle barely two weeks after the accusations were made public.
It was easy to wonder following the Northwestern loss if the racial tensions from the summer had caused a division that was now impacting Iowa's performance on the field.
But then Iowa bounced back by crushing Michigan State 49-7 in the third game, and never lost again, finishing the COVID-19 shortened season 6-2 overall.
Iowa's two postseason games, including the matchup against Missouri in the Music City Bowl, both were canceled due to the opponents having positive COVID cases, so the 2020 season ended with Iowa riding a six-game winning streak.
And now Kirk Ferentz is preparing for his 23rd spring practice period, which will start on Tuesday.
Ferentz will hold a zoom conference with the media on Monday to usher in the start of spring practice, and the fact that his team won its final six games last season should help steer the narrative.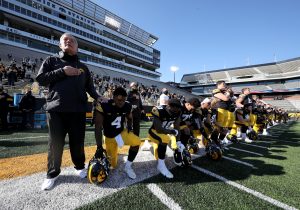 The 65-year old Ferentz has vowed to fix whatever needs fixing from a culture standpoint, but only time and behavior will determine if he is successful.
Football, on the other hand, is here and now. It's driven by results with little left for interpretation.
Imagine the narrative, and the line of questions, with Ferentz on Monday if Iowa had lost its final six games last season.
Winning won't cure all that ails the Iowa football program right now under Kirk Ferentz, but it will provide a nice distraction and show that Ferentz still is getting the job done from a competitive standpoint.
The Big Ten West Division looks wide open this coming season, with Iowa worthy of contender status.
Iowa returns a first-team All-Big Ten running back (Tyler Goodson); arguably the top center in all of college football (Tyler Linderbaum); an established tight end (Sam LaPorta); a rising star at linebacker (Jack Campbell); a veteran secondary and a force at punter in Tory Taylor.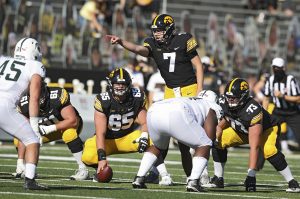 Petras also returns as the starting quarterback, and he should benefit from participating in spring practice after it was canceled last spring due to the outbreak of the coronavirus.
Petras still is very much a work in progress, and spring practice will allow him to work on the little things that are key to playing his position. Petras didn't have that opportunity last spring, and it showed at times in the fall.
Rebuilding the defensive line will be another big project this spring as Iowa has to replace defensive tackle Daviyon Nixon and defensive end Chauncey Golston, both of whom made first-team All-Big Ten last season, with Nixon being named the Big Ten Defensive Lineman of the Year.
Nixon was a disruptive force inside, while Golston was a terror off the edge.
The offensive line also has some big shoes to fill, namely four-year starting left tackle Alaric Jackson, while Mark Kallenberger was in position to start at either tackle position, but he has decided to move on from football.
Another important task this spring will be to build depth at receiver where Ihmir Smith-Marsette and Brandon Smith both have to be replaced.
Caleb Shudak will finally get his chance to be Iowa's full-time kicker now that Keith Duncan has moved on, and Shudak's performance could go a long way in determining Iowa's level of success.
Iowa has a 12-3 record over its last 15 games, and that shows that Kirk Ferentz still is having a positive impact as a head coach.
That doesn't dismiss or minimize the accusations of racial disparities, but it sure makes dealing with the football side of things much easier.