By Pat Harty
IOWA CITY, Iowa – Spring practice is when slates are supposedly wiped clean and starting positions are considered wide open.
And while maybe so, you still have to like the odds of Spencer Petras hanging on to the starting quarterback position for the Iowa football team this spring.
Especially after what Iowa head coach Kirk Ferentz said about Petras, and about the competition at quarterback during a zoom conference with the media on Monday.
Ferentz had high praise for Petras, who led Iowa to a 6-2 record while starting all eight games last season as a third-year sophomore.
Ferentz made reference to Iowa's 35-21 victory at Illinois on Dec. 5 when Petras threw three touchdown passes as Iowa scored 35 consecutive points to overcome a 14-0 deficit.
"To me, one of his highlights might have been Illinois because we as team played poorly," Ferentz said of Petras. "He played poorly and it wasn't looking too good there that first half.
"But for him to come back and make some of the throws that he made, that really gives me encouragement that there's a pretty good quarterback here."
That's a pretty strong endorsement for a quarterback who struggled at times with accuracy last season, and with decision making.
But quarterbacks mostly are judged by wins and losses, and Iowa closed the 2020 season on a six-game winning streak.
So Petras has that going for him, along with the respect and trust that he has earned from Kirk Ferentz, offensive coordinator Brian Ferentz and quarterbacks coach Ken O'Keefe.
"The other part about it is we get to watch him with his teammates," Kirk Ferentz said of Petras. "We get to watch him with the questions that he asks in one-on-one meetings with Ken, with Brian, just the way he operates, the leadership, the ownership that he's taken. So this guys just operates like you want a quarterback to."
Sophomore Alex Padilla is listed as the backup quarterback on the spring depth chart, which was released on Monday in preparation for the start of spring practice on Tuesday.
Freshman Deuce Hogan, a former four-star recruit from Texas, is the only other quarterback on scholarship this spring.
"I feel real good about the room overall," Kirk Ferentz said. "Those guys don't have quite the experience that (Spencer) does. But we're going to let them all compete this spring. And I just think (Spencer) has got a wonderful opportunity to take a big step."
Hogan has been a fan favorite since he committed to Iowa. But at this stage, he is no higher than third on the depth chart, although, that could always change during spring practice.
What seems unlikely to change during spring practice, however, is who sits atop the depth chart at quarterback.
It's not unheard of for Kirk Ferentz to switch quarterbacks. It just doesn't happen during spring practice.
Kirk Ferentz switched starting quarterbacks during the 2008 season as Ricky Stanzi supplanted Jake Christensen after four games, and immediately after a season as C.J. Beathard replaced Jake Rudock as the starter just days after the 2014 season had ended.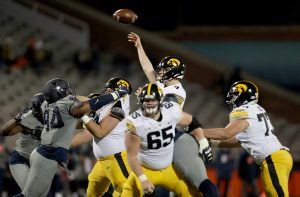 But it's hard to think of a quarterback who lost his starting position during spring practice. It didn't happen to Christensen, or to Rudock.
So it's reasonable to think that it won't happen to Petras, either.
Kirk Ferentz has been criticized for sticking with some of his starting quarterbacks for too long, and for being too stubborn and loyal in some of these cases.
That happened at times last season when Petras struggled.
But Kirk Ferentz never has wavered in his support of the 6-foot-5, 230-pound Petras, and his confidence in Petras only seems to have grown since the 2020 season ended.
Winning has that kind of effect, and right now, Petras is riding a six-game winning streak. And that's what matters the most to Kirk Ferentz, as it should.
Petras, who is from San Rafael, Calif., was dealt a tough hand last season because he didn't have the opportunity to participate in spring practice due to it being canceled by the outbreak of the coronavirus.
That could be why Petras struggled with accuracy, especially early in the 2020 season, and why Kirk Ferentz still believes in Petras so strongly.
Petras will get tested early next season with Indiana and Iowa State the first two opponents on Iowa's schedule. Both teams are coming off strong 2020 seasons and are expected to be contenders this coming season.
Should Petras struggle in the first two games, the competition at quarterback will undoubtedly become a hot topic again.
The situation at quarterback might be a lot different this spring if Iowa had struggled after starting the 2020 season 0-2.
But instead, the Hawkeyes rallied to win their final six games, and Petras deserves part of the credit as the starting quarterback.
He didn't perform at an All-Big Ten level, but neither did Chuck Long as first-year starting quarterbacks for Iowa.
So if you're hoping for a quarterback change this spring, prepare to be disappointed based on what Kirk Ferentz said Monday.
Because Spencer Petras is clearly the frontrunner.