IOWA CITY, Iowa – As a kid growing up in Pennsylvania, Spencer Lee didn't even have to leave his house to find a formidable wrestling opponent.
His mother, Cathy, was more than willing, and able, to grapple with her son.
In fact, Cathy usually got the better of Spencer when he was young and just getting started in the sport of wrestling.
Cathy grew up in France and was accomplished in the Olympic sport of judo.
That's how she met her future husband, Larry Lee, while training in France as Larry also competed in judo at the Olympic level.
Cathy's experience in judo helped to give her the upper hand against Spencer until about junior high when he finally figured out how to take her down, and to withstand her attacks.
It wasn't your typical mother-and-son bonding experience, but those battles in the basement and in the kitchen have contributed to Spencer Lee's rise as a wrestling legend.
Larry Lee was one of our guests on Friday's Hawk Fanatic radio show and podcast and he spent about 40 minutes talking about his son's rise to greatness.
Spencer Lee won his third national title for the Iowa Hawkeyes at 125 pounds last month despite having a torn anterior cruciate ligament in his knee.
He kept the injury a secret throughout the NCAA Championships, and then said moments after winning the national title that he never considered withdrawing because "excuses are for wusses."
Larry Lee said it was tough watching his son compete under such difficult circumstances, but Larry knew how much it meant to Spencer, so he didn't stand in the way.
Spencer Lee also was determined to lead Iowa to its first national team title since 2010, and that was mission accomplished. Larry said he thinks winning the team title meant more to his son than winning a third individual national title.
Spencer, because of the injury, was forced to withdraw from the U.S. Olympic trials, which are being held this weekend in Fort Worth, Texas. It was a devastating blow because Spencer's ultimate goal is to win an Olympic gold medal.
He is now focused on getting healthy and trying to become Iowa's first four-time national champion in wrestling.
The process of recovering from an injury can be lonely and frustrating, but Spencer now has his family nearby to provide comfort and support.
Larry and Cathy recently moved from Pennsylvania to Cedar Rapids when Larry was hired by Coe College as vice president of finance and administration.
Spencer's twin sister, Gabby Lee, also attends Coe College. So it truly is a family affair.
Larry Lee addressed multiple topics during Friday's interview. He said that Spencer loves archery and wants to be a wrestling coach after he is finished competing. Larry also said that Spencer was a talented soccer player before he decided to focus all of his attention on wrestling.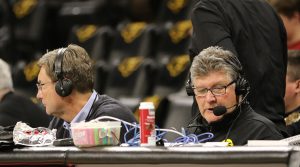 Meanwhile, former Iowa basketball player Bobby Hansen was also a guest on Friday's show and he spent about 40 minutes reminiscing about his high school, college and NBA career.
Hansen was a freshman on Iowa's 1980 Final Four team and would go on to play nine seasons in the NBA as a 6-foot-6 shooting guard.
He now serves as the radio color analyst for Iowa men's basketball, a job he has held for 29 years.
Hansen talked about playing alongside legendary point guard Ronnie Lester as freshman at Iowa, and about playing against Magic Johnson in the NBA.
He talked about his rise to stardom at West Des Moines Dowling, and about his recruitment. Hansen picked Iowa over Texas A&M, Drake and Creighton, and he played all four seasons under Lute Olson.
Hansen also paid tribute to Iowa All-America center Luka Garza, saying we'll never see another player like him.
It truly was a pleasure talking to both Bobby Hansen and Larry Lee.
We enjoyed listening to their insight about two sports that mean a great deal to Hawkeye fans.
The podcast is linked below this article, so give it a listen. We think you'll also enjoy it.