By Pat Harty
IOWA CITY, Iowa – To write this column required some imagination, guess work, personal bias and a willingness to revisit some depressing topics.
I call this my "what if" column about Iowa Hawkeye athletics.
Listed in no particular order are 10 what-if questions that Hawkeye fans have been agonizing over and asking about for years, and in some cases for decades.
What if point guard Ronnie Lester hadn't injured his knee as a senior?
This is probably the question I get asked more than other because so many Hawkeye fans are convinced that a healthy Ronnie Lester would have led Iowa to the 1980 national title.
I also share that opinion, because for one, I'm biased where Lester is concerned, but also because of how well he was playing against Louisville in the 1980 NCAA semifinals when he reinjured his knee approximately 12 minutes into the first half.
Lester had scored 10 of Iowa's first 12 points when he left the game, and though his team fought valiantly without him, it just wasn't meant to be as Louisville prevailed 80-72 on its way to winning the national title.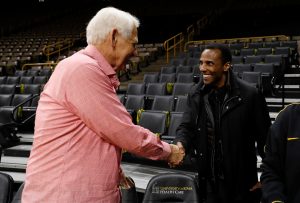 Though far from being 100 percent, Lester showed in those few minutes against Louisville the same skills that made him the best point guard in program history. Louisville couldn't keep him from getting in the lane and his shot was on that day as Lester made all four of his field-goal attempts and both free throws before leaving the game.
"My feeling was yes, I feel we could have won," Iowa coach Lute Olson said after the game.
The fact that Iowa hasn't been back to the Final Four since only adds to the frustration about what happened to Lester 41 years ago.
2. What if Forest Evashevski hadn't retired from coaching after the 1960 season?
Some believe that Evashevski would've built a dynasty similar to what Nebraska had under Bob Devaney and Tom Osborne throughout most of the 1960s to the 1990s.
Evashevski was only 42 years old when he retired from coaching after the 1960 season. Iowa had finished 8-1 that season and had a 37-8-2 record over a five-year stretch from 1956-1960, including the program's only two Rose Bowl victories.
It's reasonable to think that the success would've continued under Evashevski, even with the end of one-platoon football in the 1960s, because he was a master strategist and a recruiting force.
However, Evashevski wanted to be both head coach and athletic director, but was denied that request by the Board of Regents.
So Evashevski took over as athletic director, but wasn't nearly as effective in that role, with much of it his own fault.
Evashevski promoted assistant coach Jerry Burns to head coach, but Burns only had one winning season during his five-year run from 1961-65 despite inheriting a program rich in talent.
In fairness, though, Burns according to reports had to contend with Evashevski's intimidating personality and constant meddling. Evashevski was accused of undermining Burns by reportedly cutting the cost of maintaining the football program, which hampered recruiting.
Ray Nagel was hired to replace Burns, but the best Nagel could do before being fired was back-to-back 5-5 seasons in 1968 and 1969. Nagel and Evashevski had a very contentious relationship that reportedly caused some of the players and assistant coaches to pick sides.
Whatever the case, the Iowa football program entered a dark age after Evashevski retired from coaching, suffering through 19 consecutive non-winning seasons from 1962 to 1980.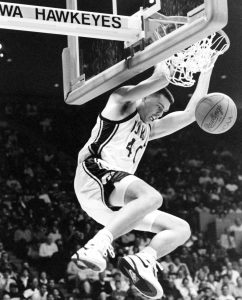 3. What if Chris Street hadn't been killed in an automobile accident midway through his junior season in 1993?
The Indianola native was on the verge of stardom when he was killed on Jan. 19, 1993.
A 6-foot-8 forward with a soft touch, and a motor that never stopped, Street almost certainly would've developed into an All-Big Ten selection. His size, toughness and versatility also would've made him attractive to NBA teams.
Street was big and strong enough to bang for rebounds inside, but also quick enough to be at the front of Iowa's full-court press under head coach Tom Davis.
And he could shoot, having made a program-record 34 consecutive free throws at the time of his death.
4. What if Ralph Miller had stayed at Iowa?
Given the fact that he was successful wherever he coached, Iowa would've likely stayed near the top of the Big Ten if Miller had stayed in Iowa City.
Miller led Iowa to its last outright Big Ten regular-season title in 1969-70 as the legendary Six Pack finished 14-0 in conference play and averaged over 100 points per game despite having no 3-point shot.
Unfortunately, for Iowa fans, Miller left after the 1969-70 season to become the head coach at Oregon State where he won four Pac-10 titles and made eight NCAA Tournament appearances before retiring after the 1988-89 season.
Dick Schultz was hired to replace Miller, but Schultz only lasted four seasons before he was fired and replaced by Lute Olson. Iowa finished with a losing record in three of Schultz's four seasons as head coach.
5. What if Lute Olson hadn't resigned to take the Arizona job in 1983?
I'm convinced that Iowa would've stayed among the Big Ten elite because Olson was a gifted head coach as he showed by turning Arizona into a national power.
Olson had built a strong recruiting pipeline to Chicago where he landed such star players as Lester and shooting guard Kenny Arnold. He also had a system that worked and was a respected leader and tactician.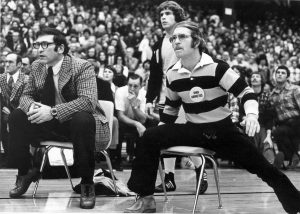 6. What if Gary Kurdelmeier hadn't hired Dan Gable as an assistant coach?
Iowa State at some point probably would've hired Gable since it was his alma mater, and that's a scary thought for Hawkeye fans because Gable is arguably the greatest head coach in the history of college wrestling. He led Iowa to 15 NCAA titles, and probably would've been just as successful in Ames.
Kurdelmeier deserves credit for recognizing Gable's talent, and for being willing to step down so Gable could be the head coach before another school hired him.
7. What if Bob Stoops had been hired instead of Kirk Ferentz to replace Hayden Fry?
My belief is that Stoops would've been hugely successful at Iowa because he excelled as a recruiter and as a motivator. He also had the support of the Iowa fans as a former All-Big Ten safety under Hayden Fry.
Stoops helped lay the foundation under Fry and that was important to Hawkeye fans.
Ferentz, meanwhile, probably would've stayed in the NFL where he was an assistant coach for six seasons before replacing Fry as the Iowa head coach shortly after the 1998 season. It's reasonable to assume that Ferentz would've become a head coach in the NFL because he was highly respected as a leader.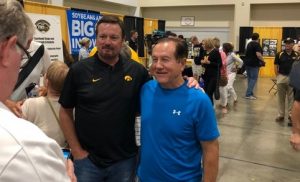 Ferentz is now the longest tenured head coach in college football and Iowa's all-time winningest head coach. He is preparing for his 23rd season as the Iowa head coach, and has turned down other head coaching jobs to stay at Iowa where he also coached the offensive line under Fry from 1981-89.
Stoops was hired as the Oklahoma head coach right about the same time that Ferentz was hired at Iowa in 1998.
Stoops coached the Sooners from 1999 to 2016 and won a national title in 2000. He also led Oklahoma to 11 Big 12 titles.
It seems unlikely that Stoops would've been as successful at Iowa as he was at Oklahoma because Oklahoma has more tradition and a stronger recruiting base.
But Stoops would've been successful at Iowa. There is no doubt about that.
8. What if Bob Elliott hadn't been diagnosed with bone cancer in the late 1990s?
He almost certainly would've been hired to replace Hayden Fry as the Iowa head coach. Elliott was sort of viewed as the head coach in waiting before health problems derailed those plans.
He was Fry's defensive coordinator, was very popular with his players and was the son of former Iowa Athletic Director Bump Elliott.
Elliott had a bone marrow transplant and was able to return to coaching where worked as an assistant coach at several schools, including Iowa State, Notre Dame and Nebraska.
But he never became a college head coach.
Sadly, Bob Elliott passed away in 2017 at the age of 64.
9. What if the Iowa men's basketball team hadn't lost to Jacksonville on a tip by Pembrook Burrows in the first round of the 1970 NCAA Tournament?
Iowa would've met UCLA for the national title. I won't go as far as to say that Iowa would've defeated the Bruins. But what a game it would have been, the Six Pack versus college basketball's super power led by the legendary  John Wooden.
10. What if Nile Kinnick hadn't been killed in a training flight in 1943 while serving his country in World War II?
My guess is he would've become a successful lawyer and ultimately the Governor of Iowa. Some even believe that Kinnick would've become President of the United States because he was that respected.