By Pat Harty
IOWA CITY, Iowa – As it turns out, 10 what-if questions weren't enough.
So back by popular demand, and with help from feedback and suggestions from our readers in response to my column from Sunday, are 10 more what-if questions, and my guesses for what I think would've happened.
There is no right or wrong answer to these what-if questions, only guess work.
So let's get to it.
What if Iowa quarterback Ricky Stanzi hadn't been injured in the first half against Northwestern in 2009, and with Iowa leading 10-0 at Kinnick Stadium?
Many Hawkeye fans believe that Iowa would've finished undefeated in the regular season. Northwestern came back to win 17-10 after Stanzi was injured on a boot leg play, while Ohio State needed overtime to defeat Iowa 27-24 the following week in Columbus as backup quarterback James Vandenberg played exceptionally well in his first career start.
Stanzi returned for the Orange Bowl where Iowa defeated Georgia Tech 24-14 to finish 11-2 overall.
And while a strong case could be made for Iowa finishing undefeated that season, especially considering how well Vandenberg played against Ohio State, it's still hard to assume victory over the Buckeyes.
But there certainly isn't anything wrong with believing it would've happened with Stanzi behind center.
2. What if Kirk Ferentz had resigned as the Iowa football coach after the 2002 season to coach the Jacksonville Jaguars?
Iowa fans would've clamored for Bob Stoops to be hired, but that probably wouldn't have happened because Stoops had it rolling at Oklahoma at the time.
It also seems unlikely that one of Ferentz's assistants would've been promoted to head coach because most of them probably would have followed him to Jacksonville, and because most of them didn't have enough experience at the Division I level to deserve a promotion.
It seems more likely that Bob Bowlsby, who was Iowa's athletic director at the time, would've hired a head coach from another Power Five program, or from a mid-major, or maybe even from a Division I-AA program if it was the right fit.

Two names that come to mind: Dan McCarney and Don Patterson.
Both were former Iowa assistant coaches under Hayden Fry, and McCarney was hot at the time after having rebuilt the Iowa State football program.
Iowa State was one of just two teams that defeated Iowa in 2002, and it was Iowa State's fifth consecutive win in the series.
Most Iowa fans would've embraced the hiring of McCarney for lots of reasons, including the desire to get him away from Iowa State.
But as it turns out, Ferentz turned down the Jacksonville job and is now the longest tenured head coach in college football, preparing for his 23rd season.
3. What if the Iowa football team had won the 1986 Rose Bowl?
Iowa would've finished 11-1 overall and much higher than 10th in the final Associated Press poll.
Would it have been enough to win the national title?
Probably not.
Oklahoma also finished 11-1 in 1985 season and was ranked No. 1 in the AP preseason poll. After losing to Miami (Fla.) in the fourth game, the Sooners won their final eight games, including a 25-10 victory over previously undefeated Penn State in the Orange Bowl.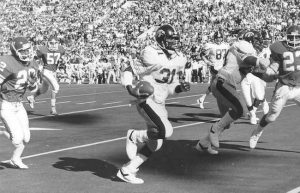 4. What if Ronnie Harmon hadn't fumbled four times in the first half of the 1986 Rose Bowl?
It's easy to say that Iowa would've defeated UCLA if Harmon had just held on to the football.
But that still wouldn't have fixed the problems Iowa had on defense that day as UCLA finished with 488 total yards, including 299 on the ground.
The final score would've been much closer than 45-28, but to assume that Iowa would've won seems a little presumptuous, considering what happened on defense.
5. What if Jess Settles hadn't suffered a back injury during his career as an Iowa basketball player?
He would now rank perhaps as high as third on Iowa's all-time scoring list instead of 10th, and would've made first-team All-Big Ten twice instead of just once. Settles combined to score 1,303 points in his first three seasons as a Hawkeye. and was named Big Ten Freshman of the Year in 1994.
Settles also would've made Iowa's 1996-97 team much better as a senior playing alongside All-Big Ten point guard Andre Woolridge. Iowa finished second in the Big Ten that season despite the 6-foot-7 Settles only playing in three games.
6. What if Todd Lickliter hadn't been fired in 2010 after three seasons as the Iowa men's basketball coach?
Iowa would've had trouble fielding anything close to a competitive roster in the 2010-11 season due to a mass exodus of players. Lickliter was clearly in over his head and the program was in shambles when he was fired by Iowa Athletic Director Gary Barta after just three seasons.
In addition to losing too many games and too many players, the slow pace that Lickliter preferred on offense was hard to watch.
Enough was enough.
7. What if Connie Hawkins had been allowed to play for the Iowa men's basketball team?
He would now be a Hawkeye legend and one of the greatest players in program history. Fans still would be talking about his incredible accomplishments more than a half century later, and he would be considered Iowa's version of Dr. J.
8. What if Steve Alford hadn't resigned as the Iowa men's basketball coach after the 2006-07 season?
Instead of facing a rebuilding job after Iowa had finished 17-14 in the 2006-07 season, Alford bolted for New Mexico shortly after Gary Barta had said publicly that he didn't want to go through another year of rebuilding.
Adam Haluska had just used up his eligibility in 2006-07 and there wasn't much talent or experience on the returning roster.
So in all likelihood, Iowa would've struggled as it did with Alford's replacement, Todd Lickliter. Many of the fans were tired of Alford and still upset with his handling of the Pierre Pierce controversy and that had caused attendance to drop significantly.
Alford stayed one step ahead of the posse by leaving to accept a lesser job.
9. What if C. Vivian Stringer had stayed as the Iowa women's basketball coach?
Iowa would've almost certainly stayed at, or near the top of the Big Ten if Stringer had stayed in Iowa City, because in addition to being a master recruiter, she also had built a rock-solid foundation.
Iowa consistently had some of the nation's top recruiting classes under Stringer, and she landed players from all over the country.
Attendance was also thriving under Stringer and she was in her prime from an age standpoint.
However, Stringer grew up in Pennsylvania and had strong ties to the East Coast. So when the Rutgers job was offered to her in 1995, it was too good to pass up.
Stringer's husband, Bill Stringer, also had died of a heart attack on Thanksgiving Day in 1992, and C. Vivian Stringer reportedly needed a change of scenery to help with the grieving process.
10. What if star freshman Ray Thompson hadn't been suspended for the 1989 NCAA Tournament for academic reasons?
His loss was a significant blow as Iowa fell to North Carolina State 102-96 in the second round of the NCAA Tournament. Thompson had averaged 11.5 points per game during the regular season, and his presence alongside Roy Marble, B.J. Armstrong, Ed Horton and Les Jepsen, gave Iowa a talented starting lineup.
It's reasonable to think that with Thompson Iowa would've had enough firepower to defeat North Carolina State and advance to at least the Sweet 16.
Junior forward Matt Bullard, who had transferred from Colorado, also suffered a knee injury after playing in just seven games that season.