By Pat Harty
IOWA CITY, Iowa – Spencer Petras said Tuesday that he couldn't care less that some fans are critical of his performance at quarterback for the Iowa football team.
Actually, he said he could care less, but it's obvious what he meant because lots of people say they could care less when they really mean they couldn't care less.
But deep down, Petras cares.
He's human, with feelings and an ego.
Nobody wants to be criticized about what they do.
But that's life as a quarterback, especially one who starts for a Power Five program where the glare from the spotlight shines brightly, and where critics and arm-chair quarterbacks are waiting to pounce, and to push a narrative.
Petras still is very much a work in progress, and the challenge for him this spring is to hold on to the starting position as redshirt sophomore Alex Padilla and redshirt freshman Deuce Hogan try to supplant him.
Petras led Iowa to a 6-2 record last season, winning his final six games. But he also struggled with accuracy, completing 57.1 percent of his passes, and at times, with his progressions and decision making.
"They don't look at themselves as backup quarterbacks," Iowa quarterback coach Ken O'Keefe said of Padilla and Hogan. "They look at themselves as guys that are starters and they're competing for the starting job. And that's how we want them to approach the whole thing.
"And Spencer is playing the same way. He knows there aren't any days off and he needs to keep his foot on the gas in order to stay where's he's at."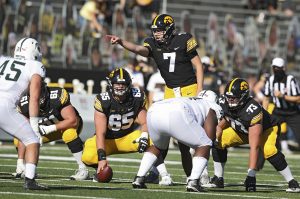 There is a perception with some fans, any maybe even with some in the media, that there isn't a true competition being waged at quarterback this spring.
O'Keefe was asked that question during a zoom conference on Wednesday.
"Is there a true competition?" O'Keefe said. "I would say yes there is because everybody is splitting reps and everybody's there right now to show us what they're capable of doing.
"Every throw, every incompletion, interception, explosive play, gets recorded and looked at every day. So the body of work is really just beginning here in spring ball."
There is no legitimate reason to question whether O'Keefe was being truthful, but some fans probably will, the ones who refuse to believe that Petras is Iowa's best option at quarterback.
And they're out there.
They refuse to believe that the 6-foot-5, 230-pound Petras is Iowa's best option behind center right now, even though Padilla barely has played at this level, while Hogan hasn't played at all.
Hogan has strong support on social media because he was a four-star quarterback from Texas, and because he built a strong following on social media.
Some fans were convinced even before Hogan arrived on campus last summer that he was Iowa's next great quarterback, and they apparently feel that Petras is standing in the way.
They feel that way despite not having any tangible evidence besides what Hogan accomplished in high school.
Those fans ultimately could prove to be right about Hogan, but that time isn't now with Hogan currently third on the depth chart.
Petras, who is a fourth-year junior, has the advantage for a number of reasons, not the last of which is his experience and his command of the offense and the huddle.
"He's one of the most genuine guys on the team," Iowa defensive back Jack Koerner said of Petras, who is from San Rafael, Calif. "He's a great leader and you couldn't find a harder worker on our team. So I think everybody on our team has an immense amount of respect for him, including myself, obviously.
"And I'm excited to see what is going to come from that because he's worked his butt off and he's definitely kind of stepped into that leadership role and done a great job with it."
Iowa is also a riding a six-game winning streak from last season, and quarterbacks are judged largely by wins and losses.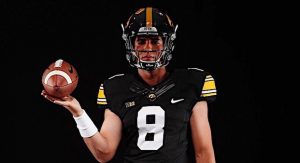 "We're approaching maybe a third of the way through (spring practice), but the bottom line is he's got eight games of experience under his belt and you automatically end up with an advantage in that particular case," O'Keefe said of Petras, who ranked third in the Big Ten last season with 1,569 passing yards. "And the guy who doesn't have the experience has got to prove it basically in every rep and every rotation that comes in practice in order to keep climbing."
The ability to make quick decisions and to think on the fly is major part of being a quarterback, and according to O'Keefe, that's another area where Petras has the advantage right now over Padilla and Hogan.
"Deuce, obviously, doesn't have the same command of the system at this point, but he's moving forward," O'Keefe said. "He's really improved in that regard. But everything is still pretty fresh out there.
"As for Alex, and he and Deuce both, the big test for these guys is going to be when they start getting blitzed. That's where these guys will learn a lot about what they know and what they don't know and how they see things because every quarterback is going to go through this. Spencer went through it himself and all the veteran guys that have played here forever understand exactly what I'm talking about."
One of the complaints about Iowa head coach Kirk Ferentz is that he's too loyal and too stubborn when it comes to making a change at quarterback.
Fans will refer to the situation in 2001 when Kyle McCann stayed ahead of Brad Banks on the depth throughout the 7-5 season.
They use the fact that Banks would go on to become the Heisman Trophy runner-up in his only season as a starter in 2002 as proof that Banks should've started in 2001.
But it's not that simple.
Banks still was learning the offense in 2001 when he came to Iowa from junior college.
Banks even has said that he wasn't ready to start in 2001, but there still are some fans who refuse to believe it because of how well Banks played in 2002.
The fact that Ricky Stanzi played behind Jake Christensen throughout the 2007 season, and for two games in 2008 is another source of frustration for some fans, along with Jake Rudock having started for two seasons ahead of C.J. Beathard in 2013 and 2014.
Stanzi and Beathard both ultimately proved to be better than the guy they played behind. But that doesn't mean they were always better.
So just because Petras is the best option right now doesn't mean he will always be the best option.
He will be tested right out of the gate next season when Iowa faces Indiana at Kinnick Stadium and Iowa State in Ames in the first two games. Both of those teams are coming off successful seasons and are expected to be strong again this coming season.
It's likely that Petras will have to play well for Iowa to prevail.
Starting quarterbacks aren't made over night. It takes time, repetition and preparation, and some progress faster than others, especially if they have a head start from being older.
Petras is one year ahead of Padilla in experience and two years ahead of Hogan, and that's significant.
The reason Petras sits atop the depth chart right now is because Kirk Ferentz believes he gives Iowa its best chance of winning. And Kirk Ferentz believes that based on what he sees in practice every day, and based on the feedback he gets from O'Keefe, and from Iowa offensive coordinator Brian Ferentz, who is Kirk's Ferentz' son.
"The advantage maybe that Spencer might have is he could change a play or a scheme or a concept and get us out of concept that's dead and get us into one that's more all-purpose and that specifically can be a particular coverage," O'Keefe said. "He might be able to get us into a protection that could get a certain blitz picked up.
"Alex would be able to do some of that. Deuce is going to be a ways away from that at this particular point. That's the advantage of having a year under your belt. Spencer with only one year of playing experience is pretty well advanced, maybe more advanced that any of the quarterbacks that we've had here before in that regard because of how hard he works at studying our system and studying the defenses and how fast his mind processes things."
Petras didn't have the luxury of improving his skills in spring practice last year because it was canceled due to the outbreak of the coronavirus.
He had to work mostly on his own, and that's when bad habits can surface, and maybe that's why Petras struggled early in the 2020 season.
"We had to train some stuff out of our guys before we could get back and feel comfortable with what we were doing," O'Keefe said. "And I think you probably saw some of that in the first couple of ball games."