By Pat Harty
IOWA CITY, Iowa – Unlike my Hawk Fanatic colleague Tyler Devine, I've never had the opportunity to interview Iowa defensive back Terry Roberts.
I've never heard Roberts speak, or even been in his presence, unless you consider watching him play from a press box as being in his presence.
Yet, I sort of feel like I know Roberts because actions often speak louder than words.
What I see is the ultimate teammate, somebody who is willing stay the course and work hard in order to achieve both individual and team goals.
What I see is somebody who is willing to play a support role because Roberts seems to understand that the path to stardom is less traveled, and more exclusive than inclusive.
And that's why I was happy to hear Iowa defensive coordinator Phil Parker mention Roberts as one of three reserve defensive backs who are playing well this spring, along with Jermari Harris and Sebastion Castro.
Roberts hasn't cracked the starting lineup, and he might never be a starter for Iowa.
But that shouldn't minimize the value he brings to the team, or the role that he plays.
Roberts has made a positive impact from the moment he stepped on the Iowa campus in 2018 as an unheralded recruit from Erie, Pa. He has backed up what he said to Tyler Devine during the recruiting process about taking advantage of the opportunity given to him.
"I just remember Terry telling me that he didn't care how many stars or offers he had," Devine said. "He was going to make the best of the opportunity and put the work in."
For the record, Roberts had two scholarship offers according to the Rivals data base, one from Iowa and the other from Duquesne.
His recruitment was similar to another defensive back from Erie named Bob Sanders, who picked Iowa over his only other scholarship offer from Ohio.
But that's where the similarity ends as Sanders would go on to become arguably the greatest defensive back in program history and a star in the NFL, while Roberts has come nowhere close to achieving stardom as a Hawkeye.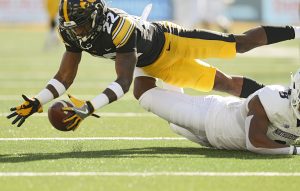 Roberts was redshirted in 2018, but still received a Team Leader award for his contributions on special teams in practice.
He then saw action in 12 games during the 2019 season, almost exclusively on special teams.
He also played in all eight games last season, and again, almost exclusively on special teams.
Roberts has shown a knack for being around the football on special teams, and for making pivotal plays like the fumbled punts that he recovered against both Northwestern and Nebraska last season.
It's easy to overlook special teams, but teams that perform well in that phase greatly improve their chance of winning.
In many ways, Roberts is similar to former Iowa defensive back Devonte Young who also made his biggest impact on special teams and had a knack for being around the football.
Young helped secure Iowa's victory over Iowa State in 2019 by recovering a fumbled punt late in the fourth quarter.
Of course, Roberts would love to be a star and enjoy all the fame and adulation that comes with it.
Who wouldn't?
He was a star at Cathedral Prep High School, where as a senior in 2017 he earned first-team All-State honors at wide receiver and defensive back.
He also helped his high school team win back-to-back state titles as a junior and senior, and to a runner-up finish as a sophomore. Cathedral Prep combined to finish 42-2 during Roberts' sophomore, junior and senior seasons, and finished undefeated during his junior and senior seasons.
Roberts holds the school record for receiving yards in a season with 1,237 yards, which he set as a senior on 42 receptions, with 16 catches resulting in touchdowns.
So the role he now plays as a Hawkeye is a drastic change from high school where the spotlight always shined brightly.
What hasn't changed, however, is the way in which Roberts competes and works on a daily basis.
He seems determined to finish what he started at Iowa, and in many ways is a leader off the field for a program that is trying to move forward following a tumultuous 2020 summer in which multiple former Iowa black players accused the program of racial disparities.
The photo of Roberts, who is black, kneeling for the National Anthem prior to kickoff as Iowa teammates Logan Jones and Nick Anderson, both of whom are white, had their hand on his shoulder sent a powerful message of unity.
It took a lot of courage and strength for Roberts to kneel because he had to realize that it would upset some members of the fans base.
It also took courage for Jones and Anderson to show their support about such a divisive issue.
Life is about overcoming obstacles and enduring hardship and few know that better than Terry Roberts, whose father took custody of him when Terry was seven years old according to a post that Terry Roberts has pinned on his Twitter profile. In that post Terry mentions how he and his father went back and forth from houses to the streets for years, wearing the same clothes and never knowing when his next meal would be.
Those experiences now serve a inspiration for Roberts and help to put today's hardships and challenges in perspective. If he can overcome what he did as a child, he can overcome anything.
Terry Roberts, in this age of the NCAA transfer portal, could've easily transferred from Iowa due to the racial unrest, or due to not playing much beyond special teams.
But he's still here and making an impact, on and off the field.
And that speaks volumes about who Terry Roberts is as a person.
The Iowa football program is lucky to have him.