By Pat Harty
IOWA CITY, Iowa – Former Iowa basketball player Jack Nunge has found a new home to continue his playing career.
Nunge, a 6-foot-11 forward, announced on Instagram Friday morning that he will transfer to Xavier, which is in Cincinnati, and approximately 220 miles from Nunge's home in Newburgh, Ind.
Nunge said in a release that he wanted to transfer to a school closer to his family, and picking Xavier makes sense from that standpoint since Iowa City is approximately 425 miles from Nunge's home in southern Indiana.
Nunge averaged 7.1 points and 5.3 rebounds per game this past season before suffering a torn meniscus in his right knee against Michigan with three games left in the regular season.
It was the second time as a Hawkeye that Nunge suffered a season-ending injury to the same knee. He tore the anterior cruciate ligament in his right against Cal-Poly on Nov. 24, 2019 and missed the rest of the season.
Nunge was a key contributor off the bench this past season, and he also started 14 games as a true freshman, and appeared in all 33 games that season.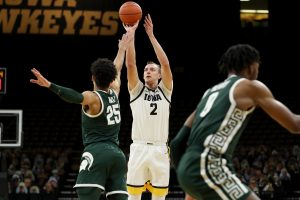 In addition to suffering two serious knee injuries, Nunge also lost his father just days before the start of this past season as Mark Nunge died suddenly and unexpectedly at the age of 53.
Jack Nunge missed the first two games of the season while grieving with his family.
By transferring to Xavier, Nunge will be much closer to his family, and will be part of a program that has been highly successful over the years.
Xavier has appeared in the NCAA Tournament 27 times, including 15 appearances in the past 17 seasons. Xavier also has won or shared 17 regular-season conference titles, while winning nine conference tournament championships.
The team currently competes in the Big East Conference.
Nunge spent four seasons at Iowa and was part of a 2017 recruiting class that included center Luka Garza and guard Connor McCaffery, who is the son of Iowa coach Fran McCaffery.
The 6-11 Garza is now Iowa's all-time leading scorer and the first player in program history to earn consensus National Player of Year recognition, which he achieved this past season as a senior.
Nunge could play another three seasons if he chooses since he was redshirted at Iowa in 2018-19, and since this past season was considered a free year for student-athletes due to the global pandemic.