By Pat Harty
IOWA CITY, Iowa – So much goes into being a successful head coach at the collegiate level in any sport.
The ability to identity, recruit and develop talent is at the top of the list, of course. But a head coach also has to know how to deliver a message in a way that it's impactful, appropriate and timely.
And that brings us to Iowa baseball coach Rick Heller, who just led his team to a doubleheader sweep against Minnesota on Sunday at Banks Field by scores of 6-1 and 18-0.
Heller, obviously, didn't make any of the throws or get any hits or steal any bases.
But don't let that fool you about how much influence Heller had on Sunday's doubleheader demolition, which capped a three-game sweep of the Gophers by a combined score of 31-2.
Iowa has now won eight of its last nine games and is 12-9 on the season, with a four-game series at Rutgers up next on the schedule beginning on Friday.
The turnaround has been fast and furious because it wasn't that long ago when Iowa stood 4-8 and was struggling to score runs, while the pitching was inconsistent.
Iowa had just lost to Nebraska 13-8 on March 21 at Banks Field when Heller made it abundantly clear that he was concerned about the direction of his team, and that he needed help in a hurry, particularly from his veteran players, who also have a leadership role.
"You hope that the leadership is still there that it does," Heller said. "That's what we've talked about the last couple weeks. Those group of leaders need to step up and they need to lead. The thing that happens in baseball a lot of the times is that if you're one of the guys that everyone looks ups to and you're struggling, it makes it difficult, at least in their eyes to lead.
"And that's not the case. It's how you go about your business and how you handle the failure that gives the biggest lessons to all the guys that are watching. Just trying to do a lot of coaching to keep guys fighting."
It was clear to whom Heller was directing his message, but he didn't single out any players or get overly critical.
He just challenged his veteran leaders to rise to the occasion, and to use what they've learned from Iowa's culture under Heller's watch.
Heller's words were important. But more important was the person giving the message because words only go so far.
Words are also easy to block out, and that often leads to a head coach's demise, the inability to convey a message, and to communicate with his players during tough times.
Heller has certainly improved the talent level since taking over the Iowa program shortly after the 2014 season, and that goes back to his ability to identify and recruit talented players.
But even talent can go astray without the right culture and the right environment in which to succeed.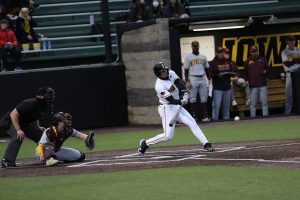 Some might say that it's just a coincidence that Iowa is 8-2 since Heller issued the public challenge to his veteran players three weeks ago on a post-game zoom conference.
A coincidence can only last for so long, though.
This current 8-1 stretch makes up nearly one-fourth of what started as a 44-game schedule against only Big Ten opponents.
Heller told his players in the lockeroom in the moments after Sunday's sweep to enjoy what they had accomplished over the weekend, and to enjoy the day off on Monday, but then it's time to move on to Rutgers.
"We took a big step forward and just have to keep making those steps each and every week, each and every day," Heller said. "Another good week of practice this week. We've got a tough challenge, a four-game series out at Rutgers. We've got to be ready for that.
"But until then, let's enjoy today, enjoy your day off tomorrow and let's have a great week next week. But fantastic job this weekend. Awesome. Proud of you."
The players always deserve much of the credit, and Heller would be the first to say that.
Junior ace pitcher Trenton Wallace has been on a roll since Heller spoke out, as has junior Dylan Nedved, both as  a position player, and as a pitcher.
Nedved was 6-7 at the plate during Sunday's doubleheader and hit for the cycle across two games. He also pitched the the final two innings of relief in the first game, allowing no runs and picking up his team-leading fifth save of the season.
Redshirt senior Ben Norman also hit his team-leading seventh home run in the bottom of the third in the first game.
And the pitching was outstanding throughout the weekend, including sophomore Drew Irvine, who who in the first game pitched a career-high seven innings of two-hit ball to earn his first win of the season.
So it's not just the seasoned veterans who are stepping up for Iowa.
"I think it's just kind of getting in the groove of things," Irvine said. " Obviously, it's my first few starts here at Iowa. But I feel like I'm getting in a groove and I feel like as a team we're really hitting a hot spot."
The schedule will undoubtedly get tougher since Minnesota currently resides in the Big Ten basement at 4-17. The Gophers used to be a Big Ten power, but have fallen on hard times.
Prior to sweeping the Gophers, Iowa won a series at 5-15 Purdue the previous weekend.
Some could say let's wait and see what happens against better competition.
And fair enough.
But on the flipside, good teams usually win games they're supposed to win, and that describes the Iowa baseball team at this stage.
A team can only play the teams on its schedule.
It seems obvious that Rick Heller's message came through loud and clear, and we're now seeing the positive impact from it.