By Pat Harty
IOWA CITY, Iowa – As crazy, or as far-fetched as it might have seemed, the rumor just wouldn't go away.
Since the end of the college basketball season, C.J. Fredrick was rumored to be leaving the Iowa men's basketball program.
And now it's official as I confirmed it early Monday morning.
Fredrick, a 6-foot-3 shooting guard from Cincinnati, has decided to enter the NCAA transfer portal after spending three injury-filled seasons in the Iowa men's basketball program, and two as a starter.
He is the second Iowa scholarship player to enter the portal, joining 6-11 forward Jack Nunge, who has since announced that he would transfer to Xavier.
And while Nunge's decision to transfer wasn't surprising, Fredrick's decision is different because he has been such a huge fan of Iowa coach Fran McCaffery, saying he was almost like a father to him.
McCaffery was one of the first head coaches from a Power Five conference to offer Fredrick a scholarship, and they built a strong relationship during the recruiting process.
One rumor has Fredrick transferring to Kentucky where he played high school basketball. Another has him transferring to Cincinnati near his home.
The one certainty is that Fredrick, who made honorable mention All-Big Ten this past season, will enter the transfer portal, and his career as a Hawkeye is probably over. He could always choose to return to Iowa, but that seems highly unlikely.
Long-time college basketball reporter Dick Weiss helped to fuel speculation when he posted Sunday on Twitter that he heard a crazy rumor out of Iowa City that Fredrick was considering transferring.
But for me, the rumor gained more credibility when Fredrick turned down a request to be interviewed after the season.
I made the request through the Iowa Sports Information Department, but didn't hear anything for about two weeks, which is unusual. I then finally was told that Fredrick wasn't doing interviews at this stage.
And now we know why.
The fact that Fredrick wouldn't comment seemed strange, unless, of course, he was considering leaving the program.
It seems that this decision has been in the works for a while. And that's easier to believe because a student-athlete doesn't just wake up one day and say I want to transfer, especially a two-year starter who supposedly loves his head coach, his school and the community.
I kept giving Fran McCaffery the benefit of the doubt in Fredrick's case because they were supposedly so close off the court.
We had Fredrick's uncle, Joe Fredrick, on the radio, along with C.J. Fredrick last spring during the outbreak of the global pandemic, and the interview turned into a Fran McCaffery love affair as uncle Joe and C.J. both talked about how important Fran McCaffery was to C.J., on and off the court. C.J. Fredrick also said during the radio interview that he loved being a student-athlete at Iowa, and that he was very comfortable in Iowa City.
It seemed like the perfect fit, on and off the court.
C.J. Fredrick liked Fran McCaffery's fast-paced offense, and the fact that McCaffery gave his players a lot of freedom when it comes to shot selection.
Joe Fredrick also played at Notre Dame when Fran McCaffery was an assistant coach for the Irish, and they have had a close relationship for years.
It just shows that anything is possible in this age of the NCAA transfer portal.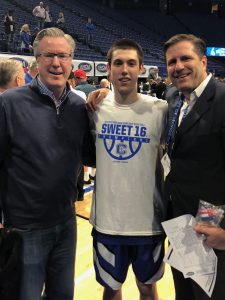 Fran McCaffery met with the media last week on a zoom conference and he said C.J. Fredrick was about a week from returning to workouts. McCaffery seemed optimistic when talking about Fredrick, but maybe McCaffery was just putting a positive spin on a developing story.
Fredrick had an undisclosed lower leg injury that hampered throughout most of last season and caused him to miss four games. He also dealt with a foot injury in the previous season after having redshirted as a true freshman.
Perhaps his frustration with being injured during so much of his Hawkeye career caused C.J. Fredrick to want to make a change.
Fran McCaffery also said last week that he was looking to add a post player from the transfer portal, which made sense since All-America center Luka Garza was moving on, and with Nunge leaving the program.
But now you could argue that Iowa needs help almost as much in the backcourt, too.
In no way am I criticizing C.J. Fredrick's decision to leave Iowa because a student-athlete has to do what he or she feels is in their best interest.
It's just hard to believe that he is leaving Fran McCaffery because Fran McCaffery is the biggest reason Fredrick chose to be a Hawkeye. Their bond seemed too strong for Fredrick to want to leave Iowa.
Fredrick also would've likely been Iowa's go-to player on offense next season without Luka Garza, especially if junior Joe Wieskamp decides to stay in the 2021 NBA draft, and if senior guard Jordan Bohannon doesn't return for a sixth season.
But that apparently wasn't enough to keep Fredrick from transferring, because in this case, the crazy rumor is true.