By Pat Harty
IOWA CITY, Iowa – Hello again.
After spending nearly a week on my living room couch recovering from hernia surgery and watching episodes of the Andy Griffith Show, I'm back to doing what I enjoy doing, which is covering Iowa Hawkeye athletics.
My surgery to repair an umbilical hernia took place last Thursday, and it's fair to say that a lot has happened since then with Iowa athletics, including the resurgent Iowa soccer team winning a match in the NCAA Tournament for the first time in program history.
The same Iowa team that finished 2-8-1 in the regular season, and that didn't score a single goal in its first six matches, defeated Campbell 1-0 in an NCAA Tournament first-round match on Tuesday in North Carolina.
It's hard to thank of an Iowa team in any sport that has had a more dramatic turnaround during the course of a season.
I posted a tweet about Iowa's victory on Thursday, saying the incredible turnaround continues, and Iowa head coach Dave DiIanni responded with this tweet:
"Believe in the journey and buy into the process."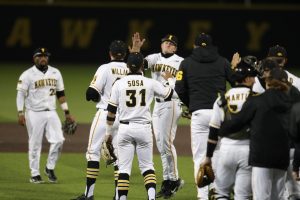 The soccer team's unprecedented success comes at a time when the Iowa baseball team has won 14 of its last 17 games.
After starting the season 4-8, Iowa is now 18-11 and poised to make the NCAA Tournament for the third time under head coach Rick Heller.
Right fielder Zeb Adreon was named the Big Ten Player of the Week on Tuesday after hitting .714 (10-of-14) with five RBIs and seven runs in leading the Hawkeyes to a 3-1 record against Maryland and Northwestern.
Wayne Lawrence Jr. from the Iowa men's track team also had a standout performance at the Fighting Illini Big Ten Relays, taking home gold medals in the 400 and 200 meters. Lawrence won the 200 by a hundredth of a second, recording a career-best 20.71 seconds, a time that ties for 10th all-time in program history.
The Iowa men's track and field team won the 2021 Big Ten indoor title and is considered the favorite to win the Big Ten outdoor title, a title it won in 2019.
The Iowa field hockey team has been ranked in the top four nationally throughout the season and will compete in the NCAA Elite Eight on Sunday. Iowa head coach Lisa Cellucci was also named Big Ten co-Coach of the Year in field hockey, while Anthe Nijziel was named the Big Ten Player of the Year
The Iowa men's golf team is also having success and features one of the Big Ten's best performers in Alex Schaake, who was named men's Big Ten Golfer of the Year in 2019.
The Iowa women's tennis team is currently having one of its best seasons ever and is led by freshman sensation  Alexa Noel, who already is considered the best player in program history.
The success this spring comes after a winter sports season in which the Iowa wrestling team won the NCAA title for the first time since 2010.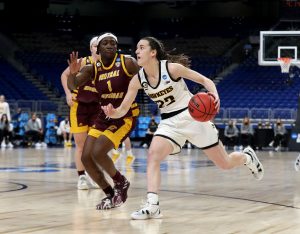 The Iowa women's basketball team also advanced to the NCAA Sweet 16, and was led by dynamic freshman guard Caitlin Clark, while the Iowa men's basketball team finished 14-6 in conference play and was led by National Player of the Year Luka Garza, who is also the all-time leading scorer in program history, and a two-time first-team All-America selection.
It's disappointing that Garza and his cohorts failed to advance past the second round of the NCAA Tournament, but that still shouldn't take away from what they accomplished during the regular season.
The Iowa football team also finished its regular season with six consecutive victories after having started 0-2.
So you could argue that these are unprecedented times in Hawkeye athletics.
Not since the mid-1980s has Iowa had the kind of overall success in men's and women's athletics that it's having right now.
I pointed that out with a tweet on Tuesday, but was met with some resistance by fans who still are upset about Iowa having eliminated four sports due to financial shortfalls caused by the global pandemic.
Those fans certainly have a right to be upset, and it's sad and unfortunate to have any sport eliminated.
But it's also okay to feel sad and upset about sports being eliminated, while acknowledging the success that is happening right now because you can separate the two narratives.

Iowa Athletic Director Gary Barta deserves some credit for the current success because he hired most of the head coaches who currently are thriving, including Heller and DiIanni.
Barta has become a polarizing figure with Iowa fans partly due to the fallout from the Tracey Griesbaum and Jane Meyer discrimination lawsuits that cost the athletic program over $6 million, and most recently due to the controversy about Roy Marble's jersey not being retired.
Barta has without question made some mistakes and poor decisions. But he also has made some very good head coaching hires.
Again, it's okay to separate and to support both narratives.
And it's sure good to be back writing about Hawkeye athletics.