By Pat Harty
IOWA CITY, Iowa – Among the many things that Kirk Ferentz has accomplished during more than two decades as the Iowa football coach is the construction of an NFL pipeline that has produced for years, and is ready to produce again.
Iowa has had 75 players selected in the NFL draft under Ferentz dating back to 2000, including 33 in the first three rounds, and 10 in both the first and second rounds. Iowa also had 18 players selected in the draft during a three-year stretch from 2010 to 2012.
To help put that in perspective, Iowa State has had just 17 players selected in the NFL draft since 2000, and just one player who was taken higher than the third round during that time.
Offensive lineman Kelechi Osemele was selected in the second round of the 2012 draft by the Baltimore Ravens.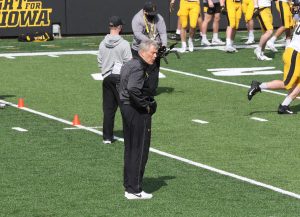 Iowa's list of NFL draft picks is expected to grow again this week with the 2021 draft starting on Thursday in Cleveland and ending on Saturday.
The first round will be held Thursday followed by rounds two and three on Friday and then rounds four, five, six and seven on Saturday.
And while it seems unlikely that Iowa will have a player taken in the first round, defensive tackle Daviyon Nixon, who skipped his senior season to enter the draft, is projected as a late second- or early third-round pick by long-time ESPN analyst Mel Kiper Jr.
Kiper had Nixon placed as a first-round selection in a mock draft in December, but that has since changed due to what Kiper says is a lack of experience and consistency in technique.
"Daviyon is going to be a good pick for someone," Kiper said of the 2020 Big Ten Defensive Player of the Year and first-team All-America selection. "Had he played one more year at Iowa, he could have been a solid two or a late first-round guy."
It seems strange that Nixon's lack of experience and consistency in technique weren't an issue with Kiper in December, but now both are considered red flags with the draft approaching.
Whatever the case, the 6-foot-3, 313-pound Nixon is expected to be the 76th former Hawkeye selected in the draft under Kirk Ferentz.
Nixon led the Big Ten and ranked 13th nationally with 13 tackles for loss last season. He also was fourth in the conference with 5.5 sacks and his 45 tackles tied for first among Big Ten defensive linemen in the conference.
Former Iowa defensive end Chauncey Golston will almost certainly hear his name taken in the draft after having made first-team All-Big Ten this past season, as will former Hawkeye left tackle and fellow Detroit native Alaric Jackson.
Golston played on the edge at Iowa, but he has also worked at defensive tackle in preparation for the draft, while Jackson was a four-year starter at left tackle at Iowa.
Iowa has struggled under Ferentz to produce NFL draft picks at wide receiver, with only three receivers taken since 2000.
But that number could almost double in this year's draft with Ihmir Smith-Marsette and Brandon Smith both considered potential draft picks, especially Smith-Marsette due to his ability as a kick returner.
Other draft possibilities for Iowa include linebacker Nick Niemann and tight end Shaun Beyer.
Niemann has been described by some as a hidden gem, and he certainly helped his cause by running the 40-yard dash in 4.45 second at Iowa's pro day event.
Niemann is also the younger brother of former Hawkeye linebacker Ben Niemann who now plays for the Kansas City Chiefs.
Kirk Ferentz is Iowa's all-time winningest head coach and the longest tenured college head coach in the country. Iowa has also played in 17 bowl games under Ferentz and won two Big ten titles in 2002 and 20-4.
But a strong case could be made that Ferentz's NFL pipeline is his greatest accomplishment.
For proof, just look at Iowa State's pipeline.