By Pat Harty
IOWA CITY, Iowa – The only player to start at left tackle for four consecutive seasons under Kirk Ferentz at Iowa, and maybe the only four-year starting left tackle in program history, didn't get drafted this weekend.
For whatever reasons, every NFL team, all 32 of them, took a pass on selecting Alaric Jackson over seven rounds despite what he accomplished as a Hawkeye.
In addition to starting at left tackle for four consecutive seasons, the 6-foot-6, 315-pound Jackson also made second-team All-Big Ten in 2018 and third team in 2019.
And he played for Kirk Ferentz, who is highly regarded in NFL circles, especially when it comes to producing offensive linemen.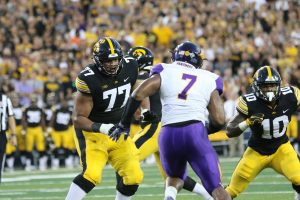 It just seems weird that Jackson wasn't among the 259 players that were selected in the 2021 NFL draft, and that not one team would take a chance on him.
It was reported shortly after the draft ended on Saturday that Jackson had signed as a free agent with the Los Angeles Rams.
So his chance to compete for a roster spot, and to prove the so-called experts wrong, will come.
There have been plenty of free agents who have proven the draft experts wrong by not only making an NFL roster, but by sticking in the league.
Jackson came to Iowa from Detroit as a somewhat highly regarded recruit. He moved well for a player his size, due partly to his experience as a basketball player growing up, but also because he's just a good athlete with size and finesse.
A player doesn't start at left tackle for four consecutive seasons for a Big Ten team without having talent and determination.
Left tackle is arguably the most important position on the offensive line because it protects the blind side of a right-handed quarterback. And Jackson apparently was Iowa's best option at left tackle for four consecutive seasons despite Tristan Wirfs being on the roster for three of those seasons.
Wirfs played mostly right tackle at Iowa and was selected by the Tampa Bay Buccaneers in the first round of the 2020 NFL draft as a junior, and then started at right tackle for the Super Bowl champions.
Jackson certainly isn't at the same level of Wirfs, obviously, but that still doesn't explain why Jackson went undrafted.
Jackson missed three games in 2019 due to a knee injury that occurred in the season opener. But he still performed well enough in 10 games to have been voted third-team All-Big Ten by the league's coaches, and by the media.
There are reports that Jackson struggled at the Senior Bowl. But even if that's true, it still seems odd that one week at a post-season all-star event would erase his entire body of work from college.
Jackson was suspended for the 2017 Pinstripe Bowl for an undisclosed violation of team policy. But that now appears to have been an isolated incident because he stayed out of trouble after that.
Jackson has to use this snub as motivation to prove that the so-called experts missed on him.
It's not how you get to the league that ultimately matters, but rather just getting there and sticking.