By Pat Harty
IOWA CITY, Iowa – The late, great Al McGuire had a gift for coaching basketball, and a gift for gab.
He led the Marquette men's basketball team to a national title in 1977 and then would go on to become a popular college basketball color analyst for CBS Sports, working alongside Billy Packer.
McGuire had a colorful personality, and he liked to talk.
Some of his quotes will live on forever, including when he said "the best thing about freshmen is that they become sophomores."
That might have been true in the 1960s and 1970s in the sport of men's basketball, but it couldn't be any further from the truth now.
Freshmen are getting better and better across the board, and that includes men's basketball.
The rise in popularity of club sports, and the growth of AAU basketball, has helped to make freshmen more ready to compete in multiple sports upon entering college.
Just look at the freshmen class at the University of Iowa and you'll realize how outdated McGuire's quote is now.
From Tory Taylor in football to Keegan Murray in men's basketball to Cailtin Clark in women's basketball to Adeline Kenlin in women's gymnastics to Alex Noel in women's tennis, youth has been served in spectacular fashion during this sports calendar year.
Freshman goalkeeper Macy Enneking also was inserted in the starting lineup midway through what had been a tough regular season to that point for the Iowa soccer team, and her impact was nothing sort of extraordinary as Iowa would go on to win the Big Ten Tournament, and one match in the NCAA Tournament.
The global pandemic has certainly made things challenging for student-athletes, and staying safe and healthy has been a never-ending battle.
And yet, many freshmen, including the six Hawkeye freshmen previously highligted in this column, have managed to stay available, and have performed with the poise and precision of seasoned veterans.
Dominance isn't usually a word associated with a freshman at Iowa, but Caitlin Clark and Alexa Noel have destroyed that narrative.
Noel on Monday became the first Iowa player named Big Ten Athlete of the Year in women's tennis, and the sixth Hawkeye chosen as Big Ten Freshman of the Year.
Noel has a 23-0 record while playing No. 1 singles, and she led Iowa to a program-best 12-wins, and a No. 5 seed in the Big Ten Tournament.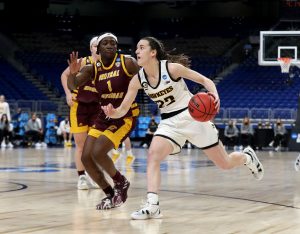 Clark was equally spectacular, averaging slightly more 26 points and seven assists per game for an Iowa team that finished 20-10 and advanced to the NCAA Sweet 16.
Clark was named Big Ten Freshman of the Year, made first-team All-Big Ten and second-team All-America in what was arguably the greatest individual season for an Iowa women's basketball player not named Megan Gustafson.
Clark's incredible shooting range, her passing ability, and her moxie have endeared her to Iowa fans, who already were excited when she arrived on campus from West Des Moines Dowling as a five-star recruit.
Adeline Kenlin, meanwhile, was named Big Ten Freshman of the Year in women's gymnastics. She is the fourth Hawkeye in school history to earn the league's top freshman honor, and the first in 20 years.
A first-team All-Big Ten selection, Kenlin won five events during the regular season. The Iowa City native tied the school record in the beam, posting a 9.975 score, including one perfect 10, on March 14 at Nebraska.
She also helped lead Iowa to the Big Ten regular season title, and is currently tied for eighth nationally on the beam with a 9.944 cumulative score.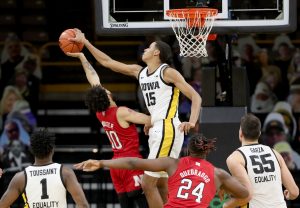 Keegan Murray, who is the son of former Iowa basketball player Kenyon Murray, made the Big Ten All-Freshmen team in men's basketball after playing in all 31 games, including four starts.
The 6-foot-8 forward was one of just five players nationally, and the only bench player, to amass at least 200 points, 35 blocks, 25 steals and 15 3-point baskets. Murray scored in double figures seven times and had 39 blocks, which tied for fourth most by a Hawkeye freshman.
And last but certainly not least is the oldest freshman in the bunch, 23-year old Iowa punter Tory Taylor.
The Melbourne, Australia native ranked third in the Big Ten, and 20th nationally last season, with a punting average of 44.1 on 40 punts. Taylor was named Big Ten Punter of the Year and had nine punts of 50 yards or more.
The fact that Taylor never had played football prior to coming to Iowa made what he accomplished is even more impressive.
And while you never say never, it seems very unlikely that this kind of freshmen dominance will happen again anytime soon.
Under normal circumstances, Noel wouldn't even be in college.
She had every intention of playing professionally after high school, but then the COVID-19 global pandemic took away that option for the New Jersey native.
So instead, Noel decided to be a Hawkeye, partly because her parents were originally from Grinnell, and she now ranks as arguably the greatest player in program history as a freshman.
Noel and Clark both performed at a level that is extremely rare for a member of any class. But to have done it as freshmen makes it truly spectacular, and the kind of thing you probably won't see again for years, if not decades.
The Hawkeye sports calendar year is nearly over, and it's probably safe to say that we'll never see anything like it again.
Men's basketball star Luka Garza is now a legend, as is wrestler Spencer Lee, who is poised to become Iowa's first four-time national champion in wrestling.
But this year will also be remembered for an incredible youth movement in multiple sports, thanks to a number of talented freshmen.
Iowa's freshmen class truly is spectacular, and the best thing now is that they will become sophomores, although, Noel is likely to launch her professional career because she's that good.