By Pat Harty
IOWA CITY, Iowa – Jan Jensen was the guest on the Hawk Fanatic radio show and podcast on Friday, and it's amazing how quickly the 45 minutes passed by.
We could've spent hours talking to Jensen, because for one, she has a gift for gab, and two, she has an incredible story to tell as the Iowa women's basketball team's associate head coach.
From averaging 66 points per game as a high school senior to leading the nation in scoring as a senior at Drake to now helping to lead the Iowa women as Lisa Bluder's top assistant, Jan Jensen has been on a spectacular journey that only seems to be getting better with time.
The fact that Jensen still is coaching at Iowa says a lot about her, a lot about Iowa head coach Lisa Bluder, and a lot about the University of Iowa, and about Iowa City.
Jensen almost certainly has turned down head coaching jobs during her more than two decades at Iowa, and more offers are likely to come because of how well the Iowa women have performed, especially recently, and because of her sparkling reputation.
"I think sometimes peoples' egos don't let them stay because it's like, 'oh, gosh, everybody keeps asking, why didn't I become a head coach,'" Jensen said. "Maybe I should lead my own show.
"And I think when you really, truly know who you are, and you love the people that you're working with, and you love what you do, I think it becomes pretty clear you just try to keep doing the best you can and try to uplift everybody around you, and it ends up being a pretty awesome situation."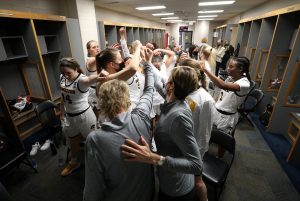 Jensen and Bluder have been together for more than three decades, dating back to when Bluder was hired as the Drake head coach in 1990.
Jensen was a senior on Bluder's first team at Drake, and the star player, averaging a nation's best 29.6 points per game.
Jensen played two years professionally in Germany before reuniting with Bluder as an assistant coach at Drake, where they spent eight seasons together before moving on to coach at Iowa in 2000, along with former Drake guard Jenni Fitzgerald.
The three have been together for over 30 years with Fitzgerald now a special assistant under Bluder.
"I love Iowa," Jensen said. "I love this state. I love everything about our university. I didn't need a placard that says I'm the head coach to have any more of a value of my worth as the coach."
Jensen hasn't ruled out becoming a head coach, but she's having too much fun to dwell on that possibility.
She would be an obvious top candidate, maybe the top candidate, to replace Bluder at Iowa whenever that day should come.
But Bluder is thriving as the Iowa head coach right now, and show no signs of slowing down.
"You know, someday I would love to lead an organization, or a team," Jensen said. "But, boy, I wouldn't have missed out on the last 20 years for nothing, especially the last four."
"Are you kidding me? it's been fun."
Iowa has made the NCAA Tournament in three of the last four seasons, and would've made it for a fourth time if the 2020 postseason hadn't been cancelled due to the outbreak of the COVID-19 global pandemic.
The Hawkeyes advanced to the NCAA Elite in the 2018-19 season behind National Player of the Year Megan Gustafson, while freshman sensation Caitlin Clark led what was thought by some to be a rebuilding Iowa team to the Sweet 16 this past season.
There are multiple factors that have convinced Jensen to stay put, with her respect and admiration for Bluder at, or near the top of the list.
Being in charge is one thing, but being happy is another, and perhaps the most important thing for any coach.
Jensen gets paid well, has a great relationship with her head coach and lives in a town where she feels happy, safe and comfortable.
Jensen also plays a key role as Iowa's recruiting coordinator, and as coach of its post players.
The list of centers who have risen to stardom under Jensen is long and distinguished, and led, of course, by Gustafson, who is arguably the greatest player in program history.
Current Iowa center Monika Czinano had the daunting task of replacing Gustafson two years ago, and Czinano, with help from Jensen, has since made first-team All-Big Ten in back-to-back seasons.
The Iowa women's basketball team is on a roll right now, and there are many factors that have contributed to the  success, not the least of which is talented players.
But there is also a healthy environment in which to grow and succeed, and the coaches have a lot to do with that. Because if the coaches are happy, the players sense that and feed off the positive energy.
And it's petty clear that Jan Jensen is happy and feels fulfilled working alongside Lisa Bluder