By Pat Harty
IOWA CITY, Iowa – Forest Evashevski retired from coaching in 1960 at the age of just 42, and three years before I was born.
I met the man just once in person, and interviewed him once on the phone, and I think it's fair to say that I enjoyed the phone interview more than Evashevski did.
He wasn't rude or dismissive, but he was serious and had no interest in making small talk.
As for myself, I was almost giddy talking to a living legend, the man who led the Iowa football team to its only two Rose Bowl wins, and to arguably its greatest stretch in program history from 1956-60.
I also was fortunate to have parents who were married for over 65 years, but my mother would tease my father about her crush on Evashevski, or Evy as he was more commonly known. My mother would warn my father that if he didn't behave that she would leave him for Evy, and my father would laugh because it was all in fun.
My mother, who passed away on Feb. 18 at the age of 91, adored Evashevski because she loved what he accomplished with Hawkeye football over nine seasons, and because she thought he was good looking.
Evashevski was also 91 years old when he passed away on Oct. 30, 2009, and nearly a half century after having stepped down as the Iowa head coach.
All there is now are memories and stories about Forest Evashevski, but many of the best story tellers, meaning his players, also have passed away.
Those who played for Evashevski at Iowa are now in their 80s and 90s, and many of the star players from that era have passed away, including Calvin Jones, Alex Karras, Randy Duncan, Bob Jeter, Eddie Vincent, Jim Gibbons, Don Norton and Mark Manders just to name a few.
Jones died in a plane crash in Canada on Dec. 9, 1956, and just three weeks before Iowa won its first Rose Bowl.
This year marks the 100-year anniversary of Iowa's 1921 undefeated team under Howard Jones, and it seems likely that Iowa will pay tribute to that team this fall, and deservedly so, based on what it accomplished, and because 100 years is a big deal.
But this year is also the 65-year anniversary of Iowa's 1956 Rose Bowl champion team, and it would be nice to honor that team this fall during a home game at Kinnick Stadium.
And while you're at it, Iowa's 1958 Rose Bowl champion team also could be honored in sort of two-for-one special as we move on from the global pandemic.
It appears Kinnick Stadium will be at full capacity, or close to it, this coming season, assuming there are no setbacks with the global pandemic.
But the players from the two Rose Bowl winners wouldn't necessarily have to be in the stadium to be honored. There could a video tribute featuring interviews with select players, just something to recognize them.
Iowa has honored its two Rose Bowl winners before, but it would make sense to do it again.
I'm not suggesting that Iowa has downplayed the Evashevski era, or the accomplishments of its only two Rose Bowl winners, because for one, it's not something you do every year.
Iowa also renamed Stadium Drive, which borders Kinnick Stadium on the north, to Evashevski Drive in 2010.
This is more about trying to show appreciation for an era in which almost all of the coaches, I assume, have now passed away, and so, too, have many of the players.
It's depressing to think that Iowa hasn't won a Rose Bowl since the 1958 squad crushed California 38-12 in the 1959 Rose Bowl.
But that is also more reason to admire and respect what Evashevski and his players and assistant coaches accomplished over nine seasons.
I've been fascinated with Evashevski for decades because his story is just so unique and interesting; how he made All-Big Ten three times as a blocking quarterback and linebacker for Michigan, how he taught arm-to-arm combat during World II, how he lifted Iowa to unprecedented success in football, and how he retired from coaching at such a young age.
Kirk Ferentz was two years older when he was hired as the Iowa football coach than Evashevski was when he retired as the Iowa football coach.
Evashevski would go on to serve as the Iowa Athletic Director throughout the 1960s, but it was a tumultuous time in which the football program struggled, partly due to Evashevski's meddling and his thirst for power.
Evashevski wanted to be both head football coach and athletic director, but the Board of Regents refused to give him that much power, and he was resentful, and some would say that he took out his anger and frustration on the Iowa football program, and on head coaches Jerry Burns and Ray Nagel.
So Evashevski certainly had his flaws, but according to those who knew him, and worked with him, he also had an aura about him, or some have described it as a mystique.
A native of Detroit, Evashevski was tough, intimidating and stubborn, and often operated out of fear. Some even say that he was a bully who could be vindictive.
His feud with Alex Karras is part of Hawkeye legend and lore, and an example of what happens when two powerful personalities clash.
But they put their differences aside long enough to win a Rose Bowl, and for Karras to win the 1957 Outland Trophy as the nation's top collegiate lineman.
Even with all of the animosity and hard feelings, Evashevski and Karras both made each other better.
And speaking of Karras, he's been gone for nearly a decade, having passed away on Oct. 10, 2012 after a lengthy illness.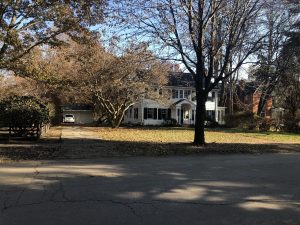 The 1950s were a long time ago, and time never loses, even against tough guys like Karras and Evashevski.
And while Evashevski certainly had his faults, he was also a master motivator and football strategist, a devoted family man, and a strong believer in civil rights as black players had a key role throughout his time as head coach at Iowa from 1952-60.
I often take walks in Iowa City and my typical route takes me past the home in which Evashevski lived with his wife and seven children on Summit St., a white colonial with blue shutters and a big chimney.
I sometimes wonder if the current owner knows that a Hawkeye legend once lived there.
Evashevski's son, John Evashevski, a former Michigan wrestler and Big Ten champion, passed away on May 30 at his home in Michigan. He was 70 years old.
His passing is yet another reminder that more and more people who were connected to the legend of Forest Evashevski are no longer with us.
Before long, there won't be any players left from Iowa's two Rose Bowl champion teams, and that's sad to think about.
The legend of Forest Evashevski will live on forever, but his players won't
So let's embrace them while there still is time.