By Pat Harty
IOWA CITY, Iowa – Since the mid-1990s, I have been ranking from a performance standpoint the top 10 University of Iowa male student-athletes on an annual basis.
I started doing it while working for the Iowa City Press-Citizen and have continued the tradition with Hawk Fanatic.
And while every year has presented a challenge, this surreal year was by far the most difficult, mostly due to having to choose between Spencer Lee and Luka Garza for the top spot, and because of the impact caused by the Covid-19 global pandemic from a scheduling standpoint.
The year officially ended with the completion of the track season on Friday for the men and Saturday for the women at the NCAA Championships in Eugene, Oregon.
My opinion shifted back and forth about who should top the list because Lee and Garza both were deserving.
We're talking about arguably the greatest wrestler in program history versus arguably the greatest basketball player in program history, two living legends whose individual dominance is unmatched.
I actually ranked student-athletes three through 10 before finally choosing between Lee and Garza for the top spot.
The 2020-21 sports calendar year will be remembered for the many obstacles and hardships caused by the global pandemic, but also for Iowa's success in multiple sports, both team wise and individually.
The Iowa wrestling team, with Lee leading the way, won the national title for the first time since 2010, while the Iowa men's track and field team won both the Big Ten indoor and outdoor titles.
The Iowa men's basketball team also won 14 conference games, which ties for the most in program history, while the Iowa football team won its final six games after having started 0-2.
The Iowa golf team also finished second at the Big Ten Championships.
There were so many worthy candidates from which to choose to where a top-15 would've perhaps been more appropriate.
Iowa wrestlers Jaydin Eierman and Michael Kemerer both finished runner-up at the NCAA Championships, but neither made the top 10.
Some might disagree with not having Eierman and Kemerer in the top 10, and fair enough. But one key factor was a lack of competition. Eierman only wrestled 13 times, while Kemerer wrestled 12 times in a season that was shortened by scheduling cancellations caused by the global pandemic.
The Iowa football team also played just eight games, and that was a factor in deciding who should make the top 10.
I thought about expanding this year's list to 12 in order to include Eierman and Kemerer before ultimately deciding against it.
So here is my top 10:
Spencer Lee, Jr., wrestling – A legend is defined in part as a notable person whose deeds or exploits are much talked about in his or her own time.
That pretty much describes the legend of Spencer Lee.
A native of Murrysville, Pa., Lee won the 125-pound NCAA Championship and the 125-pound Big Ten Championship in 2021. He also won both the Dan Hodge Trophy and was named Big Ten Wrestler of the Year for the second consecutive season. He was 12-0 in 2021 with 11 bonus-point victories, outscoring his 12 opponents 141-15.
Lee was also named winner of the Mike J. McGivern Most Courageous Award, and was 5-0 at the NCAA Championships, outscoring his opponents 59-8 while winning his third national title.
Lee then stunned the college wrestling world by announcing on television just moments after winning the national title that he was wrestling without an ACL in either knee.
It was this incredible circumstance that gave Lee a slight advantage over Garza for the top spot.
Lee didn't just win the 125-pound national title for a third consecutive year, he dominated his competition despite having two damaged knees. He clearly wasn't himself at the NCAA Championships, and yet, he still cruised to the title.
It was the stuff of legends, something you wouldn't believe without having watched it unfold.
The only real mark against Lee is that he only wrestled 12 times due to scheduling cancellations caused by the pandemic.
But again, to win a national title despite having two damaged knees, and in a sport as physically demanding as wrestling, makes up for a lack of matches.
2. Luka Garza, Sr. basketball – The Washington D.C., native is without question the most decorated player in program history, and a good case could be made for him being the best player in program history.
The only thing Garza didn't accomplish as a Hawkeye was deep run in the NCAA Tournament.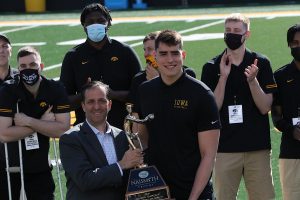 But he still led Iowa to two NCAA Tournament appearances, and it would've been three if the 2019-20 postseason season hadn't been canceled due to the outbreak of the global pandemic.
Iowa also finished 14-6 in the Big Ten this past season, tying for the most conference wins in program history.
So Garza did have some team success, but his individual dominance is what truly sets him apart.
In addition to being Iowa's all-time leading scorer with 2,306 points, Garza was the consensus National Player of the Year this past season.
He led the nation in total points (747), player efficiency rating (35.84), 30-point games (8), field goals made (281), and 20-point games (22). Garza also ranked second nationally in points per game (24.1), fifth in free throw attempts (199), 10th in free throw makes (141), and 11th in double-doubles (13). His 747 points extended the single-season school record he set last season (740).
In a normal year, Garza's performance would've easily made him the top choice, but there is nothing normal about what Spencer Lee accomplished.
3. Daviyon Nixon, Jr., football – The Kenosha, Wisconsin native went from being a key reserve in 2019 to one of the most decorated defensive linemen in program history in 2020.
Nixon was a unanimous first-team All-America selection this past season, and was named the Big Ten Defensive Player of the year.
He led the conference in tackles for loss (33), tied for the conference lead in sacks (5.5), and had the most tackles by a Big Ten defensive lineman (41).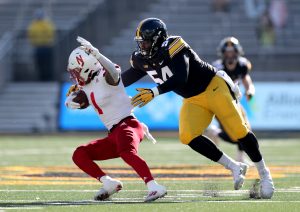 Nixon is Iowa's first consensus defensive lineman since Adrian Clayborn in 2010 and first consensus defensive tackle since Jared DeVries in 1998. Nixon is the sixth defensive lineman in school history to garner consensus All-American status.
4. Tyler Linderbaum, Soph., football – I can't recall ever ranking a center this high, but the Solon native is certainly deserving.
The decision to move Linderbaum from defensive tackle to center near the end of his true freshman season in 2018 was a stroke of genius.
Linderbaum is now considered one of the top centers in college football after having been named second-team All-America by both the Associated Press and the Football Writers Association of America this past season.
Linderbaum was also a first-team All-America selection by The Athletic and Pro Football Focus, a finalist for the Rimington Award and a first-team All-Big Ten selection by the media.
A center doesn't have many statistics to help his individual ranking, but just from watching Linderbaum perform in the trenches, you could see his consistency and dominance.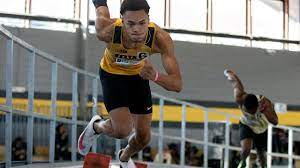 5. Jamal Britt, Jr., track and field – The Las Vegas native was named Co-Athlete of the Big Ten outdoor championships after winning the 400-meter hurdles, and finishing runner-up in both the long jump and 110 hurdles.
Britt then capped a brilliant outdoor season by finishing fourth in the 110 hurdles at the NCAA championships.
Iowa was the only school with two finalists in the 110 hurdles.
The fact that Britt performed at an elite level in three different events, and for a Big Ten champion, puts him in a rare category.
6. Jaylan McConico, Sr., track and field – A transfer from Illinois State, McConico now ranks among the greatest hurdlers in program history.
He capped a spectacular 2021 outdoor season by finishing second in the 110-meter hurdles at the NCAA Championships, and two spots ahead of teammate Jamal Britt.
Their second and fourth-place finishes earned 13 of Iowa's 19 team points in the team standings.
McConico, a native of Bolingbrook, Illinois, also won the 110 hurdles at the Big Ten outdoor championships in a blistering 13.23 seconds, setting both a school record and a Big Ten meet record.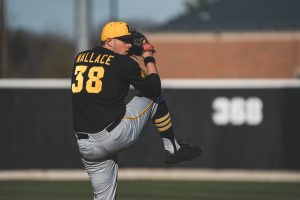 7. Trenton Wallace, Jr., baseball – The Davenport Assumption graduate was named Big Ten Pitcher of the Year this season, and is the first Hawkeye to earn that distinction.
Starting pitcher Brett Backlund was the Big Ten Co-Player of the Year in 1992; the league began recognizing the Pitcher of the Year in 1994.
As the Friday night ace, Wallace finished the regular season with a 7-1 record and a 2.34 ERA in 13 starts with a league-leading 106 strikeouts.
He allowed 20 runs (19 earned) on 54 hits over 73 innings this season, and two or fewer runs in 10 starts. He also had eight or more strikeouts in 10 starts and he posted eight quality starts.
Iowa won eight straight series openers dating back to April 2 with Wallace on the mound and the Hawkeyes won all but two series openers this season. His 106 strikeouts are the second-most in a single-season in school history, trailing only Jim Magrane's 110 strikeouts in 1999.
Wallace also sometimes played in the outfield when he wasn't pitching, showing his versatility.
8. Ben Norman, Sr., baseball – The Des Moines Roosevelt graduate led the team in batting average (.311), runs (35), home runs (10), RBIs (51), hits (51) and steals (12), while ranking second in doubles (14) and triples (3). His 51 RBIs led the Big Ten and his three triples finished tied for second.
So it's easy to see why Norman made first-team all-conference. A case could've been made for him being the Big Ten Player of the Year.
Norman hit safely in 33 games and reached base safely in 37 contests this season with 15 multi-hit and 15 multi-RBI contests. Norman will tie the school games played record today against Michigan State, as it will be his 220th career game (with it being his 119th consecutive start). Norman also ranks seventh all-time in career doubles (46), 11th in career steals (46) and 14th in career singles (131).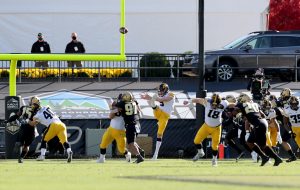 9. Tory Taylor, Fr., football – Iowa traveled a long distance to find its punter, but it was well worth the trip as Troy Taylor became the first Hawkeye, and first freshman, to be named Punter of the Year in the Big Ten in the award's 10-year history.
A native of Melbourne, Australia native, Taylor averaged 44.1 yards on 40 punts this season, including nine punts of 50 yards or longer and 18 punts downed inside the opponent's 20-yard line.
His 44.1-yard average ranks third in the Big Ten and 20th in the NCAA.
Taylor has only one touchback in 40 attempts and opposing returners are averaging only 4.6 yards on six punt returns. Opponents have lost two fumbles while fielding punt returns.
10. Alex Schaake, Sr., golf – The Omaha, Nebraska native led Iowa this season with three top-five finishes, including an individual championship at the Hawkeye Invitational in April where the Hawkeye veteran carded a 204 ​(12) to match the third lowest 54-hole score in school history. Schaake led the team in scoring average (71.9) and rounds at or below par (12) while posting three of Iowa's lowest 18-hole scores on the year.
Schaake was recognized as the Big Ten Men's Golf Co-Player of the Year and earned first-team All-Big Ten and All-Midwest Region selections. He was also named to the All-Big Ten Championships team after helping lead Iowa to a second-place finish. Schaake's play earned himself a spot in the inaugural PGA TOUR University class of 2021, which tabs him as a top 15 graduating collegiate player this season and grants him a spot on the Forme Tour this summer.
Also considered (in order): Michael Kemerer, wrestling; Jayden Eierman, wrestling; Chauncey Golston, football; Kareem Allaf, tennis; Tyler Goodson, football; James Carter, Jr., track and field; Alaric Jackson, football; Will Daniels, track and field; Peyton Haack, track and field.