By Pat Harty
IOWA CITY, Iowa – There is a chance that three former Iowa Hawkeyes could be on NBA rosters next season.
Joe Wieskamp still isn't officially a former Hawkeye, but he is expected to stay in the NBA draft as a junior, and is one of 69 players who have been invited to the NBA predraft Combine next week in Chicago, along with former Iowa All-America center Luka Garza.
Neither Weiskamp nor Garza are considered likely first-round picks in the two-round NBA draft, but they both project as possible second-round selections.
And it only takes one team to like you, so the 6-foot-6 Wieskamp and the 6-11 Garza both are in position to make an NBA roster.
It now just comes down to doing it.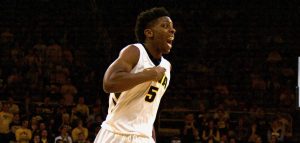 They both can use former Hawkeye teammate Tyler Cook as inspiration with the 6-9 Cook having signed a multi-year contract with the Detroit Pistons in early April.
Cook went undrafted after playing for three seasons at Iowa from 2016-19, and the St. Louis native has had to persevere through being released by the Denver Nuggets, waived by the Cleveland Cavaliers, resigned by the Cavaliers to a 10-day contract, resigned again by Denver to a 10-day contract, signed by the Brooklyn Nets to a 10-day contract and signed by the Detroit Pistons to two 10-day contracts.
The Pistons liked what they saw from Cook this season and signed him to a multi-year deal in early April.
Cook then used his NBA money to purchase a car for his mother, his way of saying thanks for all the love and support.
It isn't often that Iowa has had three players this close to being in the NBA at same time.
Again, it still has to happen, but all three are in position to do it, and all three are young men of high character.
Obviously, it takes more than being a good guy to make an NBA roster, but to have no personal baggage certainly helps.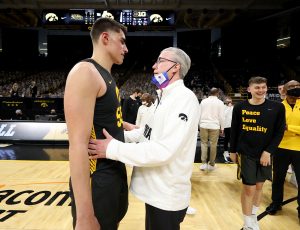 The knock on Garza, despite being the consensus National Player of the Year, a two-time first-team All-America selection and Iowa's all-time leading scorer, is that he isn't athletic enough to keep pace in the NBA.
Teams apparently are concerned about Garza's ability to defend quicker post players, and about his ability to create his own shot in the post.
But on the other hand, Garza is a gifted shooter, a tireless worker and nearly 7-feet tall. He also can make 3-point shots and has a variety of post moves.
After what Garza accomplished at Iowa, it would be foolish to think he doesn't have a chance to make an NBA roster.
As for Wieskamp, he projects as a shooting guard in the NBA and has the size for that position. Whether he makes an NBA roster, drafted or undrafted, could come down to how well he makes 3-point shots.
Lots of players stick in the league because they do one thing real well, a case in point being former Iowa power forward Reggie Evans, who played in the NBA from 2002 to 2015, and with seven different teams. Evans wasn't much of a scorer, but he stuck in the league because he was a tenacious rebounder who worked hard on defense.
Former Hawkeye Ricky Davis played for 12 seasons in the NBA from 1998 to 2010, and with seven different teams, and he stuck in the league mostly because he was an athletic scorer.
Former Iowa forward Ryan Bowen lasted for nearly a decade in the NBA between 1998 and 2009 because he had great quickness for his size, and that allowed him to defend at a high level.
Davis and Evans played for nearly a decade in the NBA at the same time, but they have certainly been the exception when it comes to former Iowa players making it in the NBA.
Former Iowa forward Jarrod Uthoff has signed several 10-day contracts within the last five years, while former Iowa guard Devyn Marble has played briefly in the NBA.
But neither has been able to stick on a roster because it's incredibly hard to make an NBA roster. It takes a ton of talent, a little luck, good health, and being in the right place at the right time.
Uthoff made the NBA G-League third-team this past season, after having made the G-League first team the season before. But the 6-9 forward also also turned 28-years old in May, so time is running out on his chances of making an NBA roster.
Tyler Cook is showing signs that he could have a long career in the NBA, while Wieskamp and Garza are on the NBA's radar.
It would certainly be a nice recruiting sales pitch for Iowa coach Fran McCaffery if three former Hawkeyes are in the NBA next season.
A career in the NBA is the ultimate goal for almost every college basketball player who competes at the Division I level, and to show that you can produce NBA players sends a strong message.