By Pat Harty
IOWA CITY, Iowa – Callie Levin had something important to tell her parents after having just watched the Iowa women's basketball team practice recently.
Her mind was made up. Levin wanted to play for head coach Lisa Bluder and the Iowa Hawkeyes.
"I actually went to a practice there, a few days ago, and the atmosphere was amazing," Levin said Tuesday afternoon and about 24 hours after committing to the Iowa women's basketball team. "I kept picturing myself at that practice and having coach Bluder and the rest of the staff coach me. It just felt like home when I went there.
"So after I went to that practice I just literally went up to my parents and I was like, I want to go there, like when can I commit?
Levin, a 5-foot-9 sophomore-to-be point guard from Solon, announced her commitment to Iowa Monday on Twitter.
"Just watching how Lisa and the rest of the coaches coach their girls, they just do such a good job," Levin said. "There's just so much energy in that gym, and that's the kind of practice that I want to be involved in.
"The girls we're high-fiving and it just looked like so much fun. So I couldn't picture myself anywhere other than in that gym in that moment."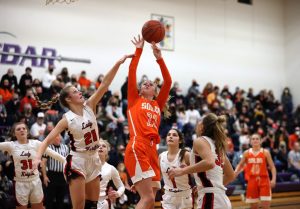 Levin's decision probably came as no surprise to those who know her because she grew up as a Hawkeye fan, like practically everyone else in Solon.
She grew up with an Iowa jersey and Hawkeye posters hanging in her bedroom, and her parents are devoted Hawkeye fans, as are most of her friends.
But out of respect to the other coaches that had been recruiting her, coaches from Iowa State, Arkansas and Oklahoma State among others, Levin didn't commit to Iowa on the spot after having been offered a scholarship.
She always knew in the back of her mind that she wanted to be a Hawkeye, and having watched just one practice solidified that belief. But Levin also felt obligated to call the other head coaches before announcing her decision.
Arkansas was the first school to offer Levin a scholarship before she had even played in a high school game. The Arkansas coaches had seen Levin play on the AAU circuit, and that apparently was enough to convince them to offer her a scholarship.
Levin is the first member of the 2024 class to commit to Iowa, and with three years of high school remaining, there's no telling how many more scholarship offers she could've received.
But that wasn't important to her.
"Honestly, it wasn't how many offers I was going to get," Levin said. "It was just that I had made these relationships with these coaches over the past year or two, and just from talking to them, I wanted to make sure that Iowa was the right place for me."
Iowa was the only school that Levin visited before making her decision.
"After that, I just knew that was the place I wanted to go," Levin said. "I was just so grateful to those (other) coaches, but also I did not want to keep on calling them and stuff. It's just going to be a waste of their time and my time.
"So I didn't want to keep leading them on."
Levin was one of just two players in the state to average at least 19 points, five rebounds, four steals and 3.5 assists per game last season. She also led Solon to a 17-6 record, a WAMAC Conference title and to a spot in the Class 3A regional title game.
The 19 points were the most for a freshman in the state last season.
Levin likes to push the pace on offense and shoot 3-pointers, and that fits nicely with Bluder's  up tempo offense.
"That's definitely something I like to do," Levin aid. "They like to shoot a lot of threes, and they like to score in transition. And we talked about it, me and coach Bluder and the rest of the staff, how that fits my style.
"And so that's another reason why Iowa was just a perfect fit for me."
Even with three years of high school remaining, Levin sort of feels relieved to have the recruiting process over. She now can focus on helping her high school team, and her AAU team have success without any distractions.
Levin plays for the All Iowa Attack and was a key contributor for its U16 national championship team this summer.
"It's kind of good because now I can get past the stressful calls and just focus on getting to state and winning state in high school, and my other goals with my AAU team," Levin said. "I think it's good that now I can just grow as a basketball player, and not only help my high school team, but my AAU team, and soon help the Hawkeyes out. I'm just excited to keep getting better."
Levin said her parents put no pressure on her to pick Iowa, but they were thrilled when she did.
"They definitely didn't," she said. "They just wanted me to pick the place that would make me happy and that would just be a good fit for me.
"And Iowa City is just 15 minutes away so we grew up Hawkeye fans and they love that. So they were very happy for me when I made that decision."
Levin said she was about six years old when her father, who played basketball at Central College in Pella, gave her a basketball for the first time. She was hooked from that moment.
"I just grew up loving the game," said Levin, whose mother ran track for Iowa.
The Iowa women's basketball team has been on a roll in recent seasons, and is led by sensational point guard Caitlin Clark, who earned All-America honors as a freshman this past season.
Clark, a former five-star recruit from West Des Moines Dowling, also played for the All Iowa Attack.
"It was cool to watch her as a freshman just lead that team," Levin said. "They're really good. They're going to be a top-25 school. And they're like 15 minutes away from home.
"So it's just awesome that they're going to be a top-25 school, and I'm going to be playing with them."
Lisa Bluder is entering her 22nd season as the Iowa head coach and is the program's all-time winningest coach.
She also lives in Solon.
"It's just awesome that the coach that's going to coach me in college lives like ten minutes from me," Levin said. "That's just so awesome to me. All her kids, they went to Solon.
"It's just awesome being from this small town and going to play and living my dream at a place that's just like 15 minutes from home."
NCAA rules prohibit college coaches from commenting publicly on a recruit before the recruit has signed a national letter of intent.
So in this case, Bluder will have to wait almost three years before she can comment publicly on Levin.
But it should be worth the wait.