By Pat Harty
IOWA CITY, Iowa – The starting quarterback is a Grateful Dead fan from northern California who loves playing the guitar, and who is loved by his teammates and coaches.
The starting center is arguably the best at his position in college football and grew up about 15 miles from his college campus.
The starting kicker is 23 years old and has waited for five years to finally be the starting kicker.
One of the starting safeties was a better basketball player than football player in high school, and can dunk with the best of them.
The starting running back is one of few players in program history to come from Georgia, started as a true freshman and made first-team All-Big Ten as a sophomore.
The starting punter is from Melbourne, Australia, is 24 years old, the reigning conference Punter of the Year, and had never punted in a football game until last season.'
The head coach is 66 years old, the longest tenured head coach in college football, and the all-time winningest head coach in program history.
The defensive coordinator is considered one of the best in his profession, an original member of the current head coach's staff dating back to 1999, and now earns more than $1 million in annual salary.
The offensive coordinator is the head coach's son, and a former Iowa offensive lineman under his father.
The quarterbacks coach used to be the offensive coordinator, and also a head coach, including for eight seasons at the high school level, and one of his assistants is the head coach he now works under for the second time.
Spencer Petras, Tyler Linderbaum, Caleb Shudak, Kaevon Merriweather, Tyler Goodson, Tory Taylor, Kirk Ferentz, Phil Parker, Brian Ferentz and Ken O'Keefe are in order the answer to those descriptions, and just a sampling of what the 2021 Iowa football team is all about, albeit a very significant sampling.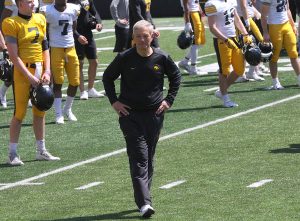 Kirk Ferentz is entering his 23rd season as the Iowa head coach, and has lived nearly half of his life in Iowa after having also coached the Iowa offensive under Hayden Fry from 1981-89.
Iowa started practice on Thursday, and like always, there is plenty of excitement and anticipation with the season less than a month away.
But the excitement seems more noticeable this summer, and that's probably because of what happened during the 2020 season when games were played in stadiums that were mostly empty due to the Covid-19 global pandemic, and because many games were cancelled, including Iowa's final two postseason games.
Most prognosticators have picked Iowa to finish second in the Big Ten West Division behind Wisconsin, and that makes sense given the results from the past decade.
However, Iowa whipped the Badgers 28-7 last season at Kinnick Stadium, but in fairness, the Badgers were a shell of themselves due to Covid-19 cases.
But if Spencer Petras can play like he did in the second half against Illinois last season, if the defense can perform like it almost always does under Phil Parker, and if special teams can be a strength, this could be a memorable season.
That's a lot of ifs, but the gap between Wisconsin and Iowa seems to have narrowed.
And remember, Barry Alvarez is no longer the Wisconsin Athletic Director.
Alvarez hasn't coached the Badgers since 2005, but don't fool yourself, he had a major influence on football while serving as athletic director.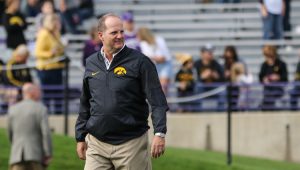 Iowa's biggest concern might be the defensive line where three starters have to be replaced, including 2020 Big Ten Defensive Player of the Year Daviyon Nixon, and first-team All-Big Ten defensive end Chauncey Golston.
But regardless of the circumstances, Parker almost always has a rock-solid defense that is fundamentally sound, and that allows very few big plays.
Saturday will mark four weeks from Iowa's Sept. 4 season opener against Indiana at Kinnick Stadium. And with exception to last-season when Big Ten teams only played conference games due to the global pandemic, it'll be Iowa's first season opener against a Big Ten opponent since facing Indiana in 1980. It should be a monumental challenge with the Hoosiers on the rise under head coach Tom Allen.
Iowa will then face Iowa State in week two in Ames, and it could be the best Iowa State team ever, with talent and experience up and down the roster.
Two games doesn't make a season, but a 0-2 start would do considerable damage to Iowa's season.
Injuries, of course, will be a factor, and so will luck and timing, and unfortunately, the obstacles caused by Covid-19, which is making a resurgence.
Kirk Ferentz said at Big Ten Media Day that not quite 70 percent of his players had been fully vaccinated, and that certainly raised a few eyebrows.
Iowa could be vulnerable from a player availability standpoint, and it would be a shame to lose players because this team in many ways is built to win, and the schedule looks manageable, even with the brutal two-game start.
Iowa announced a while ago that it expects to have full capacity at Kinnick Stadium, but that was before the highly contagious Delta variant started spreading at a disturbing rate.
Hopefully, UI officials won't have to limit attendance because fans are eager to return, and they make such a big difference, especially at Kinnick Stadium.
Iowa is more than a year removed from the racial unrest from last summer, but even with that hanging over the program, Iowa won its final six games last season. And while it takes more than a year to fix a culture, Iowa didn't let the racial unrest hurt its product on the field
Iowa has only won the Big Ten West Division once, and that was back in 2015.
So you could argue that a second Big Ten West title is overdue.
You also could argue that this Iowa team at full strength, and with a little luck, has the potential to win its division.