By Pat Harty
IOWA CITY, Iowa – Josh Ogundele raised a few eyebrows on Thursday, and maybe even some expectations, by posting on Twitter a short video of him performing shooting drills.
In addition to making every shot, including some from 3-point range, it was the shape of Ogundele's body that really stood out, and the fluidity of his movement.
Ogundele told the media earlier this summer that he was working hard to lose weight and get in better shape, and judging from the video, he has lived up to what he said.
The London, England native almost looks skinny in the video. Gone is the soft midsection and lumbering on the court.
Granted, it's only a short video clip against no defender, but there is no denying that Ogundele looks better, and is moving better than ever before as Hawkeye.
Ogundele is on a mission to make up for last season when his lack of conditioning kept him mostly on the bench.
He probably wouldn't have played much anyway as Luka Garza's backup. But Ogundele still let himself get out of shape, partly due to the restrictions caused by the global pandemic, but also because he spent a lot of time just sitting around during the lockdown.
He said as much to the media, but he also vowed to change his body and get in better shape because there is a great opportunity waiting for him.
"Last year, I was very mad at myself because I could have made a bigger impact than I did, especially with Jack Nunge being out," Ogundele said. "But because my conditioning wasn't there, I couldn't do anything.
"This summer, I've just been working on conditioning because I know I have what it takes to play in the Big Ten. It's just my conditioning that was a problem. So as soon as I get my conditioning, I think I'll be very confident in playing next year and taking over."
Bag Work 🎒💯 @coach_maitlandpic.twitter.com/SfMjsHrcJi

— Josh Ogundele (@damijosh2047) August 18, 2021
Garza has moved on to the NBA, and as arguably the greatest player in program history, and he leaves behind a legacy that makes him a legend.
But Garza also leaves behind a ton of minutes at the center position, and the 6-foot-10 Ogundele is one of the players competing for those minutes, along with incoming freshman Riley Mulvey.
In fact, Mulvey is so excited about the opportunity, and about helping his new team, that he skipped his senior year of high school in order to start college a year sooner.
Ogundele and Mulvey get to do this together, and it'll probably take both of them to come close to watch Garza did as a freshman in 2017-18 when he averaged 12.1 points and 6.4 rebounds per game.
Of course, there will be pressure, but with pressure comes opportunity.
Despite how each word is defined, pressure and opportunity sort of mean the same thing, but just from a different perspective.
Especially in sports.
Iowa might not ever come close to having another center as durable, productive and loyal as Garza.
But the center position also can't just turn into a huge weakness over the next season, or two, while the young players develop, or Iowa could be in trouble.
Ogundele sees the opportunity in front of him, and that's what pushes him every day to keep working, grinding and sacrificing, all the things that it takes to lose weight and get better.
Ogundele is among a number of Iowa student-athletes that have a chance from an individual standpoint to seize an opportunity this coming sports calendar year.
Here are five more:
Justin Britt, football
It could be argued that the Indianapolis native is under pressure to step up as the expected replacement for injured senior Kyler Schott at right guard.
Schott is expected to miss at least the season opener against Indiana on Sept. 4 at Kinnick Stadium after breaking a bone in his right foot, which happened when he jumped from a bale of hay on his family's farm. Schott was baling hay when the injury occurred.
Schott is Iowa's second most experienced offensive lineman behind all-everything center Tyler Linderbaum. So Schott's loss for any period of time would be significant.
There is pressure on his replacement to seize the opportunity, but with that pressure comes a huge opportunity for the next man in, which in this case, appears to be 6-foot-4, 302-pound Justin Britt, who is a third-year sophomore from Indianapolis.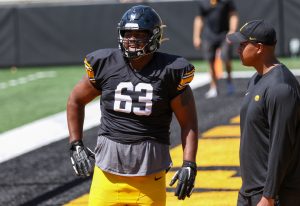 Britt saw action in four games last season, and in four games as a true freshman in 2019.
He isn't completely raw, but to move into a starting position under these circumstances is a dramatic shift for Britt.
It's an opportunity that comes with some pressure.
The good news for Britt is that he doesn't have to do it alone as an offensive lineman. He just has to do his part, and hope that his teammates in the trenches do their part.
Linderbaum almost always does his part, and that's why he is widely regarded as the best center in college football, and one of the best offensive linemen overall.
Britt just has to be consistent and reliable, not a force.
And though Britt is inexperienced, he's also entering his third year in the program. So he's not a kid anymore.
Everyone on the Iowa offensive line is under pressure, even Linderbaum, as he tries to live up to the enormous hype.
The starter at left tackle will also be under pressure that comes with replacing four-year starter Alaric Jackson.
Britt's situation is different, however, because he is now is expected to replace one of the two most accomplished offensive linemen on the team when that wasn't supposed to be the case.
Yahya Black, football
No position on the Iowa football team was hit harder by personnel losses than defensive line where three starters have to be replaced, including 2020 consensus All-American Daviyon Nixon at defensive tackle and first-team All-Big Ten defensive end Chauncey Golston.
Yahya Black, a redshirt freshman from Marshall, Minn., will be counted on to help prevent a serious decline in performance level at defensive tackle.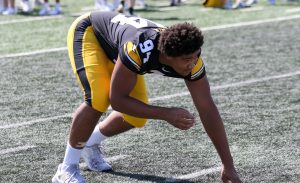 He is listed as one of the two starters at defensive tackle, with junior Noah Shannon, and that's a lot of pressure for anybody, but especially for somebody who has appeared briefly in just four games, as is the case with the 6-5, 287-pound Black.
It would be silly to think the he could pick up where Nixon left off as a destructive force.
But assuming Black starts and gets significant playing time, he will be expected to hold his own, or he wouldn't be in this position.
He will face pressure, but the more pressure means more of an opportunity.
"Just coming here and working with the defensive line," Black said at Iowa's media day. "There's great coaches, great mentors that have been with me through the whole process, so I can't really say there's much else I could get from a great program."
Caleb Shudak, football
To wait five years to start is a long time for any athlete. But for a college athlete, it's almost unheard of because they usually only get five years to compete.
The global pandemic has temporarily changed that, however, and Iowa kicker Caleb Shudak is taking advantage of the free year by returning for a sixth season.
The Council Bluffs native first had to wait for Miguel Recinos and then Keith Duncan to both finish their careers before finally getting his chance to be Iowa's starting kicker.
Every starting kicker is under tremendous pressure because the eyes of the stadium are always glued to the kicker when he takes the field to attempt a field goal.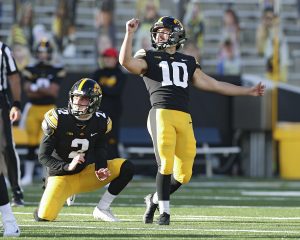 So the pressure is undeniable, especially with Duncan having been a consensus All-American in 2019, who had a knack for performing well under pressure, like when he made game-winning field goals in the closing seconds against Michigan and Nebraska.
But again, with pressure comes opportunity, and to be Iowa's starting kicker is a huge opportunity, and a massive responsibility.
Iowa has a history of playing in close games under Kirk Ferentz, so it's reasonable to think that Shudak will have to deliver under pressure. The ability to perform under pressure, and to seize the moment, is what helps to define a great kicker.
Shudak certainly has the trust of his teammates and coaches, and he's also 23 years old. He's had time to grow and mature, and to watch how Duncan and Recinos handled pressure.
Shudak was asked at Iowa's media day if being 23 works to his advantage.
"Yeah, I think so, and also being around great people and seeing how they reacted and what worked for them and what their process was like," Shudak said. "That experience definitely helped me grow mentally and prepare me for the pressure moments."
Kylie Feuerbach, women's basketball
She made the potentially awkward move by transferring from Iowa State to Iowa despite having played a key role for the Cyclones as a freshman last season.
A native of Sycamore, Ill., Feuerbach announced in late April that she planned to transfer to Iowa, and she wouldn't have made the delicate switch without believing there is an opportunity to excel as a Hawkeye.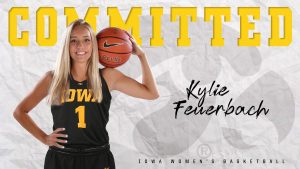 Iowa already has a crowded backcourt with star point guard Caitlin Clark, and with shooting guards Kate Martin and Gabbie Marshall having key roles.
But Feuerbach and Martin are both 6-foot and pretty versatile, so they could play together.
Feuerbach took on a bunch of pressure by switching from Iowa State to Iowa.
But with that switch comes an opportunity to play alongside a rising star in Clark, and in a system under Lisa Bluder that pushes the pace on offense.
As a freshman, Feuerbach started 24 of the Cyclones' 28 games during the 2020-21 season, including the Cyclones' NCAA First and Second Round tournament games against Michigan State and Texas A&M. The freshman guard averaged 5.5 points and 3.1 rebounds per game, while shooting 36 percent from the field on the season.
"There's a lot of things that went into it," Feuerbach said of her decision to transfer. "Like the location and the coaching is great. They really welcomed me. The players also welcomed me as well.
"I also like the winning, the competitiveness on this team. Obviously, it's the summer and it's extremely competitive everywhere no matter what we're doing."
Joe Toussaint, men's basketball
After playing as the backup point guard the last two seasons, Joe Toussaint is now gets to run the show.
Jordan Bohannon, one of the most statistically accomplished point guards in program history, has agreed to move to shooting guard in his sixth season so Toussaint can start at point guard.
Fran McCaffery allowed for the switch to happen, so the stage is set for the lightning quick Toussaint, who is from the Bronx, New York, to seize the opportunity.
He's been working hard this summer to improve his perimeter shot, and is already a solid on-ball defender who can get to the basket.
"I've been working on my jump shot a lot," said Toussaint, who only attempted 11 shots from 3-point range this past season, making three. "My form, getting the reps up and doing the same thing every single time because I know I can shoot it. I have confidence to shoot the ball, and I know when I make shots it just makes me very difficult to guard. If you play up on me, I can just go around you. So I'm working on my shot a lot."
A point guard has numerous responsibilities on both ends of the court, and also has to be a leader.
With that role comes pressure, but also an opportunity that Joe Toussaint feels privileged to have.
"Coach is showing that he actually trusts me with the team and with the ball in my hands, and that's all I needed, to be honest," Toussaint said. "That's all I needed. Somebody just saying I trust you with the ball. I trust you with my team. Now go play your game."