By Pat Harty
IOWA CITY, Iowa – Of all the University of Iowa head coaches who are currently having success, a strong case could be made for Lisa Cellucci being on top of a distinguished list.
It's also a pretty long list, which is a testimony to how well Iowa is performing in multiple sports.
From Tom Brands to Joey Woody to Kirk Ferentz to Dave DiIanni to Fran McCaffery to Rick Heller to Lisa Bluder to Renee Gillispie to Larissa Libby to Sasha Schmid, many of Iowa's head coaches are thriving right now.
Brands has made Iowa number one in wrestling again, winning the 2021 national title, and this year's team could be even better.
Woody has led the Iowa men's track team to three Big Ten titles since 2019, while Kirk Ferentz has led the Iowa football team to 53 wins since 2015, including three bowl wins.
DiIanni led the Iowa soccer team to an incredible turnaround last season, from 1-7-1 to the Big Ten Tournament champion, and to an appearance in the NCAA Tournament.
Bluder has led Iowa to the NCAA Sweet 16 in two of the last three seasons, and to 15 NCAA Tournaments overall, and is Iowa's all-time winningest women's basketball coach.
Fran McCaffery has led the Iowa men's basketball team to five NCAA Tournament appearances, and to eight postseason tournaments overall in 11 seasons as head coach.
Heller has led the Iowa baseball team to an average of 30 wins per season since taking over in 2014, to two NCAA Regionals, and to the 2017 Big Ten Tournament title.
Gillispie led the Iowa softball team to 26 conference wins last season and to a fourth-place finish in conference play, Iowa's highest finish since 2012.
And Libby led the Iowa women's gymnastics team to the 2021 Big Ten regular-season title, and has led Iowa to 20 straight NCAA Tournament appearances, while Schmid led the Iowa women's tennis team through a record-breaking 2021 season, finishing 12-6 overall and a 12-4 in the Big Ten, which is the best conference record in program history.
So it would take somebody really special as a head coach to top this list, and Cellucci meets that requirement based on how she has lifted the Iowa field hockey team, and the program as a whole, from the trying circumstances when she took over seven years ago to elite status again.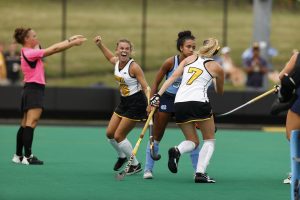 Third-ranked Iowa defeated top-ranked North Carolina 3-1 on Sunday at Grant Field.
During the 2021 spring season, Cellucci led the Hawkeyes to their 12th NCAA Final Four in program history, and was named Big Ten Co-Coach of the Year.
A native of Philadelphia, Cellucci is in her 22nd season as a member of the Hawkeye coaching staff, and her eighth as head coach. Cellucci, a three-time All-America goalkeeper at Iowa and a member of the U.S. National Team, is the all-time saves leader at Iowa.
You also could argue that she has saved the Iowa field hockey program because the future looked bleak in the summer of 2014.
A program that for 30 years had sustained a level of success like few other Iowa programs, was suddenly embroiled in an ugly and costly controversy that led to Iowa athletic director Gary Barta firing Tracey Griesbaum as head coach in August 2014, alleging she had mistreated some athletes and was unwilling to change. Griesbaum sued, claiming discrimination based on her gender and sexual orientation, and ultimately won a $1.5 million settlement.
Barta turned to Cellucci to take over the field hockey team on the eve of a new season, and under difficult circumstances.
The field hockey program was divided as some players and alumni defended Griesbaum, while others supported her dismissal.
Cellucci was certainly in an awkward situation from having coached under Griesbaum for 14 seasons. She considered Griesbaum a friend, and a mentor.
Griesbaum had been grooming Cellucci to replace her, but to have it unfold the way it did made what should've been a happy occasion hardly worth celebrating.
Cellucci accepted Barta's challenge to lead the program, but it wasn't easy at first, especially on the recruiting trail.
Recruits, obviously, had questions and concerns in the wake of Griesbaum's controversial firing, and Cellucci just stuck with her core values, and the things that made her successful, first as a player at Iowa and then as an assistant coach and lead recruiter.
She was honest and transparent when talking to recruits, and she also had a lot to sell, given Iowa's rich tradition in field hockey.
"I really think the keys were early on just trusting the process we had put in place of how we first and foremost rebranded ourselves in the recruiting aspect because that was the biggest challenge early on," Cellucci said on a recent guest appearance on the Hawk Fanatic radio show and podcast. "It was our ability to get some really key players in here who were international student-athletes at first, and now just growing our top domestic prospect that have come into the program, too.
"It really was recruiting, and then just being able to focus on our on-field player development. We had to have a lot of players on really small rosters get better quickly. And we were able to do that, and then we kind of complemented our gap with some really key international players that came in at a high level and right away helped get us back on the map."
Cellucci makes what was an extremely difficult situation sound pretty easy in how she and her assistant coaches basically just recruited the right players and then developed them the right way.
Yes, that is what happened, but it hardly was easy under the unusual circumstances.
Griesbaum's firing was an embarrassment regardless of whose side you were on, and the program was in trouble for a while.
Cellucci thought about quitting early on, but she has stayed the course, stayed loyal and has done what seemed almost impossible six or seven years ago.
It has been tough for her personally, especially early on as a head coach, juggling her feelings for Griesbaum with her duties as the Iowa head coach.
But Cellucci has made it work, and has made Iowa elite again in field hockey, with Sunday's victory over North Carolina the latest reminder that Iowa is back.
The controversy from seven years ago will never be forgotten, but it's also no longer a burden for Cellucci as she and the Iowa program have risen above the shame and sadness to be winners again.