By Pat Harty
IOWA CITY, Iowa – Even the most optimistic of Iowa fans probably are surprised that their beloved football team is 2-0 right now.
If not, then more power to you because it would've taken a tremendous amount of faith and positive reinforcement to believe heading into the season that Iowa would defeat both Indiana and Iowa State, especially with the Iowa State game being played in Ames.
But it happened, and now fans and the media are starting to believe that this Iowa team might have what it takes to be special.
And by special, a team capable of not only winning the Big Ten West Division, but also a Big Ten title, which Iowa hasn't won since 2004.
The hard part is not getting carried away with the superlatives because it is only two games, and who knows, maybe Indiana and Iowa State aren't as good as advertised.
As strange as it might seem since Iowa entered the Iowa State game ranked 10th in the Associated Press poll, the Hawkeyes still sort of slid under the radar due to all the hype surrounding Matt Campbell and the ninth-ranked Iowa State Cyclones.
Iowa head coach Kirk Ferentz became emotional after Saturday's win when ESPN sideline reporter Holly Rowe brought up that fact on the field.
It was thought that Iowa State had its best team ever, and while that ultimately might the case for a program that hasn't won a conference title since 1912, or more than nine games in a season, Iowa has seized the spotlight and reduced Iowa State to being the other Power Five program from instate, a role the Cyclones are used to playing.
"Our guys did a great job, they played tough, clean football," Kirk Ferentz said after Saturday's win. "It was opportunistic football against an opponent we knew was extremely tough. I am pleased. Everything out there was fought for; it was a toughly contested game. The biggest product was our ability to pay clean against a good team and not turning the ball over.  It was a full team performance."
Up next for Iowa are home games against Kent State on Saturday and Colorado State a week later. Iowa will be heavily favored in both games and should be 4-0 and ranked in the top five heading into what could be a dangerous Friday night game on Oct. 2 at Maryland.
The Terrapins have explosive skill players on offense and a talented quarterback. And they'll be playing at home.
The Iowa offense, on the other hand, still is a work in progress.
Quarterback Spencer Petras was average from a performance standpoint in the first two games, and his receivers also have dropped several passes.
Petras also has been sacked six times in two games, including four times against Iowa State. And you could argue that he held on to the ball way too long on all four sacks.
And yet, Iowa still is 2-0 and has won eight straight games with Petras at quarterback dating back to last season.
"The best we could be is 2-0," Petras said. "I am proud of this team so far. We're 2-0 with two wins against two good football teams and that's exciting and something to be proud of today."
The worry is that if Petras continues to be average that it will eventually cost Iowa in a big way.
But Petras also has the respect and trust from his teammates and coaches, and that helps to build chemistry. He also hasn't thrown an interception after two games.
Much of the credit for Iowa's 2-0 start goes to the defense, and to the spectacular punting from 24-year old sophomore Tory Taylor, who was clearly Iowa's MVP against the Cyclones with how the Melbourne, Australia native repeatedly shifted field position.
But perhaps there is something else that is fueling Iowa's success with that being team chemistry.
The players, both black and white, have been saying since the racial unrest from last summer that the culture has changed, and that the team is more unified than ever.
Receiver Tyrone Tracy Jr. describes the culture now as being more like a home, whereas before the racial unrest, it felt more like a house to Tracy.
It's easy to dismiss that as just talk because what else are the players going to say to the media?
Maybe this is a case in which it had to get worse before it could start getting better, and we're starting to see it get better.
Because the summer of 2020 was about as bad as it could get for Hawkeye football from a perception and image standpoint.
The fact that multiple former Iowa black players accused the program of racial disparities was embarrassing and disappointing.
Kirk Ferentz's image took a big hit, and deservedly so, because the buck stops with him.
His good friend and long-time strength and conditioning coach, Chris Doyle, was relieved of his duties shortly after the accusations were made public, and Iowa has been trying to fix its culture and repair its image ever since.
And it appears to be working based on the results on the field because it's hard to envision a team that's divided beating both Indiana and Iowa State in back-to-back games.
While Iowa has had to carry the burden and shame of the racial unrest, maybe that has created an awareness that it wouldn't have had without the controversy.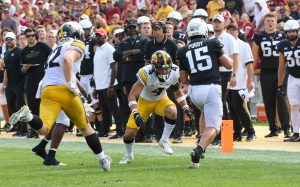 The critics were ready to pounce when Iowa started 0-2 last season because it was easy to assume that the program was starting to unravel under Ferentz, on and off the field.
Iowa has since won eight games in a row dating back to last season, and you could argue that Kirk Ferentz has done his best coaching during this stretch.
The 66-year old Ferentz was pretty set in his ways before the racial unrest, but he has been forced to make some changes and some concessions as part of the culture change.
And while that still is a work in progress, the results on the field have been impressive to say the least.
Kirk Ferentz has a lot on his plate with the racial unrest, and with his son, Iowa offensive coordinator Brian Ferentz, part of that unrest.
Brian Ferentz and Chris Doyle are the focal points of a discrimination lawsuit that has been filed by some former Iowa players.
But whatever distractions the lawsuit might be causing, it hasn't hurt Iowa on the field.
Kirk Ferentz has turned controversy into a triumph and his players insist that the culture has turned in the right direction.
It sure looked that way on Saturday, at least on the field.