By Tyler Devine
IOWA CITY, Iowa – The good news is that the fifth-ranked Iowa football team took care of business on Saturday.
Yes, the Hawkeyes improved to 3-0 on the season in a 30-7 win over Kent State, but at times it seemed like they were playing with their food instead of devouring what should have been an overmatched opponent at home.
Iowa now has given up 25 points or fewer in 25 consecutive games, the longest streak in the nation among Power Five teams.
"This was kind of what we expected," head coach Kirk Ferentz said. "Kent State is a good football team. They're really competitive. They do a really nice job, coach Lewis and his staff do a really nice job there. We knew they would come in and compete hard and would be taking a backseat to anybody or anything."
The good news is that Iowa ran the ball effectively, something it has struggled to do this season, though it should have, considering Kent State was allowing 220 rushing yards per game coming into Saturday.
The Hawkeyes finished with a season-high 206 yards on the ground, including a career-high 153 yards from junior running back Tyler Goodson.
"I think the first week I had a pretty good run game," Goodson said. "And against Iowa State not so much they had a pretty good defense, but we handled the defense they had some pretty good athletes. The guys up front did a pretty good job making sure the running backs had a split second to get the open field."
The bad news is that the vaunted Iowa defense looked vulnerable at times against the Golden Flashes. The Hawkeyes gave up uncharacteristic chunk plays, including a 48-yard pass from quarterback Dustin Crum to receiver Keshunn Abram that led to Kent State's first touchdown.
"We played as a team today and I'm proud that we were able to get the win," senior cornerback Riley Moss said. "At the end of the day, there's a lot of things that we can clean up for sure, especially on the defensive side. We still haven't, and we talked about this after the game, we still haven't played a perfect sixty-minute game.
"So, in my eyes and in the defensive guys' eyes that's very exciting because we are very excited to grow and get better for each week. We're going to look at the film and figure out what went wrong with some stuff and turn it around."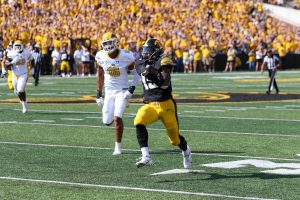 The good news is that Iowa had chunk plays of its own. Goodson had touchdown runs of 46 and 35 yards and added a third touchdown from two yards out late in the fourth quarter. Junior receiver Nico Ragaini also has a 48-yard reception to set up Goodson's late touchdown.
The bad news is other than that reception by Ragaini, the Iowa offense still struggles to pass the ball downfield, though junior quarterback Spencer Petras probably played his best game of the season with 209 yards on 25-for-36 passing.
Petras has led Iowa to nine consecutive wins dating back to last season and has yet to turn the ball over this season.
Iowa also showed that it has the ability to sustain long drives. The Hawkeyes' four touchdown drives were all 55 yards or more, including a 20-play, 95-yard drive that lasted 8:38 and led to a Sam LaPorta touchdown catch to give Iowa a 16-7 lead at halftime.
The drive was Iowa's longest in the Ferentz era and the longest scoring drive in terms of plays since an 18-play drive against Illinois in 2003.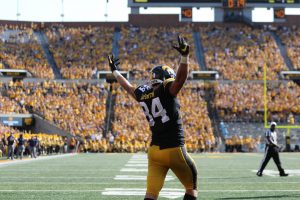 "Any time we're backed up, our next objective is to get the first first down and get some breathing room and your next goal is to score a touchdown," junior center Tyler Linderbaum said. "It was a long drive, especially being hot out it was a tough one, but the defense was tired, too. So, just keep pushing the ball and finding the end zone was important."
The other good news is that Iowa's defensive line was once again a force, totaling seven sacks, the most by an Iowa team since registering seven sacks against Northwestern in 2000.
Redshirt freshman Lukas Van Ness and junior Joe Evans each had a career-high two sacks. The two defensive linemen also set career highs with seven and five tackles, respectively.
"We've really been focusing all week on improving our pass rush," Van Ness said. "I really think this group of guys we have has a lot of trust in each other. A lot of communication today and everybody looking out for us."
The bad news is that Iowa committed eight penalties for 72 yards, but the good news is that that's not typical of the Iowa football team.
The turning point was Kent State's second drive of the third quarter, which came after a reception by junior receiver Tyrone Tracy was reversed that would have given Iowa a 3rd-down conversion.
Kent State then gashed the Iowa defense down to its half yard line before Golden Flash running back Bryan Bradford tried to back into the end zone, but instead lost control of the ball which was recovered by senior defensive back Riley Moss for a touchback.
On the ensuing possession, the Hawkeyes drove 80 yards on 11 plays capped by a 35-yard Goodson touchdown run to extend their lead to 23-7.