By Pat Harty
IOWA CITY, Iowa – This past Saturday marked 41 years since Led Zeppelin's legendary drummer John Bonham passed away at the age of just 32.
So, in honor of his memory, I decided to use Led Zeppelin songs for this week's Big Ten power rankings to help describe the circumstances surrounding each of the 14 teams.
Unlike the AP voters, who moved Penn State up to fourth in the latest top-25 poll, and one spot ahead of No. 5 Iowa, I kept Iowa in the top spot in my rankings for the second consecutive week.
Penn State's 38-17 victory over Villanova this past Saturday wasn't enough to convince me that it should move ahead of Iowa. Nothing against Villanova, but it hardly qualifies as a tough opponent for a Power Five team that is ranked in the top 10.
Iowa, 4-0, 1-0 – "Trampled Under Foot" from the album Physical Graffati: Iowa's defense is trampling opposing offenses, while the right foot of punter Tory Taylor is consistently shifting field position to Iowa's advantage. This combination probably won't be enough to carry Iowa to a Big Ten title without more help from the offense, but so far, it's working.
2. Penn State, 4-0, 1-0 – "Achilles Last Stand" from the album Presence: Rumors continue to persist that James Franklin is among the favorites to get the USC job. So if this is his last stand in Happy Valley, he's off to a good start.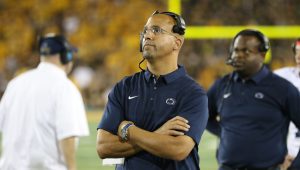 3. Ohio State, 3-1, 1-0 – "Communication Breakdown" from Led Zeppelin I: Saturday's 59-7 victory over Akron was tarnished by an ugly incident in the second quarter when Buckeye linebacker K'Vaughan Pope seems to have quit the team after being waved off the field by a fellow linebacker. Pope became irate on the sideline and had to be escorted to the locker room. He then hinted on Twitter after the game that he had left the team.
If so, Pope would be the second Ohio State linebacker to leave the team in the past week as Dallas Gant announced that he had entered the NCAA transfer portal.
4. Michigan State, 4-0, 2-0 – "Whole Lotta Love" from Led Zeppelin II: That's how Spartan fans feel about second-year head coach Mel Tucker, who is coaching one of the most improved teams in the country.
5. Michigan, 4-0, 1-0 – "How Many More Times" from Led Zeppelin I: Wolverine fans are hoping this team will finally make it so they don't have to keep asking how many more times will we keep losing to Ohio State under Jim Harbaugh? Though, it's still early, Michigan has a powerful rushing attack and an improving defense.
6. Maryland, 4-0, 1-0 – "Your Time Is Gonna Come" from Led Zeppelin I: The Terrapins, powered by an explosive offense, are showing signs of having a breakthrough season under third-year head coach Mike Locksley. Friday's game against Iowa should tell us a lot more about Maryland.
7. Rutgers, 3-1, 0-1 – "Thank You" from Led Zeppelin II: Even with Saturday's 20-13 loss at Michigan, Scarlet Knight fans are so thankful that Greg Schiano accepted the challenge of rebuilding the football program for the second time. Rutgers is clearly moving in the right direction.
8. Wisconsin, 1-2, 0-1 – "In My Time Of Dying" from Physical Graffati: The Badgers are 5-5 since the start of last season, which probably feels like dying to their spoiled fans.
9. Purdue, 3-1, 1-0 – "Celebration Day" from Led Zeppelin III: Winning three of four games is reason for Purdue fans to celebrate because it hasn't happened much recently.
10. Indiana, 2-2, 0-1 – "Over The Hills And Far Away" from the album Houses of the Holy: That sort of describes where the Big Ten title now sits for the struggling Hoosiers, who began the season with so much hope and optimism.
11. Nebraska, 2-3, 0-2: "Nobody's Fault But Mine" from the album Presence: That is something you'll never hear Nebraska head coach Scott Frost say after a loss.
12. Minnesota, 2-2, 0-1 – "Good Times Bad Times" from Led Zeppelin I: The Gophers were upset by Bowling Green 14-10 this past Saturday at home, and just a week after having shutout Colorado 30-0 in Boulder.
13. Northwestern, 2-2, 0-1 – "I'm Gonna Crawl" from the Album In Through the Out Door: Northwestern's sputtering offense seems to take this approach at times.
14. Illinois, 1-4, 1-1 – "Sick Again" from Physical Graffati: Illinois fans are used to feeling this way during football season.