By Pat Harty
IOWA CITY, Iowa – Good teams take advantage of bad breaks for the opponent.
Good teams find a way to prevail when they're not necessarily performing at a high level.
Good teams also find a way to rise to the occasion when their backs are against the wall, and when the ultimate team goal for the season hangs in the balance.
The third-ranked Iowa football team accomplished all of that against No. 4 Penn State on Saturday at a sold-out Kinnick Stadium while escaping with a 23-20 come-from-behind victory.
Penn State played the final 2 ½ quarters without starting quarterback Sean Clifford and the importance of his loss can't be overstated. The Nittany Lions went from being explosive and unpredictable on offense to almost being inept in the second half, gaining just 95 yards.
Penn State also had eight false starts, including six after Clifford left the game with an injury to his right throwing arm.
Iowa was trailing 20-16 when junior quarterback Spencer Petras and the offense took over at the Penn State 44-yard line with 6 minutes, 35 seconds left to play.
Petras then rolled to his right on first down and threw a perfect strike across the field to a wide-open Nico Ragaini, who dove into the end zone to give Iowa its first lead of the game with 6:26 remaining.
Penn State drove to midfield behind backup quarterback Ta'Quan Roberson, but the Iowa defense held, giving Iowa a first down on its own 45-yard line with 3:39 remaining.
Penn State had one more chance on offense, but failed once again as Iowa senior cornerback Matt Hankins intercepted a Roberson pass at the Penn State 25-yard line.
Iowa was penalized 15 yards for unsportsmanlike conduct, which pushed the ball back to the Penn State 40-yard line with slightly more than two minutes to play.
Iowa then melted the clock away and the fans showed their appreciation by rushing the field afterwards despite Iowa being the higher ranked team.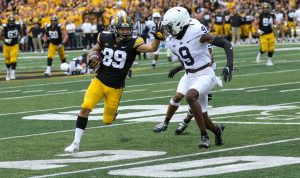 "We didn't have a chance last year, obviously, so that's one of those things that you love to see," Petras said of the fans rushing the field. "It's always super fun because if you look back at the biggest games in our program's history the crowd usually storms the field.
"So that was sweet. That was awesome. What a way to celebrate that win."
Fans didn't have a chance to rush the field last season as games were played in stadiums that were mostly empty due to the global pandemic.
The atmosphere in Kinnick Stadium on Saturday was electric and it created yet another obstacle for Penn State to overcome in addition to Clifford's injury.
The naysayers will say that Iowa caught a game-changing break when Clifford was injured in the second quarter and didn't return.
In this case, the naysayers are right because Iowa did catch a huge break when Clifford left the game.
With a healthy Clifford, it's easy to picture Penn State winning Saturday's game based on how well the Penn State offense performed with him behind center.
Clifford had been causing fits for the Iowa defense as a runner and passer and Penn State was leading 17-3 and dictating the tempo when he left the game.
His injury was without question the turning point in Saturday's game because it basically made Penn State one-dimensional on offense.
But a win still is a win regardless of the circumstances.
It's unfortunate that an injury had such a huge impact on Saturday's outcome, but to borrow a line from Iowa coach Kirk Ferentz, that's football.
Iowa also suffered a critical blow when senior cornerback Riley Moss left the game with an apparent knee injury in the second quarter and didn't return. The injury occurred when Moss was celebrating his fourth interception of the season.
No disrespect to Moss, or to the position he plays, but losing a starting cornerback isn't the same as losing a starting quarterback.
Especially in this case because Iowa replaced Moss with junior Terry Roberts, whom Kirk Ferentz considers a starter.
Iowa freshman receiver Keagan Johnson made one of the biggest plays on offense for Iowa when he caught a short pass from Petras near the Iowa bench and then made several defenders miss on a 42-yard gain to the Penn State 8-yard line with 10:08 left in the fourth quarter.
However, the drive stalled when Petras was sacked for a minus-8 yards on third down.
Iowa had to settle for a Caleb Shudak field goal from 35 yards, cutting the deficit to 20-16 with 8:08 remaining.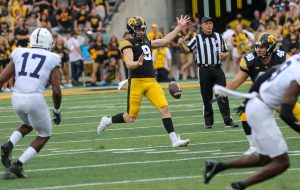 Shudak and Iowa punter Tory Taylor both played a significant role in Saturday's win. Shudak made all three of his field-goal attempts, while Taylor repeatedly pinned Penn State deep in its own territory.
Iowa was trailing 17-3 and fans were getting restless when Petras, who misfired on eight of his first nine passes, engineered an 11-play, 75-yard scoring driving midway through the second quarter.
He capped the drive by throwing a 9-yard touchdown pass to Charlie Jones that trimmed the deficit to 17-10 with Shudak's point-after kick with 7:08 left in the second quarter
Jones' touchdown was huge because it felt as if the game was starting to slip away from Iowa.
It also helped to re-energize the fans in Kinnick Stadium and also made it a one-score deficit.
But even more impactful than the touchdown was the storyline unfolding on the Penn State sideline where Clifford was being examined by medical personnel. He then headed to the Penn State locker room about midway through the second quarter and didn't return to the game.
Roberson replaced Clifford at quarterback, but Penn State's offense never recovered.
Penn State was penalized three times for false starts on its first possession with Roberson at quarterback. Moss then intercepted a pass thrown by Roberson on Penn State's next possession.
The momentum had clearly shifted back to Iowa at that point.
Kinnick Stadium was loud and rocking and Moss was celebrating his interception on the field when he suddenly fell to ground. The hope was that it was just a cramp, but hope quickly turned to concern when doctors started examining Moss' left knee.
The Penn State offense was mostly dysfunctional without Clifford behind center, and that's a credit to the Iowa defense.
Iowa started loading the box on defense daring Roberson to throw, but without Clifford, Penn State's passing attack was virtually non-existent.
A loss on Saturday would've almost eliminated Iowa from the college playoff hunt.
But thanks to a gritty performance in all three phases of the game, and due to the impact from Clifford's injury, Iowa still is undefeated and in the playoff hunt.