By Pat Harty
IOWA CITY, Iowa – For the fourth consecutive week, the Iowa football team sits atop my Big Ten power rankings, but the mighty Buckeyes are coming on strong.
Iowa earned the right to stay on top by defeating fourth-ranked Penn State 23-20 this past Saturday in the first matchup between two top-5 teams at Kinnick Stadium since 1985.
Iowa climbed to No. 2 in the latest Associated Press poll, and five of the top 10 teams in the AP poll are from the Big Ten.
Ohio State climbed to second in my power rankings due partly to Penn State's loss to Iowa, but also because Ohio State has won its last two games against Rutgers and Maryland by scores of 52-13 and 66-17, respectively.
The Buckeyes have the most explosive offense in the Big Ten, the best receivers in the nation, and the highest upside of any team in the conference.
But they also have a loss to Oregon, while Iowa is undefeated and ranked higher in the polls. Iowa also has better defense and better special teams than Ohio State.
Iowa, 6-0, 3-0 –  Iowa leads the country with 16 interceptions, has scored 78 points on 20 takeaways, has dominated on special teams where Caleb Shudak has made 11-of-12 field-goal attempts and Tory Taylor has repeatedly pinned opponents deep in their own territory, and has a defense that has allowed just 20 points in the second half this season.
Junior quarterback Spencer Petras has also thrown just one interception this season, is 12-2 as a starter and has the highest winning percentage by a starting quarterback in program history at 85.7 percent.
Ohio State might have more talent and potential than Iowa, but power rankings are more about recognizing current results and rewarding accomplishments.
2. Ohio State 5-1, 3-0 – If the Buckeyes keep winning, they will almost certainly make the four-team college playoff, even with one loss. Ohio State's offense scores points like an arena football team, and often times makes it look easy, while its young defense is finally starting to hold its own.
A matchup between Ohio State and Iowa looks intriguing on paper with the Big Ten's top offense against arguably the Big Ten's top defense. But that's also a long ways down the road and both teams still have a lot of work to do to get there.
3. Michigan, 6-0, 3-0 – Though it's still early, Jim Harbaugh might have his best team at Michigan. Harbaugh described Saturday's 32-29 win at Nebraska as a Clint Eastwood win," whatever that means, while Nebraska coach Scott Frost blamed the loss on his offense scoring too fast in the second half, which caused his defense to become fatigued.
Those statements say a lot about both head coaches. One is kind of strange, while the other is an excuse machine.
4. Michigan State, 6-0, 3-0 – The Big Ten's most improved team has now made it halfway through the regular season undefeated. The addition of Wake Forest transfer Kenneth Walker III at running back, coupled with Payton Thorne's emergence at quarterback has helped to lift Michigan State to contender status and made Mel Tucker the frontrunner right now for Big Ten Coach of the Year.
5. Penn State, 5-1, 2-1 – The Nittany Lions suffered a game-changing blow when starting quarterback Sean Clifford was injured in the second quarter against Iowa and didn't return. But Penn State also didn't handle his loss very well as the offense became almost dysfunctional in the second half.
Penn State also still has to play at Ohio State, at home against Michigan and at Michigan State in the regular-season finale. That's a reminder that these rankings are subject to change.
6. Wisconsin, 2-3, 1-2 – With his offense sputtering, and with losses starting to pile up, Paul Chryst made running the ball against hapless Illinois a priority and it paid huge dividends as Wisconsin rushed for nearly 400 yards during a 24-0 victory in Champaign, Ill. Wisconsin had been held to fewer than 100 rushing yards in its previous two games, which is hard to believe given its track record.
But the opponent also left much to be desired this past Saturday, so it would be premature to say that Wisconsin has fixed its offense. What happened against Illinois might say more about Illinois than Wisconsin.
Only time will tell.
7. Minnesota, 3-2, 1-1 – The Gophers had a bye week, which is one way of avoiding a loss and dropping in the rankings. Minnesota will face Nebraska at home in its next game. The question is which Minnesota team will show up? The one that shutout Colorado 30-0 in Boulder and defeated Purdue on the road, or the one that lost at home to Bowling Green?
8. Nebraska, 3-4, 1-3 – The Cornhuskers fought valiantly after being shutout in the first half against Michigan, but once again fell short in their quest to give Scott Frost a signature win. Nebraska is now 0-10 against ranked opponents under Frost, and yet, he still hasn't learned to lose with class. It's always somebody else's fault, with his defense the latest to get thrown under the bus.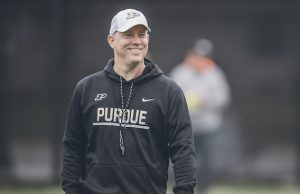 9. Purdue, 3-2, 1-1 – Purdue's winning record is hanging by a thread. Receiver David Bell is a dynamic performer, but he can only do so much as evidenced by Purdue having scored just 26 points in its last two games.
Jeff Brohm was considered an offensive genius when he was hired at Purdue, and has shown flashes, but right now his offense is sputtering and his defense isn't good enough to carry the load.
However, Purdue has won three of its last four games against Iowa, and Kirk Ferentz is likely to mention that a few times to his players during preparation this coming week.
10. Maryland, 4-2, 1-1 – If ever there was a team that needed a bye week it's the battered and bruised Terrapins, who are coming off back-to-back beat-downs against Iowa and Ohio State. Maryland now has two weeks to prepare for its next game against Minnesota on Oct. 23 in Minneapolis, and Maryland head coach Mike Locksley will need every second to get his team ready.
11. Indiana, 2-3, 0-2 – The Big Ten's most disappointing team didn't lose this past Saturday because it didn't play. The Hoosiers have gone from being ranked in the preseason to looking like a team in a rebuilding phase just five games into the season.
Basketball season can't get here soon for Indiana fans, although, Indiana is far from being a power in basketball.
12. Rutgers, 3-3, 0-3 – Greg Schiano knew it wouldn't be easy trying to rebuild the Rutgers program for a second time, and it hasn't been. A 3-0 start against nonconference opponents has been followed by three consecutive losses to Michigan, Ohio State and Michigan.
The good news is that the schedule will get easier with back-to-back games against Big Ten bottom-feeders Northwestern and Illinois up next.
13. Illinois. 2-5, 1-3 – Coaches often describe a rebuilding job as having to walk before you can run, but Illinois seems to be crawling under Bret Bielema.
14. Northwestern, 2-3, 0-2 – Northwestern also had a bye on Saturday, but an extra week of preparation won't clean up the mess or make Pat Fitzgerald's team anymore athletic.
If this team somehow wins six games, then Fitzgerald truly is a miracle worker.