By Pat Harty
IOWA CITY, Iowa – It probably should come as no surprise that second-ranked Iowa looks better than unranked Purdue on paper.
And that's all there is to go on until the teams face each other on Saturday at Kinnick Stadium.
Iowa has the edge in seven of the nine position breakdowns, which is encouraging.
But we're also talking about Purdue, which has won three of the last four games in the series despite Iowa having an edge on paper in each of those four games.
Iowa seems to bring out the best in Jeff Brohm's Boilermakers, while Purdue seems to bring out the worst in Kirk Ferentz's Hawkeyes.
But the current Iowa team is showing signs of being special at 6-0 and is ranked second in the Associated Press poll. So, maybe what seems apparent on paper will carry to the field this year for a change.
Quarterback
This is sort of like two versus one with Purdue having used two quarterbacks this season. Jack Plummer has passed for 840 yards and seven touchdowns, while Aidan O'Connell has 744 passing yards and three touchdowns.
That adds up to 1,584 passing yard in five games, whereas Iowa quarterback Spencer Petras has passed for 1,138 yards in six games.
So, from a productivity standpoint, Purdue has an advantage.
But on the other hand, Petras has led Iowa to 12 straight wins as the starter dating back to last season and has thrown just two interceptions this season, while O'Connell has thrown five interceptions in five games.
The old saying goes that a team that uses two quarterbacks does so mostly because it doesn't have a true starter.
Advantage: Iowa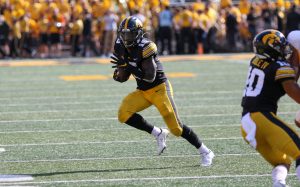 Running back
Iowa junior Tyler Goodson is ranked eighth in the conference in rushing with an 86.3 per-game average. He also has five rushing touchdowns, including one from 56 yards, and he caught a 67-yard touchdown pass against Maryland.
Iowa also has an experienced backup at running back in fifth-year senior Ivory Kelly-Martin, and a reliable fullback in Monte Pottebaum.
King Doerue leads Purdue in rushing with an average of just 55.3 yards per game.
Injuries have been a problem for Purdue at running back where Zander Horvath has only appeared in two game this season. Doerue also has missed one game due to an injury.
Advantage: Iowa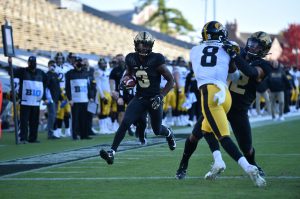 Receiver
Purdue has three receivers with at least 18 catches, led by David Bell with 27 catches for 439 yards and three touchdowns. Jackson Anthrop has 20 catches for 178 yards, while Milton Wright has 18 receptions for 217 yards and two touchdowns.
Iowa doesn't have a receiver with more than 15 catches, and Charlie Jones is the only Iowa receiver with more than one touchdown catch, as he has two.
Bell has had 13 catches in each of the past two games against Iowa for 318 yards and three touchdowns.
Advantage: Purdue
Tight end
Junior Sam LaPorta leads Iowa with 23 receptions for 271 yards and two touchdowns. His per-game average of 45.2 receiving yards also leads the team, but is less than Purdue tight Payne Durham's per-game average of 52.3 yards per game.
Durham has 18 receptions for 209 yards and three touchdowns in just four games. He had a career-high 120 receiving yards and seven catches in a victory over Oregon State.
But Durham also has the luxury of playing against defenses that are designed to contain Bell, while LaPorta is clearly Petras's favorite target.
This was without question the most difficult position to pick which team has the advantage because both starting tight ends are talented and productive. It ultimately came down to statistics.
Durham has been out with a concussion, but is expected to play on Saturday, according to Jeff Brohm.
Advantage: Purdue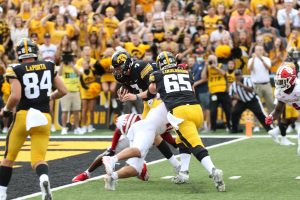 Offensive line
Purdue's inability to sustain a running game reflects poorly on its offensive line. Iowa also has arguably the top center in college football in junior Tyler Linderbaum.
Iowa is also now mostly healthy at these positions with the return of senior guard Kyler Schott.
This is a close call because neither team has been able to sustain a rushing attack. But the importance of Linderbaum can't be overstated. He is arguably the best offensive lineman in college football, and with Schott now healthy, Iowa has more upside.
Advantage: Iowa
Defensive line
Iowa has used as many as nine defensive linemen this season without suffering much of a decline in performance. That helps to keep the defensive linemen fresh and helps with moral.
Senior Zach VanValenburg leads Iowa's defensive linemen with 22 tackles, including five for losses. He also has one sack and five quarterback hurries.
Junior defensive end George Karlaftis leads Purdue with 4 ½ tackles for loss, and with two sacks.
Both teams have 14 sacks overall, but Iowa has more quality depth.
Advantage: Iowa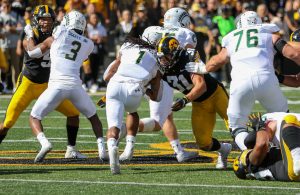 Linebacker
Iowa junior Jack Campbell is ranked third in the Big Ten with an average of 9.17 tackles per game, while fellow Hawkeye linebacker Seth Benson is averaging 6.33 tackles per game.
Sophomore Jestin Jacobs also has 31 tackles in six games for a 5.17 average, along with one interception and one forced fumble.
Campbell, Benson and Jacobs rank first, second and fourth, respectively, in tackles for Iowa.
Purdue's leading tackler at linebacker is Jaylan Alexander, who has 28 stops in five games. He and defensive back Marvin Grant are the only Purdue players who currently rank in the top 50 in tackles in the conference.
Advantage: Iowa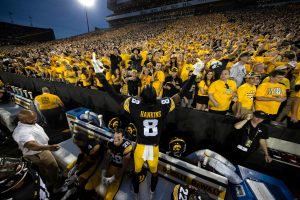 Secondary
Iowa leads the nation with 16 interceptions, mostly because of these guys, and often uses five defensive backs against teams that spread the field such as Purdue.
The loss of senior cornerback Riley Moss is significant, considering he leads the Big Ten with four interceptions.
But Iowa coach Kirk Ferentz considers his replacement at right cornerback, junior Terry Roberts, to be almost like another starter. Roberts performed well after he replaced Moss in the first half against Penn State, and he also excels on special teams.
Senior cornerback Matt Hankins has three interceptions for Iowa and was named the Big Ten co-Defensive Player of the Week on Monday after having an interception and making a key fourth-quarter stop against Penn State.
Safety Marvin Grant leads Purdue's defensive backs with 27 tackles in five games. Safety Cam Allen also has one of Purdue's two interceptions.
Advantage: Iowa
Specialists
Iowa has a clear advantage at punter where Tory Taylor is averaging 46.58 yards on 40 punts. But in addition to his average, Taylor has repeatedly pinned opponents deep in their own territory.
Purdue punter Jack Ansell is averaging 40.1 yards on 20 punts.
Kicker is pretty even with Iowa senior Caleb Shudak having made 11-of-12 field-goal attempts and Purdue graduate transfer Mitchell Fineran having made 9-of-10.
Iowa has the edge in the return game where Charlie Jones is averaging 10.71 yards on 17 punt returns and 24.89 yards on nine kick returns.
Advantage: Iowa