By Pat Harty
IOWA CITY, Iowa – Maybe after he's finished coaching, Jeff Brohm will share his secret on how to defeat the Iowa football team.
Because he sure has a knack for doing it, the latest example being unranked Purdue's 24-7 victory over second-ranked Iowa on Saturday at a sold out Kinnick Stadium.
Of course, it also helps to have a receiver as dynamic as David Bell, who treats the Iowa defense like a paper shredder treats paper.
Bell had 11 catches for a Kinnick Stadium record 240 yards and one touchdown in Saturday's upset and he now has 37 catches for 558 yards and five touchdowns in three games against Iowa.
But it starts with Brohm, whose record improved to 4-1 against Kirk Ferentz and the Hawkeyes, who lost for the first time in nearly a year.
Brohm seems to always push the right buttons against Iowa, especially on offense, which is his area of expertise.
But the Purdue defense, under first-year coordinator Brad Lambert, also rose to the occasion, holding Iowa to just one touchdown and 271 yards while intercepting four Spencer Petras passes.
"Just a really disappointing and difficult day for our football," Kirk Ferentz said. "Certainly, for our fans, too. They were great. I appreciate them being there.
"Every week and basically just program wise, our goal is to try to improve and come out victorious in the football game. So, we certainly didn't do that and now we've got a week here to figure out some answers and see what we can do to improve. And that's what the next couple weeks will be for."
Saturday's result was a dramatic change from last Saturday when Iowa fans rushed the field to celebrate a 23-20 victory over then-fourth ranked Penn State.
By the end of the Purdue game, Kinnick Stadium was mostly empty, sort of reverse field rush.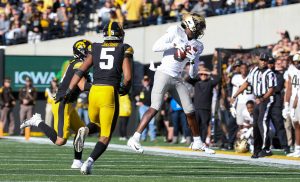 What happened Saturday was hardly a fluke, as the better team won.
Iowa, which now has a bye week before playing at Wisconsin on Oct. 30, could ultimately prove to be better than 4-2 Purdue record-wise.
But on this picturesque fall afternoon, Jeff Brohm and the Boilermakers got what they deserved, which is Purdue's first victory against a top-five opponent on the road since 1964.
Iowa was held to just 76 rushing yards and seeing his ground game struggle apparently caused Iowa offensive coordinator Brian Ferentz to lose confidence in his running game.
Because how else could you explain him calling back-to-back quarterback sneaks on third and fourth-down late in the fourth quarter? Both of which failed to get a first down.
"Most teams do know it's coming, but they just out-executed us," Petras said.
Brian Ferentz has had some games in which he has excelled as a play caller, the 55-24 stunner over Ohio State in 2017 and the 49-24 victory over the University of Southern California in the 2019 Holiday Bowl as two examples.
Saturday's game against Purdue, on the other hand, was not a high point.
And, yes, it's easy to second-guess with hindsight, but why didn't Brian Ferentz give 246-pound fullback Monte Pottebaum at least one chance to get the first down?
Purdue was in a goal-line defense, so it seems that Pottebaum would've had a better chance of getting a first down in a pile of bodies than Petras, especially with a little head of steam.
Tyler Goodson also would have been a logical choice on either play, considering he is a first-team All-Big Ten running back, and he also averaged 5.7 yards per carry in Saturday's game, gaining 68 yards on just 12 carries.
But to single out any one person for criticism would be unfair because this was a total team loss as Iowa struggled in all three phases of the game.
Brian Ferentz is an easy target as the offensive coordinator, and because he's Kirk Ferentz's son.
But he had help in this loss, lots of it from all over, including from his quarterback.
"Credit to Purdue, they played real well," Petras said. "We just didn't do enough as a team to win.
"Losing sucks. And I think we know we can play a lot better, and I can play a lot better."
Losing is also costly as Iowa (6-1, 3-1) will almost certainly pay a heavy price in the polls since Purdue wasn't even ranked.
Purdue had only scored 13 points in each of its past three games against Notre Dame, Illinois and Minnesota, and lost two of the three games.
Against Iowa's vaunted defense, however, Bell and his cohorts drove up and down the field.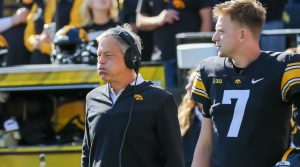 "We couldn't get pressure on the quarterback. Start there," Kirk Ferentz said. "Then when we did bring pressure, he did a pretty good job for the most part getting the ball out, finding somebody who is open enough to convert the first downs. No matter what direction we leaned, they seemed to have an answer. And that's good football on their part."
The Iowa players talked on Tuesday about having a target on their back, and about trying to shift the script against Purdue.
Perhaps Iowa did suffer an emotional letdown coming off the victory over Penn State last Saturday. But if so, that's Iowa's fault, and to use a letdown as an excuse would be a disservice to Purdue.
Purdue took Saturday's game from Iowa more than Iowa gave it away.
Purdue made the necessary plays and adjustments that were needed to prevail, while Iowa made very few plays on either side of the ball.
There is something about Brohm's offense and his play calling that causes fits for Phil Parker and the Iowa defense.
Iowa was preparing to face two quarterbacks on Saturday, but instead, Brohm used three quarterbacks, and did so brilliantly.
Aidan O'Connell did most of the damage, completing 30-of-40 passes for 378 yards and two touchdowns, while Petras only completed 17-of-32 passes for 195 yards and four interceptions.
"Coming in, we knew they had three good quarterbacks and what their tendencies were," said Iowa linebacker Seth Benson. "It just changes up the call and we've got to be better in our fits, in jamming receivers and getting into passing lanes."
Iowa had the ball near midfield with three seconds left in the second quarter when Petras took a knee instead of running a play.
That decision didn't sit well with some of the fans, who voiced their displeasure by booing as the teams headed to the locker room for halftime.
Kirk Ferentz was asked about the decision in his post-game press conference and he almost seemed amused that it would even be questioned.
"What are you going do?' Ferentz asked. "Get somebody hurt. We did go for it the play before that, right? Tried to get the ball down field.
"That was not the game turner, that's for sure. I don't think he could throw that far. That would be tough."
Fans then had little to cheer about in the second half as the Iowa offense continued to sputter, while the Iowa defense just couldn't get off the field.
"They out-executed us," said Iowa safety Jack Koerner. "There wasn't a route out there that we weren't capable of covering."
Koerner said the strategy was to keep Bell from being in single coverage, but that strategy obviously failed as Bell beat single coverage on numerous plays while being defended mostly by senior cornerback Matt Hankins, who appeared to be hampered by a right shoulder or arm injury.
Iowa played without senior cornerback Riley Moss due to an injury. But one player wouldn't have changed Saturday's outcome.
Sometimes, you should just praise the opponent for a job well done, move on and accept that Jeff Brohm is Kirk Ferentz's kryptonite, at least for now.
Brohm entered Saturday's game with a 22-27 record at Purdue, so other teams have figured out a way to beat his system, just not Iowa.
"As I said Tuesday, that's Coach Brohm's expertise and background," Kirk Ferentz said. "He's done a nice job offensively everywhere he's been. And I just said we couldn't get off the field today, basically.
"They drove it and then they got the points they needed to get. It's not the first time they have done that, but we just didn't have answers. A credit to them. They blocked well and threw and catch and ran it efficiently enough to be successful.
Iowa has two weeks to prepare for the Badgers and the good news is that a Big Ten West Division title still is within reach, and Saturday's game is probably the last time that Iowa will face David Bell, assuming he declares for the NFL draft as a junior.
The challenge facing Iowa now is to not let Saturday's loss linger to where it becomes two losses.
"This a game for mentally tough people," Kirk Ferentz said. "If you're not mentally tough, you'll dwell on it and let it fester.
It's also a game that Jeff Brohm knows how to coach exceptionally well at Iowa's expense.
Purdue 7 7 3 7 – 24
Iowa 0 7 0 0 – 7
P – Aidan O'Connell 6 run (Mitchell Fineran kick)
I – Ivory Kelly-Martin 3 run (Caleb Shudak kick)
P – T.J. Sheffield 3 pass from O'Connell (Fineran kick)
P – Fineran 31 FG
P – David Bell 21 pass from O'Connell (Fineran kick)